'Apex Legends' Grand Soirée Revealed With Third-Person & Respawn Modes
Apex Legends Season 3 keeps on kicking with the brand-new Grand Soirée event set to run January 14 through January 28. The upcoming festivities feature seven unique game modes spread across two weeks of action, alongside rotating themed cosmetics in the in-game store.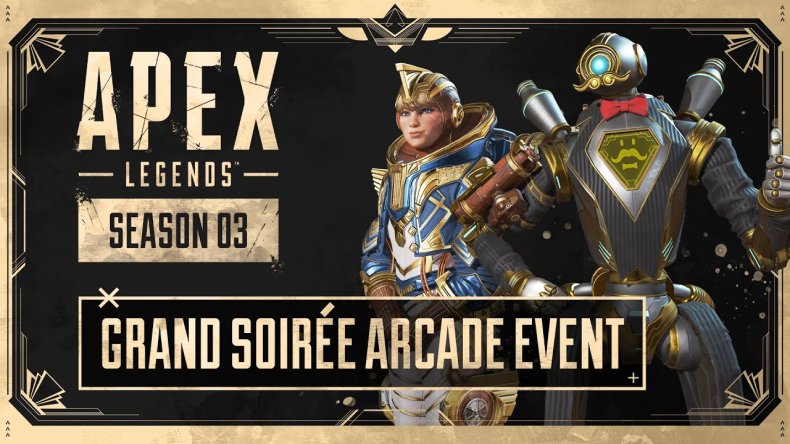 Here's a description of the Grand Soirée courtesy of Apex Legends' official social media channels.
"Welcome to the Grand Soirée Arcade Event! Kick off the decade in style with seven limited-time rotating modes. Experience returning classics and newfangled additions, with a new mode every two days. Earn fabulous rewards with our new Challenge Scorecard and dress to impress with Art Deco-inspired cosmetics from the shop. We hope you enjoy the games!"
The above trailer lists the following game modes as part of the event:
Gold Rush Duos: Gold weapons only with you and a friend
Third-Person mode: A classic out of body experience
Armed and Dangerous World's Edge: Shotguns and Snipers with limited armor
Kings Canyon After Dark: Play on Kings Canyon at night
Dummies Big Day: This game ain't gonna test itself
Live Die Live: Automatically spawn on living squadmates when the ring closes
Always Be Closing: Keep on the move from a big ring that won't slow down
While certain aspects of the Grand Soirée feature concepts we've seen before, like Armed and Dangerous and the night version of Kings Canyon, other modes are completely fresh. Chief among them is the arrival of a third-person mode that allows trios to enjoy the popular battle royale from an entirely fresh perspective. Dummies Big Day, on the other hand, will likely offer a more freeform experience similar to Fortnite's Playground mode. Add in the allure of new cosmetics and reward-based challenges, and there should be plenty here for fans to engage with over the next few weeks.
As large as the Grand Soirée may be, however, its arrival has some fans feeling antsy about the upcoming debut of Apex Legends Season 4. The game's developers at Respawn Entertainment have remained coy about the next Battle Pass, but leaks suggest it will arrive alongside new characters and weapons for players to experience. It's presumed the Grand Soirée will be the final celebration before that major content drop becomes available.
Apex Legends is available now on Xbox One, PS4 and PC.
What are your thoughts on the Apex Legends Grand Soirée event? Is third-person mode enough to excite you? Tell us in the comments section!