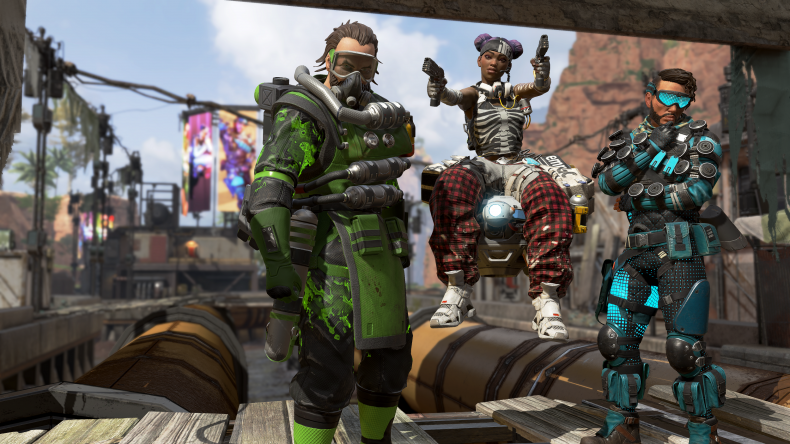 Apex Legends is in the midst of its Anniversary Collection event that's due to wrap up February 23, but dataminers have already uncovered what appears to be the next round of festivities making their way to Respawn's popular battle royale.
According to data sourced by leakers like GarretLeaks and Shrugtal on Twitter, Caustic will be the focus of the next Town Takeover with a Bangalore Heirloom being the ultimate prize.
While not much is known about the event itself, it's associated with the codenames "Warlord" and "Chaostheory." Teasers are expected to occur regularly between February 23 and March 1, which suggests the event could begin as early as March 2.
In the absence of specifics regarding limited-time modes and features, we do know a little bit about the event's skins. Rare designs for Bloodhound and Horizon shown in the picture below suggest most designs will be themed around Caustic's default green-and-gold aesthetic. In fact, even the Loot Tick might be getting a makeover to honor our favorite toxic gas researcher. Renders for every event skin aren't yet ready, but there are data strings that hint at other skin releases to come as well.
Loba Legendary
Gibraltar Legendary
Crypto Legendary
Rampart Legendary
Revenant Legendary
Wattson Legendary
Wattson Epic
Octane Epic
Wingman Epic
Charge Rifle Epic
Peacekeeper Epic
Alternator Epic
Triple Take Epic
Keeping with the tradition of her collection of terrible skins, Bangalore isn't mentioned on this list. She is, however, the recipient of a special melee weapon Heirloom that looks to be some sort of blade with a glow effect. In that sense, while Bangalore mains continue to get shafted in the cosmetics department, those able to unlock and buy all the items listed above will be given a unique reward for their efforts. In some ways it's a bit cruel to lock Bangalore's first cool cosmetic in a long time behind several skins for other characters, but it's still available for those willing to make the intense commitment to get it.
Like past Collection Events, we imagine this leaked Warlord event will arrive in tandem with the first major balance patch for Apex Legends Season 8. Respawn published a small patch on Wednesday to address issues with Bloodhound's tactical, but there are almost assuredly larger tweaks that must be made to ensure Season 8 carries on smoothly. When it comes to events, though, Respawn appears ready to deliver something interesting for Caustic fans.
Apex Legends is available now on PS4, Xbox One and PC.
What are your thoughts of a Caustic Town Takeover coming to Apex Legends? Do you plan to get Bangalore's Heirloom? Tell us in the comments section!