'Apex Legends' Leak Reveals Season 3 Battle Pass, Fire & Ice Name Before Release
Apex Legends datamines have allegedly revealed some major information about the game's upcoming third season. If leaks are to be believed. Apex Legends Season 3 has an elemental name. It also features a wide assortment of skins and other cosmetics for Battle Pass owners to unlock. The evidence was found and tweeted by known Apex leaker That1MiningGuy Tuesday evening.
Starting with the name, it's believed the Apex Legends Season 3 Battle Pass will be called "Fire and Ice." While this may be an internal name purely meant for use by the game's developers at Respawn, the title does sound like an appropriate followup to the Battle Charge theme of Season 2. If it abides by similar conventions, Fire and Ice may have ties to future map changes or the next big character release. It's also possible elemental cosmetic stylings will be featured throughout the duration of the next pass.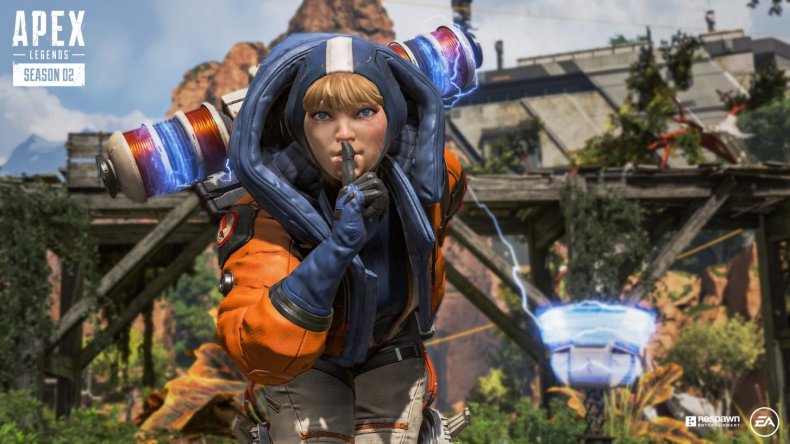 Speaking of the next Battle Pass, that same source also detailed what's believed to be a basic outline of everything the Season 3 Battle Pass might contain. While we don't have images of each individual cosmetic, here's how data strings describe them.
Get your unlimited Newsweek trial >
Apex Legends Season 3 Battle Pass Leak
Character skins for Octane and Caustic
Weapon skins for R301 (Legendary, reactive)
Weapon skins for Spitfire (Legendary, reactive)
Weapon skins for Alternator (Legendary, reactive)
Legendary Apex Pack
Epic Apex Pack
2,550 Crafting Metals
Battle Pass bundles:
Get your unlimited Newsweek trial >
25 battle pass levels
Exclusive Legendary Spitfire skin
Exclusive character skin
Beyond these leaks, there is quite a bit that fans believe they know about Apex Legends Season 3. After months of hype and speculation, past datamines suggest the game's next Legend will be called Crypto. The hi-tech Hero reportedly has an Aerial Drone that can interact with objects on the map. The drone also features an EMP blast that deals shield damage and disables traps. Beyond the new Hero, less substantiated rumors suggest Apex Legends Season 3 might feature a PvE mode as well.
This news arrives soon after Apex Legends fans discovered Loading Screen displays scattered across the game's King's Canyon map. At the time of publish, the visual bars are about 28 percent full. It's presumed these bars will continue to progress leading up Season 3's projected release date in early October.
Apex Legends is available now on PS4, Xbox One and PC.
What do you hope to see from Apex Legends Season 3? Does this name and Battle Pass leak make you more excited for the big update? Tell us in the comments section!
'Apex Legends' Leak Reveals Season 3 Battle Pass, Fire & Ice Name Before Release | Newsgeek