'Apex Legends' Leak Teases Possible War Games Event With Many Modes and New Skins
Apex Legends just kicked off its Chaos Theory Caustic Town Takeover on Tuesday, but leakers may already have the drop on what event to expect once the Ring Fury mode is shelved and Caustic Treatment returns to its former self. According to credible Apex leakers Sanguine and Shrugtal, players better get ready for some War Games in mid-April or early May.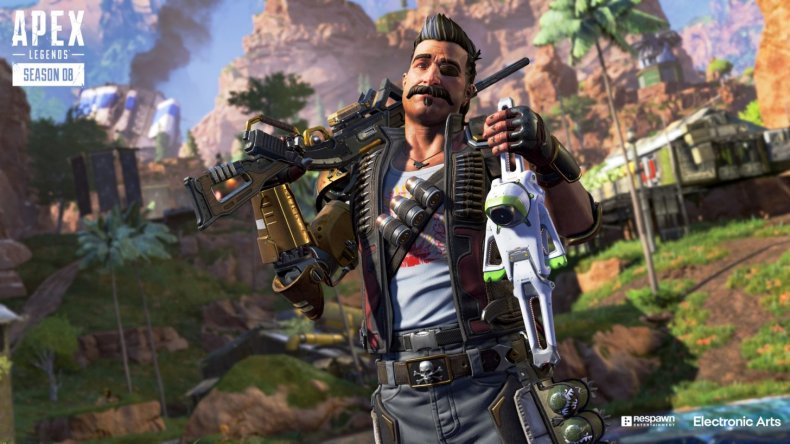 The War Games event reportedly continues the established narrative of Margaret "Mad Maggie" Kōhere and her continued interference with the Apex Games at the expense of her former friend, Fuse. A leaked prize track graphic offers this description of the potentially upcoming festivities:
"Well, it's not like it ain't been fun, but I'm all about a big finish. Your Apex Games are gonna burn... and so will you if ya don't keep your eyes peeled on my match modifiers. They are, after all, Mad Maggie's Games now... But don't get ya knickers in a twist, there's plenty of fab gifts and prizes to win. Just remember: it's all fun and games..'til someone loses an arm."
According to the graphic, the War Games prize track allegedly features rewards like:
Five Battle Pass levels
Two charms called "Never Surrender" and "Thermite Grenade."
An Epic Rampart skin called Cytokinetic
An Epic 30-30 Repeater skin called Incan Prophecy
A rare Crypto skin called Broken Syntax
Caustic stat trackers
Instead of focusing on a specific Legend, like we've seen with Chaos Theory and other Town Takeovers in the past, the main conceit of War Games seems to be that the event will feature a brand-new LTM every two days. Datamines from Sanguine suggest the modes listed below are the ones we might see. As with all leaks, the names may change, but, provided these leaks are accurate, the base concepts will likely hold true.
Killing Time: Focused on eliminations and a shorter Ring cycle.
Flare Up: Ring Flares spawn in batches throughout each round.
Armed Drop: Legends drop into the map with a full weapon loadout and consumables.
Armor Regen: Shields regen after not taking damage for a few seconds.
Auto Banners: Banner Cards are automatically retrieved from fallen foes and Mobile Respawn Beacons populate the loot pool.
Second Chance: Each Legend can respawn once after dying.
An exact date for the War Games event has yet to be nailed down, but, given the length and timing traditionally experienced between events, it's estimated that we may see movement with regard to War Games in mid-April or early May.
Apex Legends War Games skins
And as if those LTMs weren't enough to excite you, Shrugtal has also seemingly datamined a small assortment of skins that players can expect to unlock or purchase during War Games. Here's what's believed to be available so far.
Queen's Guard Wraith
Guerilla Ghoul Revenant
Ghost Stalker Lifeline
Blood and Thunder Gibraltar
Royal Huntsmaster Bloodhound
Burgundy Knight Pathfinder
Swish-buckler Mirage
Apex Legends is available now on PS4, Xbox One, PC and Nintendo Switch.
What are your thoughts on the leaked Apex Legends War Games event possibly happening soon? Are you a fan of the concept and its featured skins? Tell us in the comments section!