'Apex Legends' Old Ways Event Adds Bloodhound's Trials & Permanent Duos
Apex Legends has another event happening April 7 through April 21, and it's called the Old Ways Lore Event. This time, Bloodhound is the star of the show, and they've got a slew of exciting features to show off, including Bloodhound's Trials. A recap of the major event details is below.
Bloodhound's Trials: In the northwest portion of World's Edge, creatures called Prowlers have taken over. In these trials, squads battle against beasts to claim high-tier loot as a reward. That loot, however, can also be stolen by competing Legends if you're not careful.
New Daily Challenges and Prizes: A Prize Track with major milestone rewards at 1,000 points, 2,000 points and 4,000 points. Character and weapon skins are up for grabs if you grind.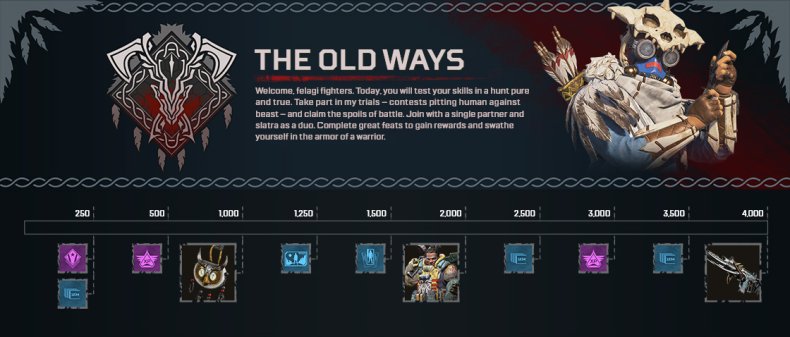 New Direct Purchase Items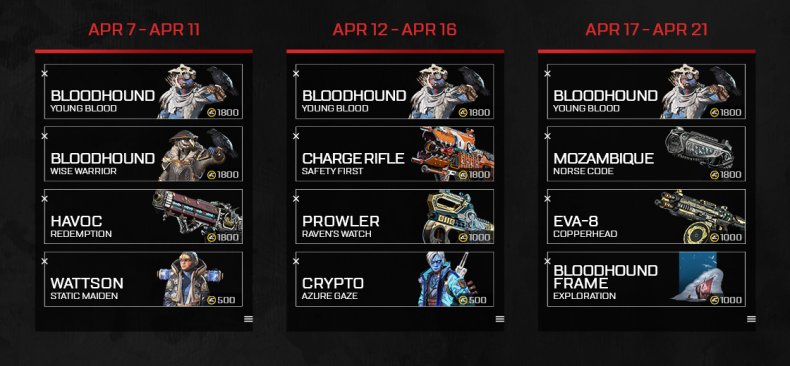 Legendary Hunt Skins Return: The Legendary Hunt skins first made their debut last June, and now they're back up for sale through April 21. See the full details and dates in the graphic below.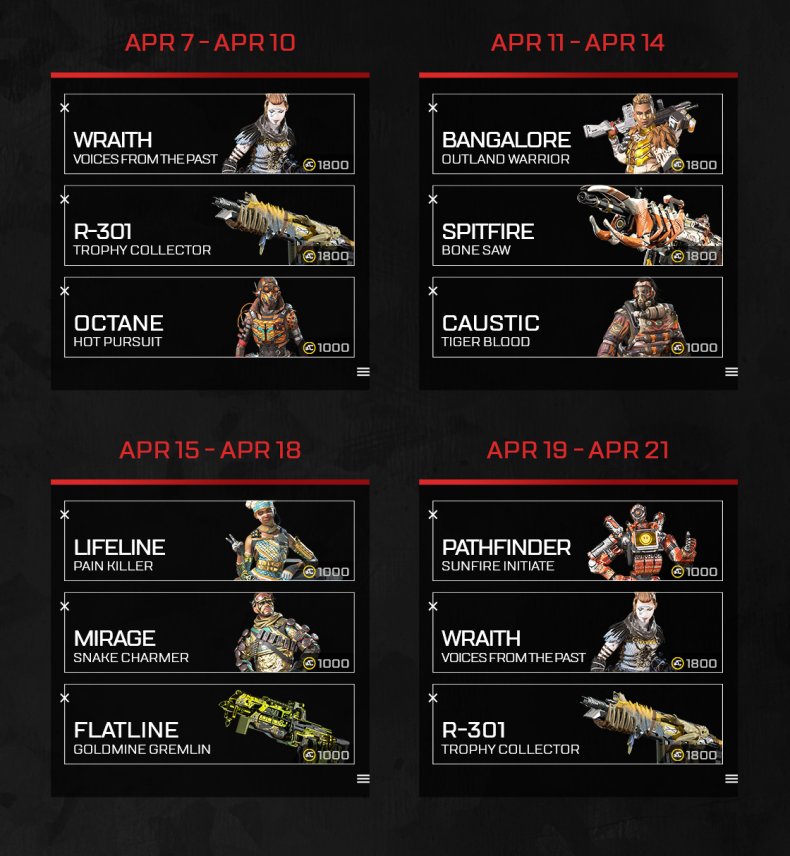 Permanent Duos and Map Select: Have you adored Apex Legends' previous forays into Duos? Do you wish you could select between Kings Canyon and World's Edge maps? Both highly requested features are making their way to the game for good once the Old Ways Lore Event begins.
Respawn's announcement of the Old Ways Lore Event coincides with the release of the latest episode of "Stories from the Outlands," which can be viewed above. In the 10-minute clip, fans have a chance to dig deeper into the story of Bloodhound and their relation to the other Legends. Many of the purchasable and free skins available throughout the duration of the event are inspired by the video. Fans of Apex will know the Old Ways is not the first character-specific event Respawn has hosted. Last September's Voidwalker Event was held in honor of Wraith's backstory as well.
Apex Legends is available now on Xbox One, PS4 and PC.
What are your thoughts on Apex Legends' Old Ways Event? Are you happy with the latest lore treatment for Bloodhound? Tell us in the comments section!