'Apex Legends' Season 4 Battle Pass Revealed - All Skins & More to Tier 110
Apex Legends Season 4 Assimilation is officially underway, and that means there's a new Battle Pass for sale for 950 Apex Coins. Below, we detail everything in the free and paid package through tier 110.
To get a better look at each of the skins, check out the video above, courtesy of Wild Side on YouTube.
Apex Legends Season 4 Battle Pass Skins and Rewards
Tiers one-five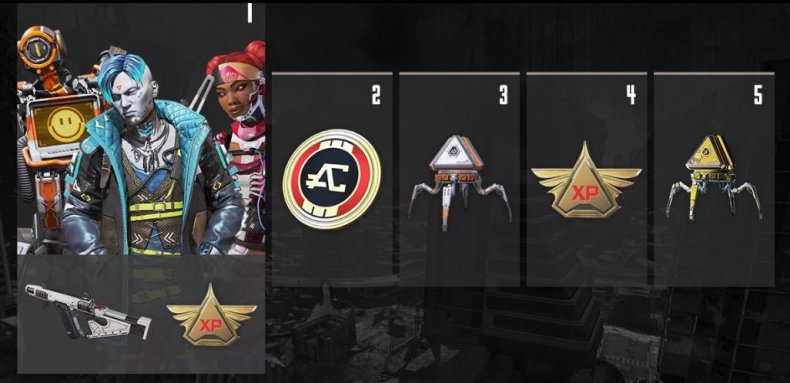 Zero Point R-99 Skin
Health Drain Lifeline Skin
Team Lift Pathfinder Skin
Blue Steel Crypto Skin
Tiers six-11

Sapphire Protection Kraber Skin [11]
Tiers 12-19

Quantum Realm Hemlock Skin [15]
Lime Plate EVA-9 Auto Skin [19]
Tiers 20-25

Pewter Tangerine RE-45 Skin [23]
Perfect Soldier Wraith Skin [25]
Tiers 26-33

Orbital Longbow Skin [27]
Seafoam Scaffold Havoc Skin [31]
Tiers 34-41

Hypertrophy Alternator Skin [35]
All Systems Go Prowler Skin [39]
Tiers 42-49

Bullet Bike Mastiff Skin [43]
Overcharged Charge Rifle Skin [47]
Tiers 50-55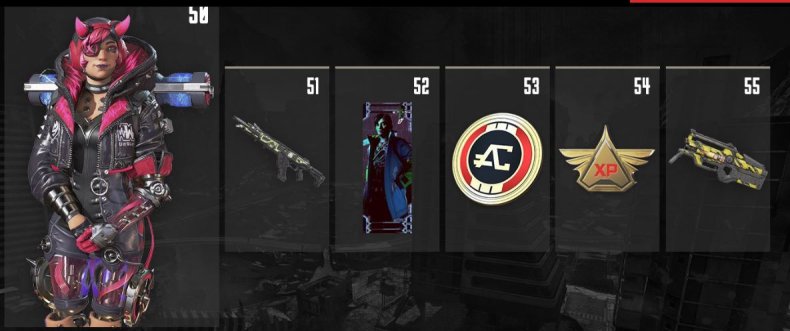 Cyber Punked Wattson Skin [50]
Alkaline R-301 Skin [51]
Caution Tape L-Star Skin [55]
Tiers 56-63

Circuitry Flatline Skin [59]
Cyber Sludge Caustic Skin [60]
Mecha Arthur Weapon Charm [61]
Metalization Tripletake Skin [63]
Tiers 64-69

Tiers 70-76

Revenant Music Pack [70]
Cybersilk Sentinel Skin [71]
Filament Peacekeeper Skin [75]
Tiers 77-82

Tectonic Shift Devotion Skin [79]
Tiers 83-88

Hardwired G7 Scout Skin
Plushness Master Weapon Charm [86]
Chiptech Mozambique Skin [87]
Tiers 89-94

Carapace Wingman Skin [91]
Mr. Robobble Weapon Charm [94]
Tiers 95-100

Citric Shield Spitfire Skin [95]
Deep Trace R-99 Skin [98]
Calibrated Charge Riddle Skin [99]
Heavy Metal Flatline Skin [100]
Tier 110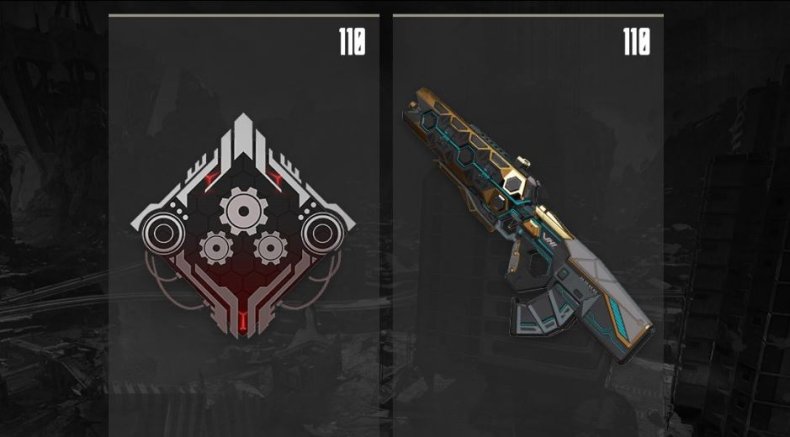 Heat Sink Flatline Skin [110]
In short, when it comes to progressing through the Apex Legends Season 4 Battle Pass, most of the big character skins are earned through the first 50 tiers. So, if outfits for your favorite Legends are all you care about, the grind to get those sweet cosmetics shouldn't be too terrible. It's also worth noting that the Season 4 Battle Pass does not include any skins for Revenant. With that in mind, any fans hoping to get more out of the new character will have to wait for the next big in-game event to alter his look. In general, however, there's quite a bit to the Season 4 Battle Pass for those who decide to spend the extra coin.
Apex Legends is available now on Xbox One, PS4 and PC. The Season 4 Battle Pass is live on all platforms.
What are your thoughts on the Apex Legends Season 4 Battle Pass? Which skin will you be working towards? Tell us in the comments section!