'Apex Legends' Season 5 Release - What Time & Date Does the Battle Pass Start?
Apex Legends Season 5 is just around the corner, and that means fans are anxiously awaiting the arrival of the game's next big update and Battle Pass. In this quick guide, we'll outline the Season 5 release date and start times you want to know about. Based on recent gameplay trailers and announcements, we'll also offer a brief recap of what fans can expect on launch day.
What times does Apex Legends Season 5 start?
According to an official blog post from the end of April, Respawn has announced the Season 5 Battle Pass is expected to start May 12 at 1 p.m. EDT. Past seasons of Apex have waffled between 1 p.m. and 3 p.m. starts, but it looks like Season 5 will opt for the earlier option.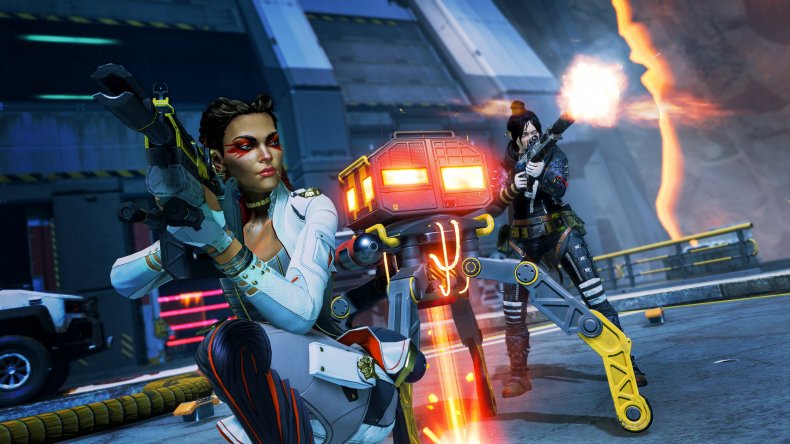 At that time, players across all platforms will be able to download the game's latest update that includes the final code for the new Legend, the new Battle Pass and any other features and balance changes that might be headed our way. If you're playing on PS4, you'll presumably be looking for update version number 1.36. Once that download is available, Season 5 is yours for the taking.
What to expect from Apex Legends Season 5
Through various gameplay trailers and teasers, fans should have a pretty good idea of what to expect from Apex Legends Season 5. Staying away from leaks, here's everything that's been confirmed so far.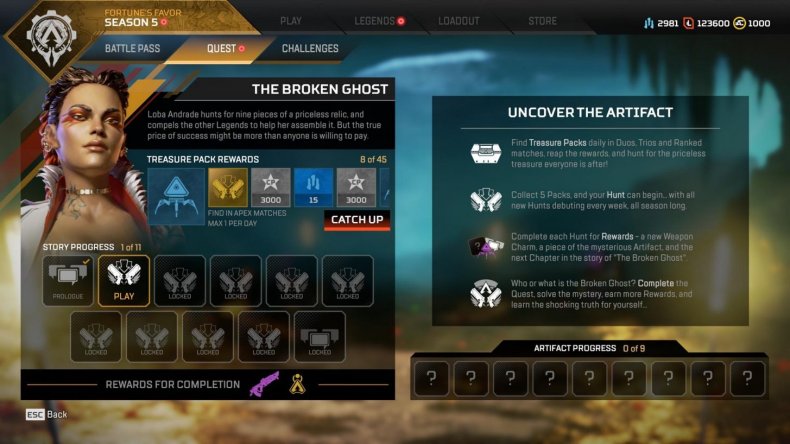 New Legend - Loba: Loba is Season 5's new Legend, and the Season 5 gameplay trailer tells us a fair amount about her abilities. While the nature of her Passive remains unclear, Loba's Tactical lets her teleport to nearby locations. As for her Ultimate, it looks like she can use her staff to steal weapons or loot from opponents.
New Quest - The Broken Ghost: During matches players will find Treasure Packs that potentially offer access to rewards earned in Weekly Hunts. These hunts are PvE encounters that can be done solo or with a Squad for a chance to unlock a Weapon Charm and new chapter in the quest.
Kings Canyon Unearthed: Kings Canyon has received a makeover throughout most of the map, and it now features a beacon that can seemingly recharge your Ultimate. A lot more than Skull Town has changed with this new iteration.
No New Weapon: Leaks suggested the start of Season 5 may feature a new weapon called the Volt SMG, but that's apparently not the case. Respawn has said there will be no new weapons in Season 5...yet.
Mirage Rework: Mirage is one of the least effective Legends, and Respawn has confirmed the character is getting a rework for the new Battle Pass. The developer has not officially detailed the nature of these changes, however.
Ranked Season 4: There's a new season of Ranked play split across Kings Canyon and World's Edge.
Quality of Life: Like most seasonal updates, the one for Season 5 will likely feature an assortment of quality-of-life changes. One of such tweaks is the debut of a Reconnect feature, which should appease those who've struggled with EA's sometimes shoddy servers.
That's all we know about Apex Legends Season 5 for now. Apex Legends Season 5 begins May 12 at 1 p.m. EDT.
What do you hope to see from Apex Legends Season 5? Are you excited to try out Loba? Tell us in the comments section!