'Apex Legends' Season 8 Leaks Reveal Fuse Ability Teaser and Ranked Solos
Apex Legends Season 8 is presumed to be a few weeks away, and leaks have finally emerged about the new character who's believed to be coming to the game, named Fuse. Dataminer SWL has revealed some early details about Fuse's ultimate ability, upcoming game modes and the possibility of Ranked Solos. The details were tweeted via the source account Thursday afternoon.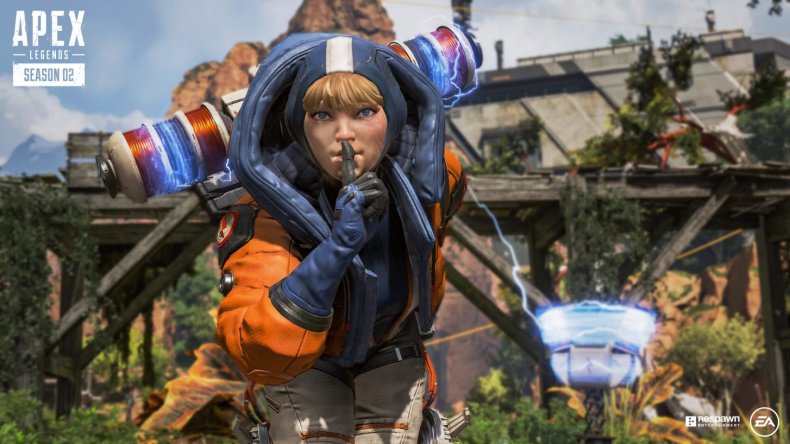 Perhaps the most important part of the leaks is the subject of Fuse, who seems to be an explosives expert, based on their leaked Ultimate Ability. As seen in the clip posted below, the ability features a bomb that, when detonated, explodes into a ring of fire. Leaks suggest the attack is called "Firebomb," and it will be paired with a Tactical Ability called "Projectile Grenade." In this clip, we see the user shooting a Firebomb that drops from the sky, but SWL believes this mechanic will be used for teasers that begin sometime Saturday.
It's further suggested that the explosives will fall between rings five and six to generate hype for the character's impending debut. Respawn has teased character abilities in this manner since Season 1 with Octane's jump pads, so it'd make sense to continue the trend moving forward. Assuming the leak is true, the ends of matches are about to get pretty chaotic.
But that's not all, as the same source account recently tweeted new details about potential upcoming modes as well. First is a match type called Arenas, which became a known quantity over the past few days. The mode is described as a 3v3 TDM-style affair with four possible loadouts, three ring stages, one supply drop and one medical container. Players are confined to small sections of the existing Battle Royale maps called arenas. The latest leak suggests testing of the mode continues at Respawn.
There are additional modes in the mix as well, but the descriptions for these are far less specific. Titles like "Anniversary Event Kings Canyon," "Locked and Loaded" and "Death Trigger" are mentioned among the data strings. But perhaps most curiously, "#PL_Ranked_Leagues_solo" is there, too.
Respawn has long said it doesn't believe Apex Legends works as a solos experience, but these leaks suggest developers are potentially investigating what a ranked solos queue might look like. As with all leaks, there's no guarantee everything listed here will make it into the live version of the game, but these recent developments are fairly exciting nonetheless. When it comes to Apex Legends Season 8 and beyond, it would appear the team has many interesting concepts to explore.
Apex Legends is available now on Xbox One, PS4 and PC.
Will we see Fuse in Apex Legends Season 8? Is a Ranked Solos queue a legitimate possibility? Tell us in the comments section!