'Apex Legends' September Soirée Hindered By DUMMIES Big Day Crash
Apex Legends fans were expected to begin their September Soirée Tuesday afternoon, but it appears the event has hit a big snag that the game's developers at Respawn are currently working hard to resolve. The highlight DUMMIES Big Day limited-time mode was quietly removed in the late evening hours after the discovery of a new crash that was promptly addressed by the game's official Twitter account.
"We're hitting pause on the party," the tweet reads. "After DUMMIES Big Day went live, we discovered a bug that caused server crashes if a player AFKed on character select. For the health of the game and our players, we're turning it off and working on a fix with details to come as we have them." At the time of publication an update has not been provided on the problem, leaving many Apex fans curious about the fate of the rest of the Soirée.
DUMMIES Big Day last appeared during the Grand Soirée earlier this year. In the mode, all Legends are replaced by different colored DUMMIES with identical abilities. They can instantly spawn single loot items tied to weapons in your inventory, spawn decoys or initiate an emergency healing Ultimate. Each of these abilities are chosen at random, essentially making the entire DUMMIES Big Day experience complete and utter chaos. Unfortunately, however, that chaos has been cut short for the time being.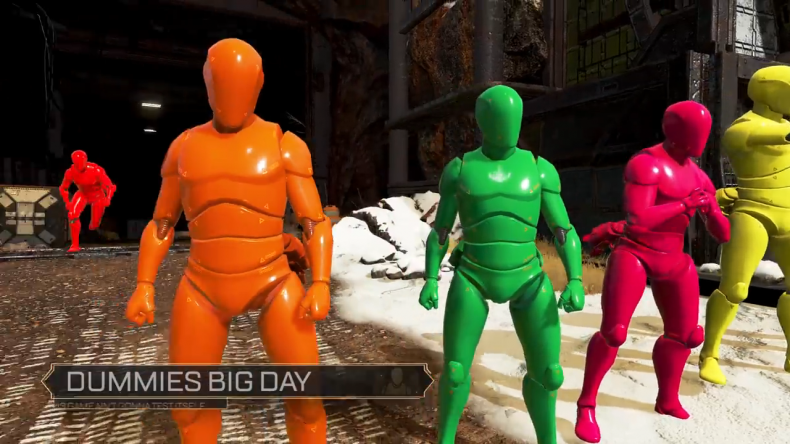 This LTM is expected to be in-game throughout the entire week as part of the larger September Soirée event taking place from September 8 through October 6. During that time, fan-favorite LTMs will be featured every seven days. A full detail of the remaining LTMs has not been revealed. As an added bonus, skins from January's Grand Soirée will also be available once again as part of the September Soirée Sale, which is scheduled to run September 15 through September 22.
Given that Respawn has yet to provide an update on the DUMMIES Bg Day situation, it remains to be seen how long the crazy mode will be absent from the LTM roster. It's also unclear if the snafu might prompt some adjustments to the larger event schedule. The mode has only been taken offline for a short while for now, and it could be a little while longer before everything is fully operational. Thankfully this event doesn't feature much in the way of exclusives and is more or less meant to be a rehash of popular LTMs. It might stink that things feel incomplete for some, but at least you're not missing out on something players haven't seen before.
Apex Legends is available now on Xbox One, PS4 and PC.
Are you frustrated by the sudden removal of DUMMIES Big Day? Which modes would you like to see during the remainder of September Soirée? Tell us in the comments section!