'Apex Legends' Switch Release Date Leaked, Season 8 and 30-30 Repeater Revealed
Apex Legends Season 8 was revealed Monday afternoon as the Mayhem Battle Pass. The new content is set to release February 2 alongside the Fuse Legend, 30-30 Repeater rifle and much more. In fact, leaks from official sources suggest the game's long-awaited Switch version may be on the way as well. The essential details arrive courtesy of an official blog post from Respawn.
Apex Legends Season 8 launch details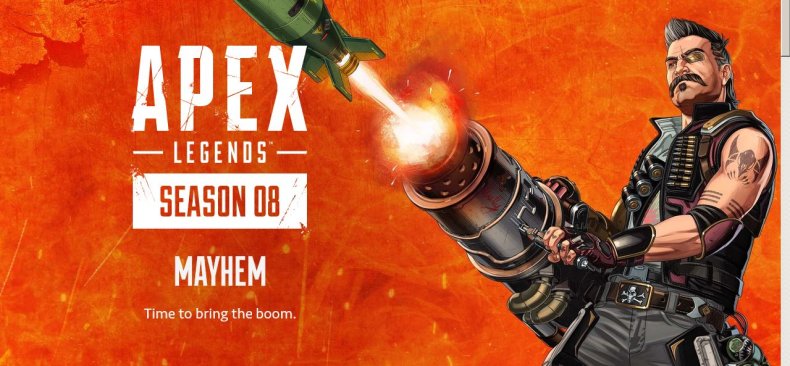 Starting with the basics of Season 8, Respawn has revealed the main tenets of the upcoming Battle Pass. The biggest piece of the puzzle is, of course, Fuse. Hailing from the planet Salvo, he's a rough-and-tumble fighter who "doesn't lack confidence, but he often lacks a plan. He's a blow-up-first ask-questions-later kinda guy," according to the source material. His Stories from the Outlands trailer reveals not only his apparent Australian accent, but also the origin story of his prosthetic arm. When his homeworld is on the brink of complete desolation, he's selected as the planet's first representative for the Apex Games.
His abilities have not been officially revealed by Respawn, but the ones that have been leaked appear to be a shoo-in based on the narrative of the character. His Ultimate is reportedly called Firebomb, and it involves projectile ammo that explodes into a ring of fire. Players can catch a glimpse of this ability right now if they survive into late-game circles. As for his Tactical, it's believed Fuse will take advantage of a Projectile Grenade.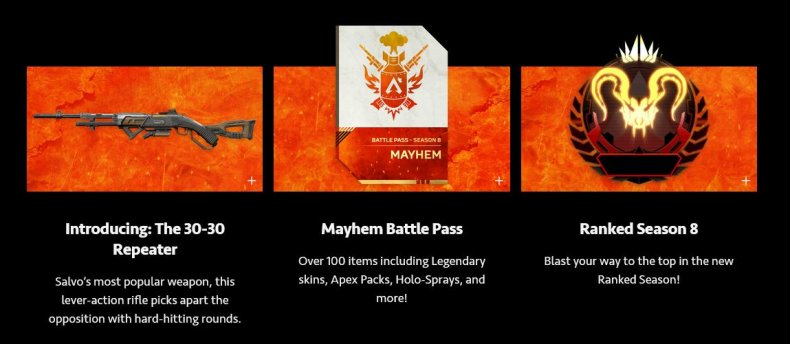 Moving back to the confirmed details, Respawn has also announced that Apex will finally be getting a new weapon added to its stagnant roster. The 30-30 Repeater is a lever-action rifle with hard-hitting rounds. Narratively, the gun is described as Salvo's most popular weapon. It will debut alongside a fresh Battle Pass with 100 unique cosmetics, a new ranked season and a transformed version of Kings Canyon. More concrete details on these will likely be revealed over the coming days, but this is all we know for now.
Possible Switch release?
Fans have been clamoring for a way to play Apex Legends on Nintendo Switch, and it sounds like that highly anticipated build might finally be here.
As cited by the Apex Legends News Twitter account, the video description for the Japanese-language version of the new Outlands trailer once read "and on February 2, it will be possible to play on Switch at the same time as the start of Season 8." That text was never available in the English versions and has since been removed, but the apparent mistake has many fans assuming the Switch version could be deploying sooner than we think.
After all, shadow drops play an important role in Apex Legends history. The game was famously released and revealed in early 2019 with almost no prior notice. In that sense, it would be fitting for Respawn to release its Switch version in the same surprising manner. It's possible the game's Japanese social media account team may have accidentally spilled the beans in that regard, or the information is just straight-up wrong. It'd certainly make sense for the Switch version to arrive alongside a new season, but it's still not entirely clear if this season is the one to feature it. This new evidence certainly makes the topic interesting, though.
Apex Legends is available now on Xbox One, PS4 and PC.
What are your thoughts on Apex Legends Season 8 based on these details? Are you interested in playing the game on Nintendo Switch? Tell us in the comments section!