'Apex Legends' Twitch Prime Loot Guide - How to Claim Loot & Link to EA
Apex Legends now officially has Twitch Prime Loot, and we want to make sure you get it whether you pay for Amazon Prime or not. In this no-nonsense guide, we'll walk you through the steps required to claim your loot by linking your Amazon, Twitch and EA Origin accounts.
How to claim Twitch Prime Loot in Apex Legends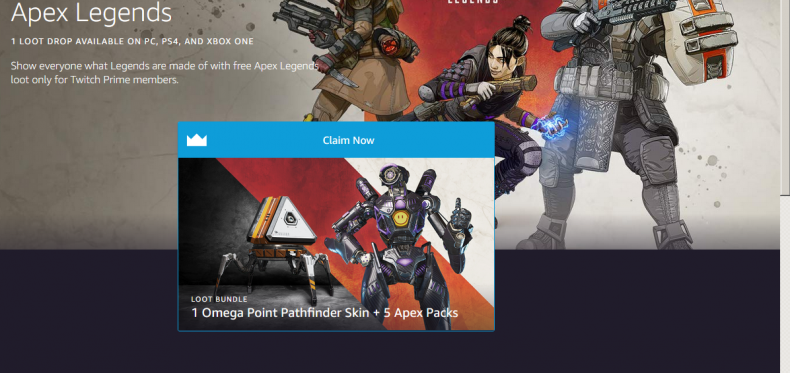 Go to the Apex Legends Twitch Prime Loot page.
Click the "claim now" button above the bundle graphic.
If you're a Twitch Prime (or Amazon Prime) member already, click the button to sign in. If you're not, click the button to "Try Prime" and go through the steps of starting a trial before continuing with this guide.
You may be asked to authorize accessing your account for redeeming Twitch Prime Loot. Click the blue button to authorize.
You'll be redirected to the loot page, where you can click "Claim Now" again.
This time, you'll be prompted to "link accounts to use loot." Do so.
On the next page, hit the button to Authorize.
Log in with your EA Origin credentials when prompted. If you don't know what those are, go to Origin's website and use the "forgot password" troubleshooting steps to recover the details. If you're totally stuck, try using the same credentials you normally use for Xbox Live or PlayStation Network.
Once the link is successful, open Apex Legends on your platform of choice. You'll see a message that reads "Thanks for playing our game! Because you are a Twitch Prime member, you get a new Pathfinder skin and five Apex Packs."
You'll find the Omega Point Pathfinder skin unlocked in your inventory, and the five Apex Packs will be available to open. This likely isn't the last batch of Twitch Prime Loot you'll get for Apex Legends over the next few weeks, but the claim process should be similar each time.
Apex Legends is available now on PS4, Xbox One and PC. The Twitch Prime Loot is active on all platforms.
Were you able to claim your free Twitch Prime Loot for Apex Legends? Did you get anything good from your Apex Packs? Tell us in the comments section!