'Apex Legends' Twitch Prime Loot Guide: Claim Loot & Link to EA to Get Loba Skin
Apex Legends Season 5 began on Tuesday with the debut of Loba, and, understandably, the latest Battle Pass was a bit light on skins for the new Legend. However, just like last season, Twitch has stepped up to fill the cosmetic void with another round of Twitch Prime Loot. This time free and paid Amazon Prime subscribers can get Game Master Loba. In this guide, we'll tell you how.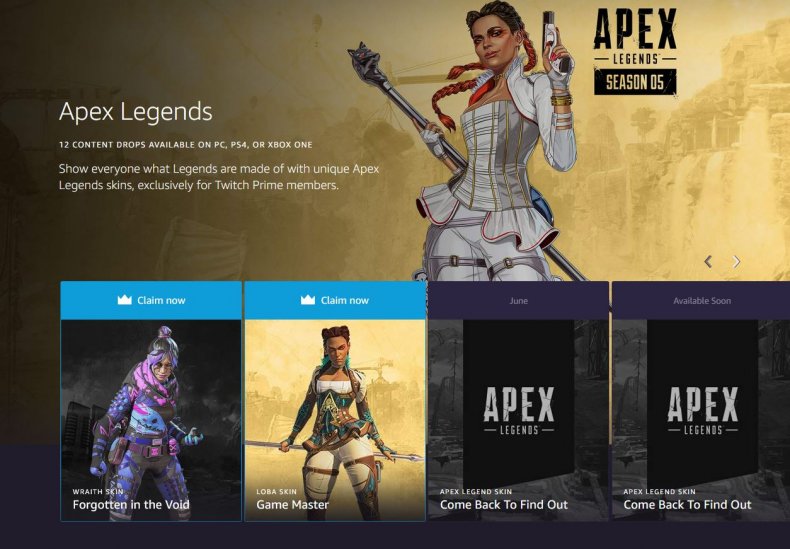 While most of our readers probably have an Amazon Prime subscription at their disposal, it's worth noting that Twitch Prime Loot can be claimed with a 30-day free trial option for those who don't want to pay at all. However, a credit card is required and the trial must be canceled within the 30-day time span to avoid being charged. If you need one, just follow the link and the steps provided. Twitch and Amazon Prime accounts in hand, it's time to get started.
Go to the Apex Legends Twitch Prime Loot page.
Click "claim now" above the Game Master Loba graphic.
Log in with your Amazon Prime and Twitch details. If you're already logged into either or both accounts from prior visits, you may be able to skip this step.
After logging in, you might be brought back to the loot page. From here, click continue sign up.
Authorize and click your country of residence.
Click "claim now" for a third time.
You'll be asked to "link accounts to use loot." Do so.
On the next page, hit the button to Authorize.
Log in with your EA Origin details when asked. If you forget them, go to Origin's website and use the "forgot password" troubleshooting procedure to recover the credentials. The correct login might be the same one you use for Xbox Live or PlayStation Network.
After logging in to EA, press the button that says "yes, link them."
Once the link is successful, open Apex Legends on your console or PC. You'll see a message that reads "Thanks for playing the game! You now have the Loba skin you redeemed on Twitch Prime."
This Game Master skin is just the latest in a long line of Twitch Prime Loot that has been offered in Apex Legends since the game's launch. Seasonally, players have had the chance to claim extra skins for added Legends like Caustic, Crypto and Revenant as well. Players have until June 18 to get the Game Master Loba skin, which offers ample time, but don't delay too long and forget this fierce freebie.
Apex Legends is available now on Xbox One, PS4 and PC. The Game Master Loba skin is claimed the same way on all platforms.
What are your thoughts on the Game Master Loba skin? Do you like Season 5 so far? Tell us in the comments section!