'Apex Legends' Twitch Rivals Challenge 2 - Time, Teams, Standings, Results & How to Watch
Last week, the first Apex Legends esports event streamed through Twitch Rivals. Streaming superstar Ninja and his teammate Dizzy managed to secure the first place spot, but will they be able to hold onto their crown in the second week of competition? Here's a full rundown of the event, including its start time, results, rules and teams.
What time does the Apex Legends Twitch Rivals Tournament Start?
Today's tournament will be split between separate EU and NA brackets. Here's when the event is expected to start.
EU : 12 p.m. EST
NA : 4 p.m. EST
Where to watch the Apex Legends Twitch Rivals Tournament
The event will be streamed from the Twitch Rivals page and from each individual streamer's account. If you want to see the moment Ninja losses his first place spot, you'll have to switch over to his stream to see it in real time.
Watch live video from TwitchRivals on www.twitch.tv
Apex Legends Twitch Rivals Teams
Here's the full list of streamers and content creators taking part in today's Twitch Rivals tournament. Head over to each of their streams to watch from their perspective. This week has some truly interesting competitors like former League of Legends pros Imaqptie, Dyrus and YouTube Let's Player JackSepticEye. You can check out the full charts below for details.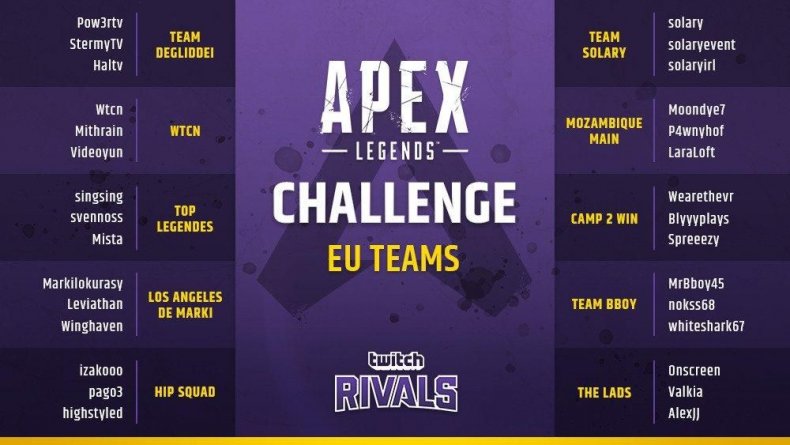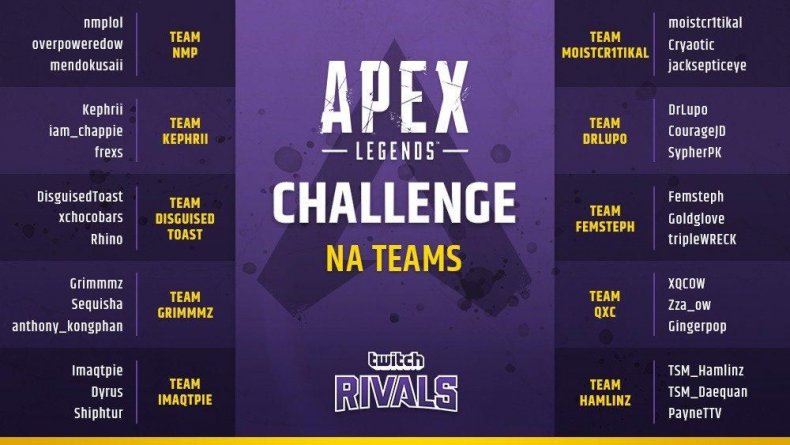 Apex Legends Rules, Scoreboard & Standings
The rules format for the next two weeks of Twitch Rivals tournaments is below. Teams will play on public servers and attempt to accrue as many kills and wins as possible in a four-hour window. Points will be doled out as follows:
Wins: Five Points
Kills: One Point
The team with the highest score at the end of four hours wins. The full prizing breakdown is below.
$8,000
$7,000
$6,000
$5,500
$5,000
$4,500
$3,500
$3,000
Standings will be updated once the brackets have started.
Who do you think will win Week 2? Tell us in the comments.