'Apex Legends' Twitch Rivals - Time, Teams, Standings, Results & How to Watch
Apex Legends is about to host its first $200,000 Twitch Rivals tournament, and we want to make sure you don't miss a single second of the action. Below you'll find a full recap of the event including its start time, rules, teams and results.
What time does the Apex Legends Twitch Rivals Tournament Start?
Today's tournament will be split between separate EU and NA brackets. Here's when the event is expected to start.
EU: 12 p.m. EST
NA: 4 p.m. EST
In addition to this week's matchup, there will be another round of battles on February 19 as well.
Where to watch the Apex Legends Twitch Rivals Tournament
The Apex Legends tournament will be streamed as a central hub on the official Twitch Rivals Twitch channel. Those who'd like to follow a specific streamer can watch their individual matches on their respective Twitch channels as well. We've linked to those in the teams list below.
Apex Legends Twitch Rivals Teams
Here's the full list of streamers and content creators taking part in today's Twitch Rivals tournament. Click the link to watch each match from their perspective.
EU Teams
The Kingsman
Salty Sandwich
Die Drei Agilen Konge 07
Team JBZZ
ZF
[POG Team]
Team Nordics
Team Apextosos
NA Teams
The Broys
King's Canyon
VisRespect the Kraft
Summit, Josh & Buhbye
Team Pepega
Reid's Money Team
Team MDX
The '95 Blockbuster Champs
Apex Legends Rules, Scoreboard & Standings
The rules format for the next two weeks of Twitch Rivals tournaments is below. Teams will play on public servers and attempt to accrue as many kills and wins as possible in a four-hour window. Points will be doled out as follows:
Wins: Five Points
Kills: One Point
The team with the highest score at the end of four hours wins. The full prizing breakdown is below.
$8,000
$7,000
$6,000
$5,500
$5,000
$4,500
$3,500
$3,000
Here are the final EU standings in case you missed the stomp.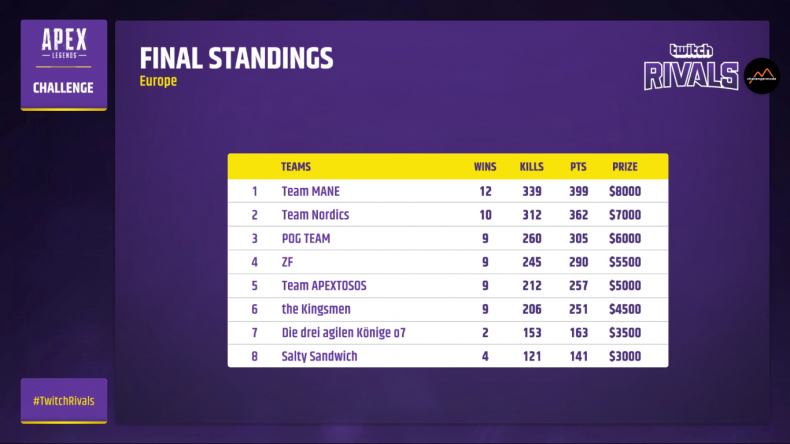 Here are the final NA standings for Week 1 of Twitch Rivals.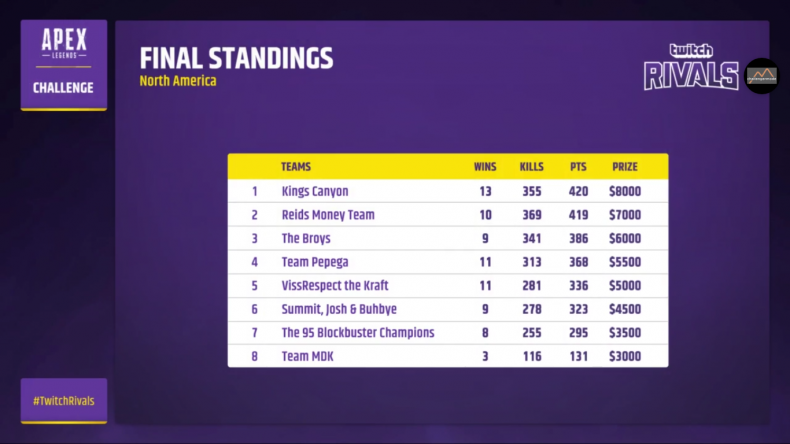 Apex Legends is available now on PS4, Xbox One and PC.
Who's going to win Apex Legends' first Twitch Rivals tournament? Will Apex Legends be an esports hit? Tell us in the comments section!