'Apex Legends' Update 1.45 Fixes Armor and More - Patch Notes
Apex Legends update 1.45 is making its way to PS4, Xbox One and PC with nearly 2GB of changes on console platforms. Old armor values are returning, saucy voice lines have been removed and many bugs have been squashed. Read the full patch notes below, courtesy of an official Respawn blog post.
Apex Legends Update 1.45 Patch Notes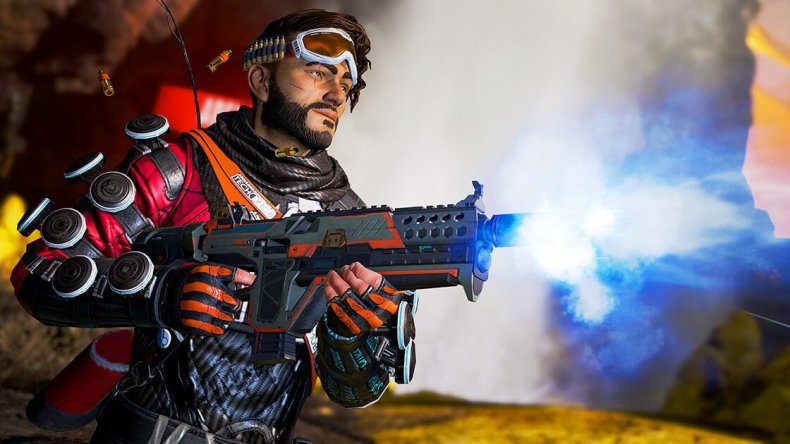 General
Armor values that were reduced by 25 HP at the start of Season 6 have been reverted to their pre-Season 6 values.
Fixed several server crashes.
Made adjustments to the appearance of several holosprays.
Removed an inappropriate Caustic voice line.
Audio
Fixed an issue with audio not playing when shooting the Devotion and Volt.
Fixed an issue where Crypto's drone in Caustic gas would play to the whole server
Fixed marking crafting replicators from the ship playing a "Let's go here" VO ping.
Replicators
Fixed an issue with Evo Shields that require exactly 100 damage not evolving when crafting the 100 points.
Fixed an issue with Ninja controller configuration not being able to use Replicators.
Fixed an issue with not being able to revive a teammate when they are downed while using a replicator.
Gibraltar
Fixed an issue with Dome Shield on a Sheila allowing a player to shoot through the Dome Shield.
Rampart
Fixed an issue with the "No Mercy" finisher spamming "Boom" to the entire server.
Fixed an issue with amped cover walls requiring more hits from heirlooms than from normal melee to be destroyed.
Fixed a server crash when Sheila is destroyed while someone is using it.
Crypto
Fixed an issue with Hack not detecting players on Sheila.
Wraith
Fixed an issue with the portal disappearing upon Wraith's death.
Fixed a crash with Wraith's portal interacting with World's Edge geysers.
Fixed an error when Wraith's portal is too close to a replicator and the player interacts with the replicator.
Loba
Fixed an issue that caused Loba's teleport to fail in certain areas.
For those who've been playing Apex Legends for a while now, the biggest change in this patch is the first one on the list, which reverts armor back to its pre-Season 6 values. When the new Battle Pass went live last month, it released alongside some controversial armor overhauls in which all armor became Evo Armor. The change was meant to favor skill over luck by rewarding the best players with the most Shields. Knowing that players might be hitting higher armor thresholds more frequently, however, Respawn compensated by nerfing all armor values significantly.
While sensible in mindset, this tweak gave way to a reduced time to kill that was only exacerbated by the debut of powerful guns like the Volt SMG. Rather than prioritizing strategic, team-based gameplay, Apex Legends started to feel a lot more like the run-and-gun-favoring Call of Duty. In this new patch, all armor will still be Evo Armor, but the shield levels will be a bit stronger than they were before. Outside of that armor adjustment, the rest of update 1.45 is mostly just bug fixes.
And as for that "inappropriate Caustic voice line," let's just say you won't hear him talk about rodents around Crypto anymore.
Apex Legends is available now on Xbox One, PS4 and PC.
What do you think of Apex Legends update 1.45? Are you happy with the armor reversal? Tell us in the comments section!