'Apex Legends' Update 1.09 Fixes Sound & Gibraltar Bug - Patch Notes
Apex Legends update 1.1.3 has released on PS4 as version 1.09, and the patch features several key bug fixes players have been asking for. Audio bugs have been addressed, and glitches related to Gibraltar, Caustic and Lifeline have been resolved. Read the full patch notes courtesy of an official reddit post from Respawn.
Apex Legends Update 1.09 Patch Notes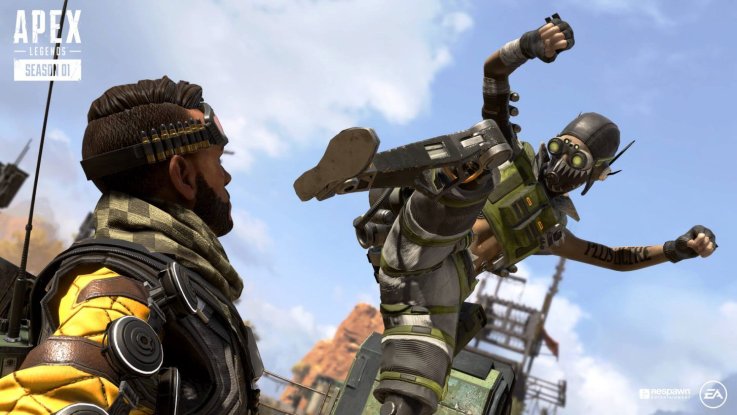 Audio
PERFORMANCE
Improved audio engine to be around 30 percent more CPU efficient, lessening the chance of distortion or dropouts.
Lowered impact on data loading through code and content changes to improve potential dropout issues.
QUALITY OF LIFE
Lowered the master volume of all sounds during the character select screen through the end of the drop sequence.
Lowered the volume of Wraith's ambient kunai knife sound for those who are sensitive to the sound. If it is still bothersome we will remove it in a later patch.
Increased the volume of close proximity enemy footsteps for all Legends.
Increased the priority of enemy footsteps to ensure the sounds play even in heavy combat situations.
Slightly lowered the volume of Pathfinder footstep sounds heard from the first person view.
Fixed missing or quiet dryfire (out of ammo trigger click sound) and low ammo (the progressive change in sound that the gun makes as the magazine approaches empty) sounds for the R301, Hemlok, Flatline and RE45.
Increased the volume of the music that plays when winning a match.
Added more detailed audio to the Training mission.
BUG FIXES
Fixed occlusion bug for the "wind down" sound for the Havoc.
Fixed issue with automatic weapon fire sounds occasionally getting stuck on, usually after a Legend respawns.
Fixed bug with RE45 missing tail sounds (the echo in the environment after the shot) when in close proximity.
Hit Detection
Fixes that should eliminate many cases of incorrect hit registration
Tracking of bullet-damage logic for future diagnostic purposes.
Crashes & Bug Fixes
The Lifeline "Pick Me Up" Banner crash has been fixed and the banner will be re-enabled a few hours after the release of the update
Crash workarounds for Intel CPUs [PC only]
Fixed issue with the Fortified Passive ability for Gibraltar and Caustic where they would take damage through shields.
Fixed the bug that allowed players to stick objects to Gibraltar's Gun Shield.

Admittedly it's been fun to see the results of this but the behavior is not intended by design and could get out of control. Items will no longer stick to Gibraltar's Gun Shield, however, it will now deflect Arc Stars.

We have identified some issues with -novid, and will be disabling the flag until we can address the issues. Thank you for your patience
In short, Apex Legends update 1.09 is essentially an emergency bug-fix patch to resolve widespread issues with Respawn's popular game. Especially in the battle royale genre, audio performance is incredibly crucial as dedicated players listen for every instance of noise to get the drop on an opponent. When those sounds don't work properly, however, the end result can sometimes be more than a little frustrating. Slightly more on the fun side, though, is the glitch tied to Gibraltar's Shield. While useful, the deployable item was basically a mess with everything it came into contact with. The compilation videos made over the past couple months were entertaining, but it's nice to know the Shield will finally function as normal.
Apex Legends update 1.09, while certainly worthwhile, is likely far from the kind of patch most diehard fans want to see. Players have long complained about Apex's lack of meaningful content, and this latest build does nothing to alleviate that perception. Respawn and EA recently confirmed that news on Apex Legends Season 2 will be revealed during EA Play next month.
Apex Legends is available now on PS4, Xbox One and PC.
What are your thoughts on the latest update for Apex Legends? Does this patch do enough to maintain your interest? Tell us in the comments section!
'Apex Legends' Update 1.09 Fixes Sound & Gibraltar Bug - Patch Notes | Gaming