'Apex Legends' Update Leaks Reveal 2020 Valentine's Day Event & Charms
Apex Legends Season 4 launched earlier this week, but leaks suggest new content is coming to the game sooner than some fans expect. According to leaks sourced by dataminers like iLootGames on Twitter, love is in the air with a presumed Valentine's Day event in the works.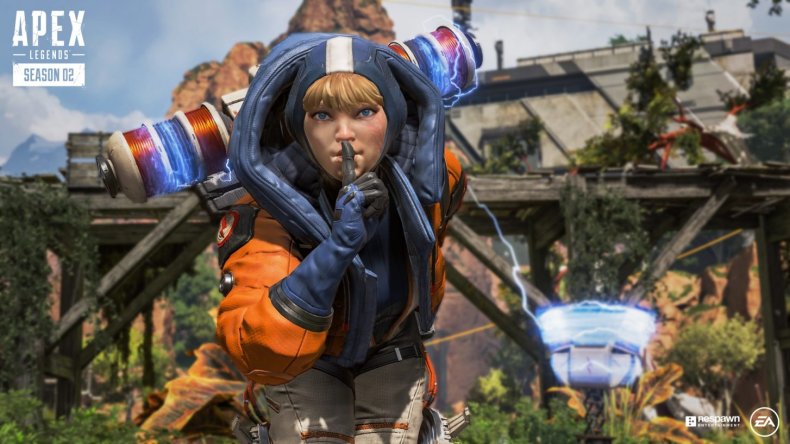 While Respawn was careful not to feature any skins amongst the latest Season 4 update files, developers have left just enough clues to let players know something is coming. Chief among the reveals are these charm renders, which feature a lovestruck dinosaur and a chibi-Cupid take on Pathfinder. Data strings suggest the dino will be called "love struck," while the Pathfinder charm is called "Lovefinder."
For fans of "love struck" especially, there's also a badge featuring the adorable image as well.
With regard to character-based additions, the only files Respawn has included in the latest update are some thematic voice lines labeled as quips. Here are a few of them.
I didn't say I mended broken hearts.
I'll send flowers.
Better to fight and fall.
Your heart is open for all to see.
You honor Saint Valentine.
Misunderstood intentions.
Love is blind...and so are you.
Most alive when you're in love
Gibraltar still loves you.
Roses are red...and you are dead.
No cure for a broken heart.
Shot through the heart.
Mirage a trois.
Best date I've had in a while.
That got my heart pounding.
I think I love you friend.
I'm just a robot.
Parting is such sweet sorrow.
A gift of joules.
Love is a form of energy.
There is a void in your heart.
Your path has led to heartbreak.
I want your heart.
You're forgettable.
While most of these lines aren't attributed to specific Legends in the data, diehard Apex fans will likely recognize how a few of them fit based on the context. Quips like "I'm just a robot" will presumably be said by Pathfinder, while "Gibraltar still loves you" will obviously be unique to Gibraltar.
Last but not least, there are also strings tied to a "Valentine's Week gift" and "Login reward." It's expected, then, that players will receive at least one cosmetic just for playing during the event window. Since the charms are present alongside these strings, it's possible the gift may be one or both of those.
The evidence may be a bit underwhelming, but it at least proves Respawn has something planned for the year's biggest romantic holiday. If 2019's event is any indication, it's possible more content will arrive through a larger client update sometime next week. Even though Apex launched just a few days before Valentine's Day last year, developers still added the "Live Die Live" Banner Badge for reviving squadmates and brought a few themed cosmetics to the item shop. We expect to see a collection of premium skins alongside the first round of Season 4 bug fixes over the next few days.
Apex Legends is available now on Xbox One, PS4 and PC. An exact date for the 2020 Valentine's Day event has not been announced.
What are your thoughts on these Valentine's Day leaks for Apex Legends? Will Season 4 have better festivities? Tell us in the comments section!