Apollo 11 50th Anniversary: Google Celebrates With Video Doodle Narrated by Astronaut Michael Collins
Ahead of the 50th anniversary of Apollo 11's moon landing, Google is honoring the historic event with a video Doodle that gave users the chance to experience the journey.
Google users on Thursday likely noticed a change to their homepage when they visited the internet search website. On the homepage, users could watch a video narrated by Apollo 11 astronaut Michael Collins.
Along with a series of animations dedicated to taking users on a journey from liftoff, to the moon and back to Earth, Collins explained what it was like aboard the rocket.
"Neil [Armstrong], Buzz [Aldrin] and I felt the weight of the world on our shoulders," Collins said in the video. "It took around 400,000 people to land humankind on the moon."
Collins noted that at the time, the astronauts thought their computer on the aircraft was sophisticated, but in actuality, it was less sophisticated than people's phones today. When they reached the moon for the first time, Collins called it a "magnificent spectacle" and said the sun was coming up around the moon, making a golden halo.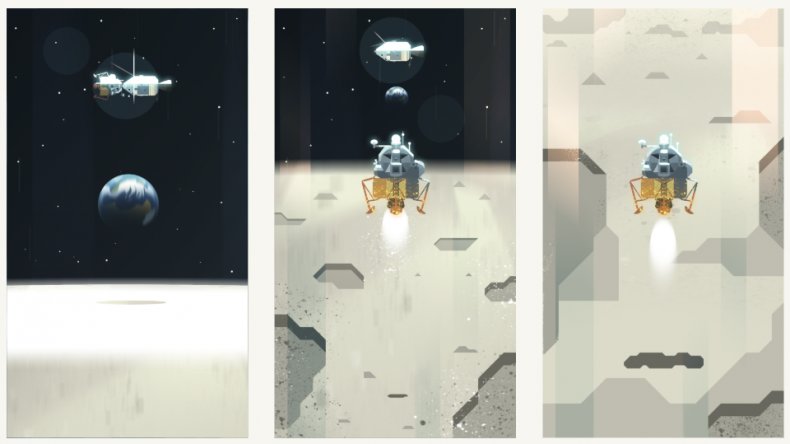 Despite the beautiful sight of the moon, the astronaut noted the view of the earth was even more spectacular.
"The earth was the main show," Collins described. "The earth was it."
Along with the video Doodle, Google users could learn about the command module in augmented reality by searching "Apollo 11" from their AR-enabled mobile device. Once at the search, they could also discover stories about the mission, spacecraft and the people who were involved in making the mission a success.
"Fifty years ago, NASA's Apollo 11 mission changed our world and ideas of what is possible by successfully landing humans on the surface of the moon—and bringing them home safely⁠—for the first time in history," Google wrote in the blog.
On July 16, 1969, the astronauts took off from Florida's Kennedy Space Center and orbited the moon before the lunar module, "the Eagle," separated from the rocket. After a 13-minute journey to the moon's surface, on July 20, 1969, Armstrong became the first man to step foot on the moon.
"That's one small step for man, one giant leap for mankind," Armstrong famously said over the radio.
Following in Armstrong's footsteps, Aldrin joined him on the moon shortly after and the two men left both an American flag, a patch honoring the fallen Apollo 1 crew and a plaque.
"Here men from the planet Earth first set foot upon the moon. July 1969 A.D. We came in peace for all mankind," the plaque read.
On July 25, 1969, the Apollo 11 crew returned safely to earth, landing off the coast of Hawaii.