Appalachian Hiker Mistook for Brian Laundrie by U.S. Marshals Because of Ear Mark
A hiker on the Appalachian Trail was recently mistaken for Brian Laundrie by U.S. Marshals Service agents because of a marking on his ear.
While speaking with the New Yorker magazine, Severin Beckwith explained a recent trip he took with his partner Anna Brettmann, and how they were recently ambushed by members of the U.S. Marshals service while hiking the Appalachian Trail in North Carolina.
Beckwith told the magazine that while he was in his Lodge at Fontana Village Resort, he was awoken by U.S. Marshals bursting through his door.
"Next thing I see is a bunch of guys with riot shields with 'U.S. Marshals' written on them," he told the New Yorker. "Handguns pointed at my face."
According to the New Yorker, Beckwith looks similar to Laundrie, as he has a bald head and a beard. Laundrie, who has remained the sole person of interest in the case for his fiancé, Gabby Petito's disappearance and murder, has been on the run, evading law enforcement officials for over a month. Petito was murdered by manual strangulation, the Teton County Coroner recently announced.
While speaking with the New Yorker, Beckwith explained that the U.S. Marshals Service agents touched the side of his head and noticed "a notch in the upper part of my inner ear just like [Brian's]." Beckwith also told the magazine that he and Brettmann booked their room with a New York ID "which, I guess, was good enough motive to come in," he said, as Petito was originally from New York.
Beckwith recalled to the magazine that an employee at the Fontana Lake marina acted concerned when he tried to use the telephone. According to the New Yorker, the employee also took Beckwith's picture while he was waiting for a shuttle and provided it to authorities, who showed it to Beckwith when they ambushed his room.
"They had a little side-by-side," he told the magazine. "It was Brian and then me on the phone calling to get the shuttle."
After the incident occurred, Beckwith and Brettmann told their story to Maria Guzman, the owner of a hostel, roughly a weeks walk away down the Appalachian Trail in Tennessee.
"He does look like Laundrie," Guzman told the New Yorker. "But so do thousands of people."
After he was reported missing, Laundrie's parents told law enforcement officials that they last saw their son on September 13 and believed that he went on a hike in Florida's Carlton Reserve.
While the search for Laundrie has been focused on the reserve, some have recently claimed that they saw Laundrie on the Appalachian Trail in North Carolina.
Dennis Davis recently spoke to Fox News and said that he saw Laundrie in Tennessee near the North Carolina border.
"There is no doubt about it. That was Brian Laundrie I was just talking to. One-hundred percent. Not a doubt in my mind," he told Fox News.
In a statement sent to Newsweek, a spokesperson for the U.S. Marshals Service said, "The USMS often supports investigations conducted by our federal, state, local, and tribal partners. In this instance, the Graham County Sheriff's Office [GCSO] in North Carolina had received a tip that the fugitive Brian Laundrie had been sighted in their jurisdiction."
"GCSO asked the USMS task force to support them in making contact with the subject. The USMS was not the lead investigative agency in this matter and was acting in support of the GCSO," the statement added.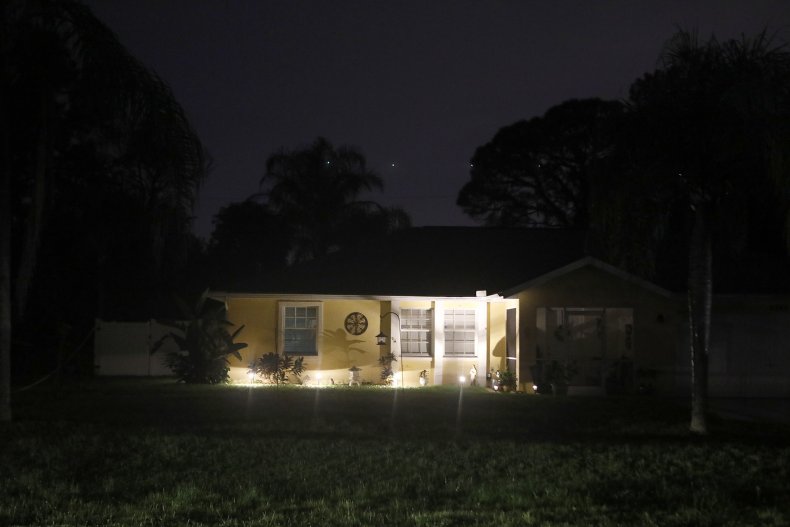 Updated 10/18/2021, 3:22 p.m. ET: This story has been updated with a statement from the U.S. Marshals Service.