'Appalling': Republican Calls for Falwell Jr. to Resign From Liberty University, Says Students 'Deserve Better'
Republican Representative Mark Walker on Thursday criticized Liberty University President Jerry Falwell Jr. for a recent picture he posted, calling it "appalling," and urged him to resign from his position.
"Jerry Falwell Jr's ongoing behavior is appalling," Walker wrote in a recent tweet. "As a Music Faculty Advisory Board Member and former instructor @LibertyU, I'm convinced Falwell should step down. None of us are perfect, but students, faculty, alumni and @LUPraise deserve better."
Walker's comments were about a recently deleted picture that Falwell Jr. posted to Instagram. The photo showed Falwell Jr. with his pants unzipped and his underwear showing, while he had his arm around a woman whose shorts were unbuttoned.
Falwell Jr. apologized for the photo on Wednesday during an interview with the Morningline show on WLNI 105.9 FM, a radio station in Lynchburg, Virginia.
"I've apologized to everybody," Falwell Jr. said during the interview. "And I've promised my kids I'm going to try to be—I'm gonna try to a good boy from here on out."
Asked about the photo, Falwell Jr. told the radio station that the woman was his "wife's assistant" and that she couldn't get her pants zipped because she is pregnant.
"I had on a pair of jeans I hadn't worn in a long time, so I couldn't get mine zipped either, and so I just put my belly out like hers," Falwell Jr. said. "I should never have put it up and embarrassed her."
Falwell Jr. added, "It was a costume party, and we were on vacation. Anyway, long story short, it was just in good fun, that's it."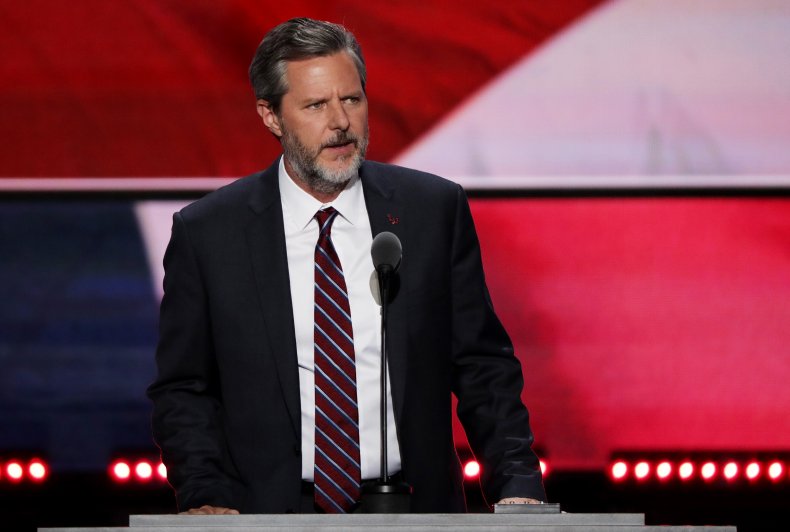 In addition to Walker's criticism, Falwell Jr. faced backlash from others for the photo. The Liberty University student honor code prohibits students from having "sexual relations outside of a biblically-ordained marriage." The university also has strict rules on the media that students watch as well as the clothes they wear.
Meghan McCain, co-host of ABC's The View and daughter of the late Senator John McCain, called Falwell Jr.'s photo "gross" and "hypocritical."
"How is this Jerry Falwell Jr. photo even real? Also, if you're running the largest Christian university in America, maybe don't put photos of yourself on social media with your pants undone on a yacht—with random women in bad wigs," McCain recently tweeted.
Falwell Jr. received similar criticism last year, after he was seen in photos in a Miami nightclub. In an interview with Politico, he denied the existence of the photos and suggested that "if the person in the picture is me, it was likely Photoshopped."
Newsweek reached out to Falwell Jr. and Walker for further comments but did not receive a response in time for publication.