Joe Exotic went on a giant tangent about filming porn during his murder for hire trial, according to a juror. The Tiger King star apparently had to be cut off by his own attorney after leading the conversation in a NSFW direction.
The admission by a juror named Kristin was featured on Fox Nation's A Tiger King Investigation with Nancy Grace. Kristin explained Exotic was asked about a specific phone call before diving into the explicit story. He explained where he was the day of the call, and one stop he made was at a motel.
"I think he said he was in Oklahoma City or Edmond or something and so he headed back to the zoo, but they stopped at a motel on the way and filmed a softcore porn," said Kristin.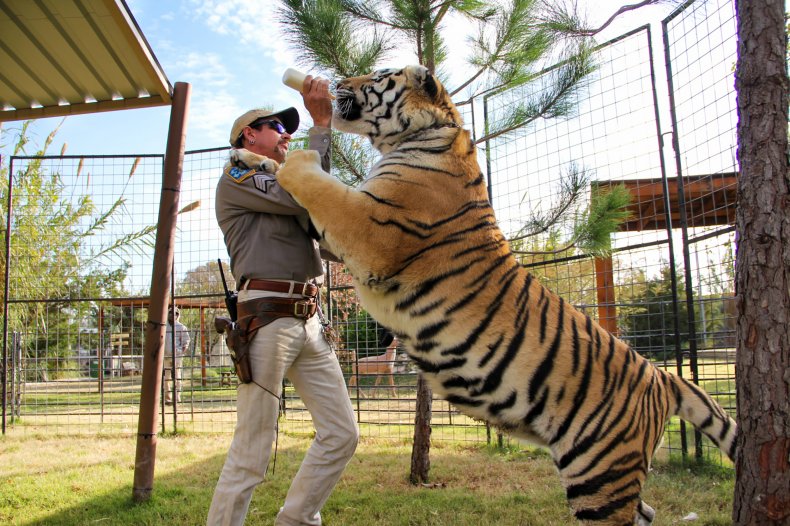 Apparently, this left even the Tiger King's attorney uncomfortable, and they swiftly cut him off.
At the end of the trial, Joe Exotic was sentenced to 22 years in prison for attempting to have his rival Carole Baskin murdered. He was also found guilty on some animal abuse counts that violated the Endangered Species Act.
For years before Exotic was sent to prison, he owned the Greater Wynnewood Exotic Animal Park in Oklahoma where he had over 200 tigers.
It's all explained in the Netflix documentary series Tiger King that captivated American audiences immediately after its March release.
This isn't the first time Kristin spoke about Exotic's conviction. She also said the man seemed quieter than his boisterous personality seems in the documentary series.
"He wasn't the same guy," she said in a video interview with Law & Crime. "He was much quieter. He did give his attorneys a run for their money because I think he would talk more than they wanted him to. He would slip in a little bit of extra information."
She also revealed Exotic tried to fake tears during the trial, but they weren't very convincing.
In addition to Exotic, Tiger King shines a light on Jeff Lowe, the current owner of the park, who self-admittedly played a role in getting Exotic to start the murder for hire attempt. Kristin said nothing of Lowe was explained during the trial, and she'd have liked more information on his involvement.
"I really wish we would have heard something from Jeff Lowe," she said. "He never testified. In deliberations that was brought up—we didn't get to hear his opinion or the exact role he did play."