Apple's futuristic new campus in California will be fitted with standing desks for employees, because sitting is "the new cancer."
Chief executive Tim Cook revealed all in an interview with David Rubenstein this week. Cook said the health benefits of standing and moving were overwhelming. "We have given all of our employees 100 percent standing desks," Cook said. "If you can stand for a while, then sit, and so on and so forth, it's much better for your lifestyle."
The desks accommodate standing and sitting; employees won't be forced to stand for their entire shift.
Cook talked about how the Apple Watch figured into the new desks. "We have a lot of people using the Apple Watch at Apple, and 10 minutes before the hour, suddenly they all get up and move. It took a little to get used to, but it's great," Cook told a Goldman Sachs conference in 2015, according to Business Insider. "If I sit for too long it will actually tap me on the wrist to remind me to get up and move, because a lot of doctors think sitting is the new cancer."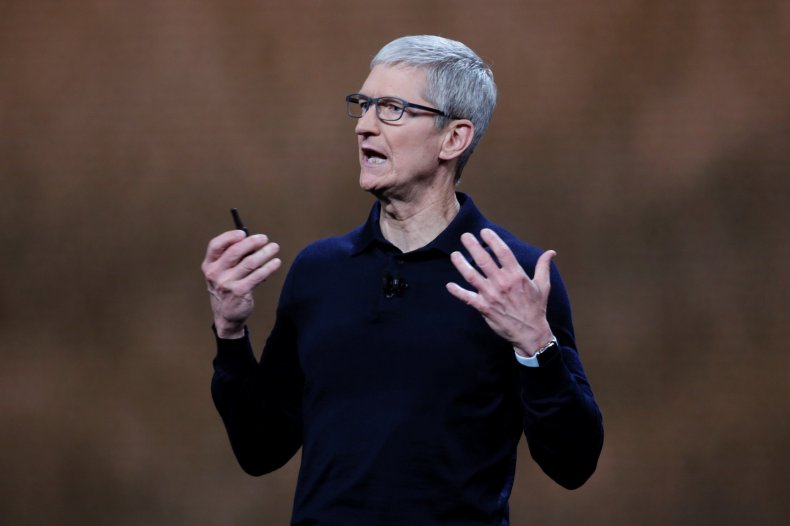 Apple Park was opened to employees in April 2017. Late Apple founder and chief executive Steve Jobs presented his vision to the Cupertino City Council in 2006. The project was expected to begin in 2010 but was significantly delayed. Jobs was given unanimous building approval from the council in October 2013, and construction started the following year.
During the Rubenstein interview, Cook was asked if he would ever consider running for president. "You know, you'd love to be president but not ever run, and that should never happen in our country, and that kind of eliminates me," Cook responded.
"I'm not political. I love focusing on the policy stuff, but in the dysfunction in Washington between the legislative branch and so forth, I think I can make a bigger difference in the world doing what I'm doing."
Recalling his first days at Apple, Cook was asked what made him leave Compaq to join a much smaller company. "Steve had come back to the company and was essentially replacing the executive team that was there at the time," Cook said. "I thought, 'You know, this is an opportunity to talk to a guy that started the whole industry.'
"Steve met me on Saturday, and it was, like, just minutes into talking with him, I wanted to do it. I was totally shocked myself. There was a sparkle in his eye that I'd never seen in a CEO before. He was turning left when everyone else was turning right. With almost everything he talked about, he was doing something different from conventional wisdom… I thought it was brilliant."
The full interview can be watched on Bloomberg.