Apple Fire Map, Update as California Wildfire Forces Thousands to Evacuate
The Apple Fire in California is five percent contained and covers 20,516 acres, as of 11 p.m. August 2 local time, with evacuation orders in place in the surrounding areas.
Around 2,500 homes and 7,800 residents of San Bernardino and Riverside counties are threatened by the fire and have been ordered to evacuate.
Evacuation orders are in place north of Cherry Valley Boulevard, west of Highland Springs Avenue and east of Beaumont Avenue, as well as north of Wilson Street, east of Sunset Avenue and west of Hathaway Street, and The Oak Glen community in San Bernardino County.
There are also evacuation orders south of the County Line, north of Dutton Street, and east of Oak Glen Road and an evacuation warning in the Forest Falls area, north of Morongo Rd, east of Millard Canyon Rd, west of Whitewater Canyon Rd.
An evacuation center has been established at Beaumont High School, Cherry Valley Blvd. in Beaumont, as well as an Animal Evacuation Center at the same location.
There are road closures in place northbound on Oak Glen road from Orchard Ave., on International Park/Cherry Ave at Bridge St., Avenida Miravilla at Orchard St., Ave San Timoteo at Orchard St., Winesap at Dutton St., Bellflower Ave. at Cherry Valley Blvd., Highland Springs at Oak Valley, Sunset Ave at W. Wilson St., and Bluff St. at Mias Canyon Rd.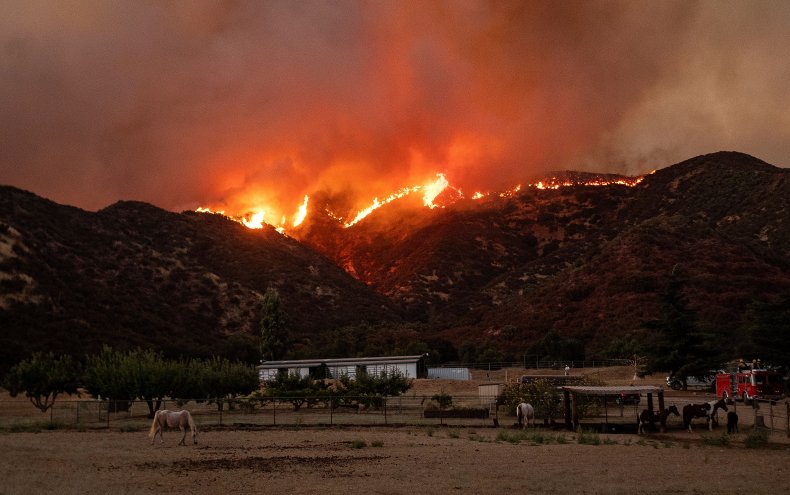 Residents can check the evacuation status of their address with the County of Riverside interactive map.
The fire began just before 5 p.m. local time on Friday near Oak Glen Road and Apple Tree Lane. At least two outbuildings were destroyed by the fire but there have been no reported injuries so far.
More than 2,000 personnel are working to control the fire, with helicopters dropping 19,000 gallons of flame retardant on Saturday.
ABC7 reported that authorities have said the fire may have been started after two suspected arson fires merged, though the cause of the fire is under investigation.
The California Governor's Office of Emergency (CA OES) confirmed that the Federal Emergency Management Agency (FEMA) had approved the CA OES director Mark S. Ghilarducci and Gov. Gavin Newsom's request for a Fire Management Assistance Grant (FMAG) which "will assist local, state and tribal agencies responding to the fire to apply for 75-percent reimbursement of their eligible fire suppression costs."
On Twitter, Ghilarducci said: "Many thanks to @BobatFEMA @FEMARegion9 & @fema for providing the #FMAG for the #AppleFire—Appreciate the support & partnership! #OneTeamOneFight."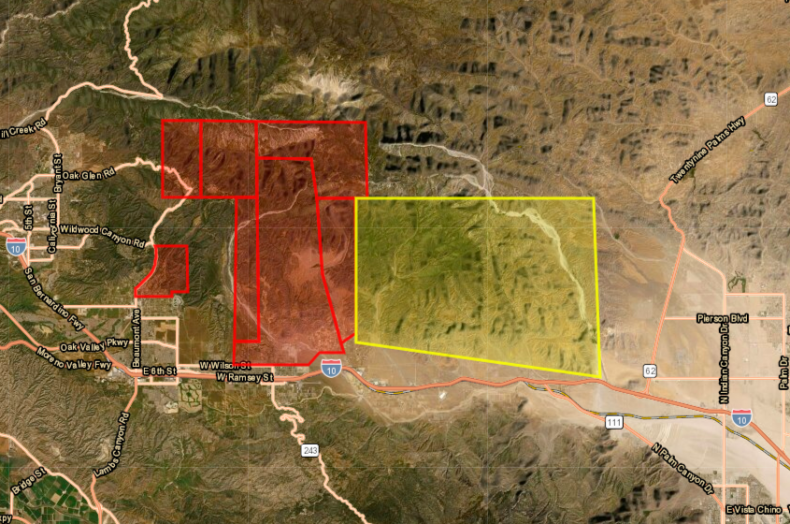 Apple Fire Map, Update as California Wildfire Forces Thousands to Evacuate | U.S.