Apple Fitness Plus Time to Run: A Wonderful Interactive Playlist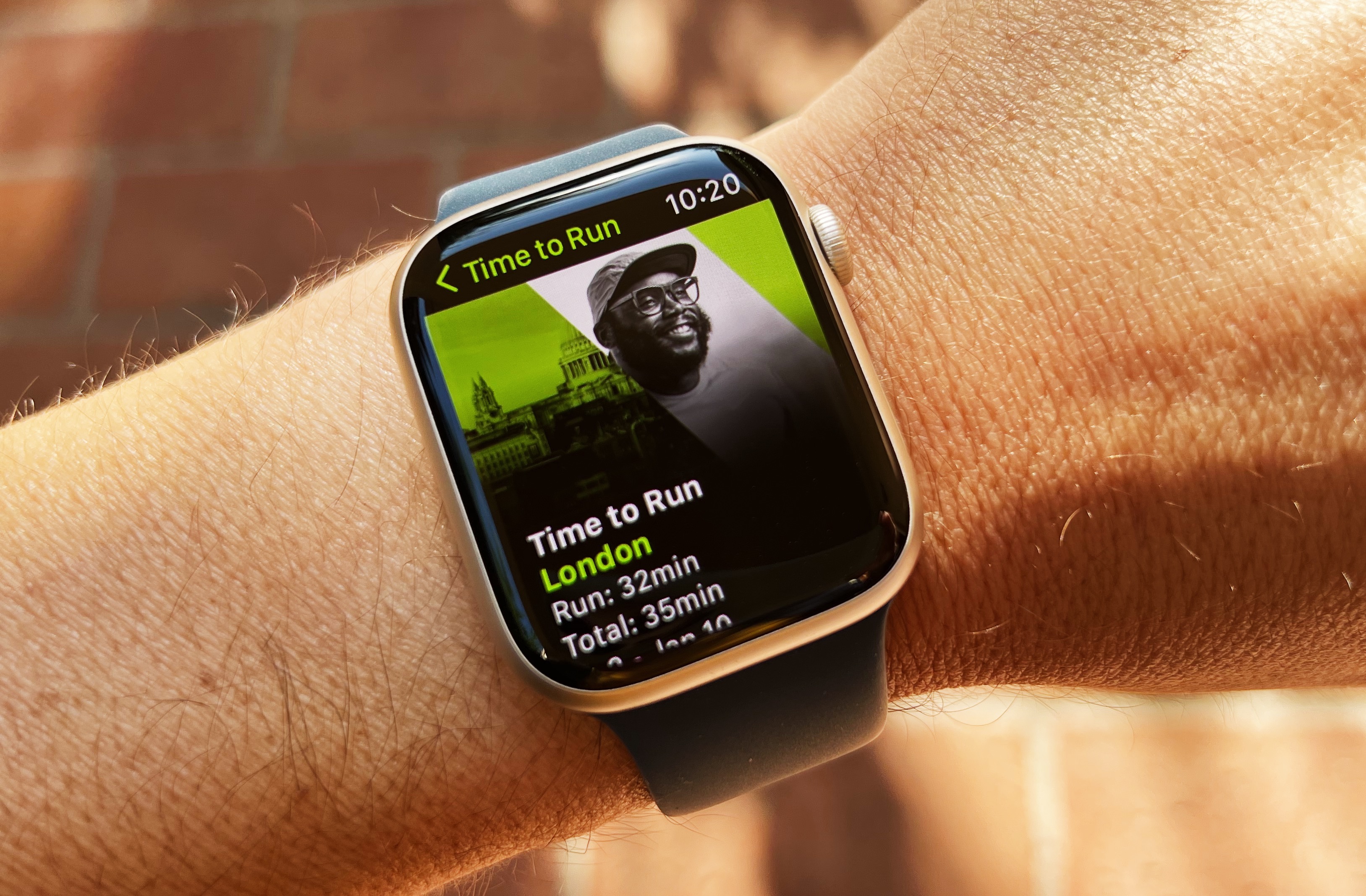 I go running either to clear my mind or to be consumed by it. What I mean is that most of the time I lace up my shoes and press start on a running workout on my Apple Watch, I'm trying to escape my combination home and workspace. I regularly, and specifically, curate new music playlists to do this. Sometimes I listen to podcasts or audiobooks as an escape, too. Other times, I want to be consumed by the actual exercise and focus on my stride, controlled breathing and improving my mile times.
Time to Run joins Apple's Fitness Plus as a new audio-guided experience that provides an interesting mix between music and encouragement, focus and abandonment. And after a few times using it, I think I really like what it's trying to do.
If you're not familiar with Apple's Fitness Plus, the company bills it as the "first fitness service powered by Apple Watch." So you will need an Apple Watch to participate in the video workouts available on Apple TV or its mobile devices, and now the audio-guided experiences.
Fitness Plus costs $9.99 a month or $79.99 a year. The service is also included in the premium tier of Apple One for $29.95 a month, which includes a host of Apple's other services bundled together.
If, like me, you pay for Apple One and have access to Fitness Plus but haven't used it much, Time to Run might be a good on-ramp. The audio-guided experiences are in their infancy, but Time to Run, especially, sparks lots of potential. I used it several times, and I think most people going running should give it a try.
TL;DR
Pros:
Varied song types
Neat concept of showing pictures of landmarks while running
Cons:
Limited run lengths
Expensive service cost if not bundled in Apple One
Overview
The gist of Time to Run, and the earlier Time to Walk, is that there's no need to find something to listen to while exercising because the workout is everything bundled together.
Audio-guided experience is a good description because this isn't a podcast and it's not a playlist—rather it's a bunch of different things mixed together. When you pull up one of the Time to Run workouts on your Apple Watch and press play, it automatically starts audio and recording a run at the same time.
The runs are guided tours around different major cities. The coach takes you on a virtual run and notes landmark along the way. There are pictures of the places being referenced to complement the music and coaching. Those images will show up on your Apple Watch for a few seconds with a gentle vibration when they're mentioned.
At launch, each run lasts just over 30 minutes with a little time for a warm-up and cooldown.
The Music: Can I Kick It?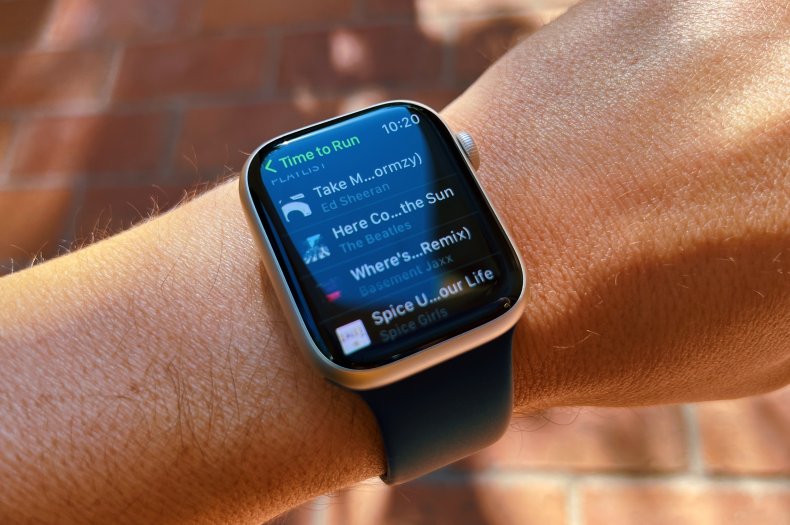 Even if you're not looking for an encouraging voice while running, the curated and perfectly timed playlists might be the single best reason for Time to Run. Can anyone put together a five to seven song playlist for a 5K run? Yup. Will most people take the time to do it? Nope.
Open the Workout App on the Apple Watch and the first thing appearing should be Fitness Plus audio workouts. Here you'll find the new workout content for walking and running. Right now, you can't turn off Time to Walk without turning off Time to Run, so both experiences will need to be on.
You can see the songs that will play on the guided run ahead of time, but I would encourage you not to even look. As someone who knows what they want to listen to most of the time, I struggle to let other people pick the music for me. Often when someone else plays DJ, however, I will discover something new I like.
I strongly recommend just listening through the experience and taking it all in, at least once. The different running locations from Brooklyn to London tend to highlight artists with ties to the various cities. The song selection varies from Busta Rhymes' "Touch It" to Spice Girls' "Spice Up Your Life." Not all the song choices will be to everyone's taste—and that's OK. The real win is having songs with appropriate tempos picked for you and played at the right times.
I've done three of the four available Time to Run workouts, and if pressed, I think I only really liked half of the songs. But I didn't mind the others and even rekindled a love for a couple. The way music sounds is all about context, and listening while running might create fresh ears. A neat integration detail is that you can go back later, after a run, or whenever, to see the songs in the Time to Run workout and then easily add them to your Apple Music library.
Should You Use Time to Run?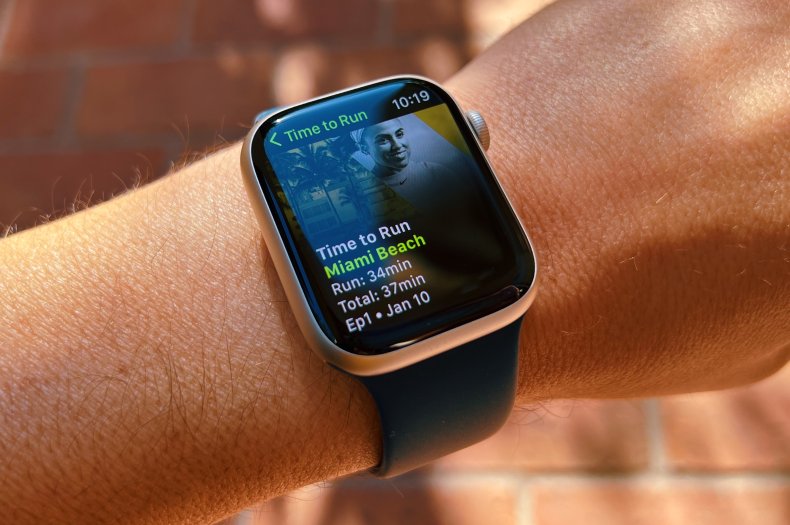 There are a lot of Apple Watch owners, and my guess is that most of them have come across Apple Fitness Plus without much of a reason to try it. Is that you? I was in that camp because I don't have a treadmill and didn't have a way to use the service with my preferred exercise of choice: running. Now I do with Time to Run.
I have been pleasantly surprised with the usefulness of the audio-guided experiences. Along with coaching, music and images, there are also soundscapes from the cities you're touring. The experience feels immersive, and I've enjoyed it. If Apple wants to keep me tapping on Time to Run, however, it will need to keep putting out new playlists at least once a week.
There are also minor annoyances that I hope they address. Siri still announces and disrupts the experience when I closed my exercise ring or to tell me what mile I'm on. If I've started a Time to Run workout, Apple should know to cut out other distractions that are redundant.
But at least so far, in its early stage, I credit Time to Run with helping me achieve the fastest 5K time I've had in the last six months.
Newsweek may earn a commission from links on this page, but we only recommend products we back. We participate in various affiliate marketing programs, which means we may get paid commissions on editorially chosen products purchased through our links to retailer sites.