Apple Music Voice Plan: Did Your Music Subscription Cost Just Get Cut in Half?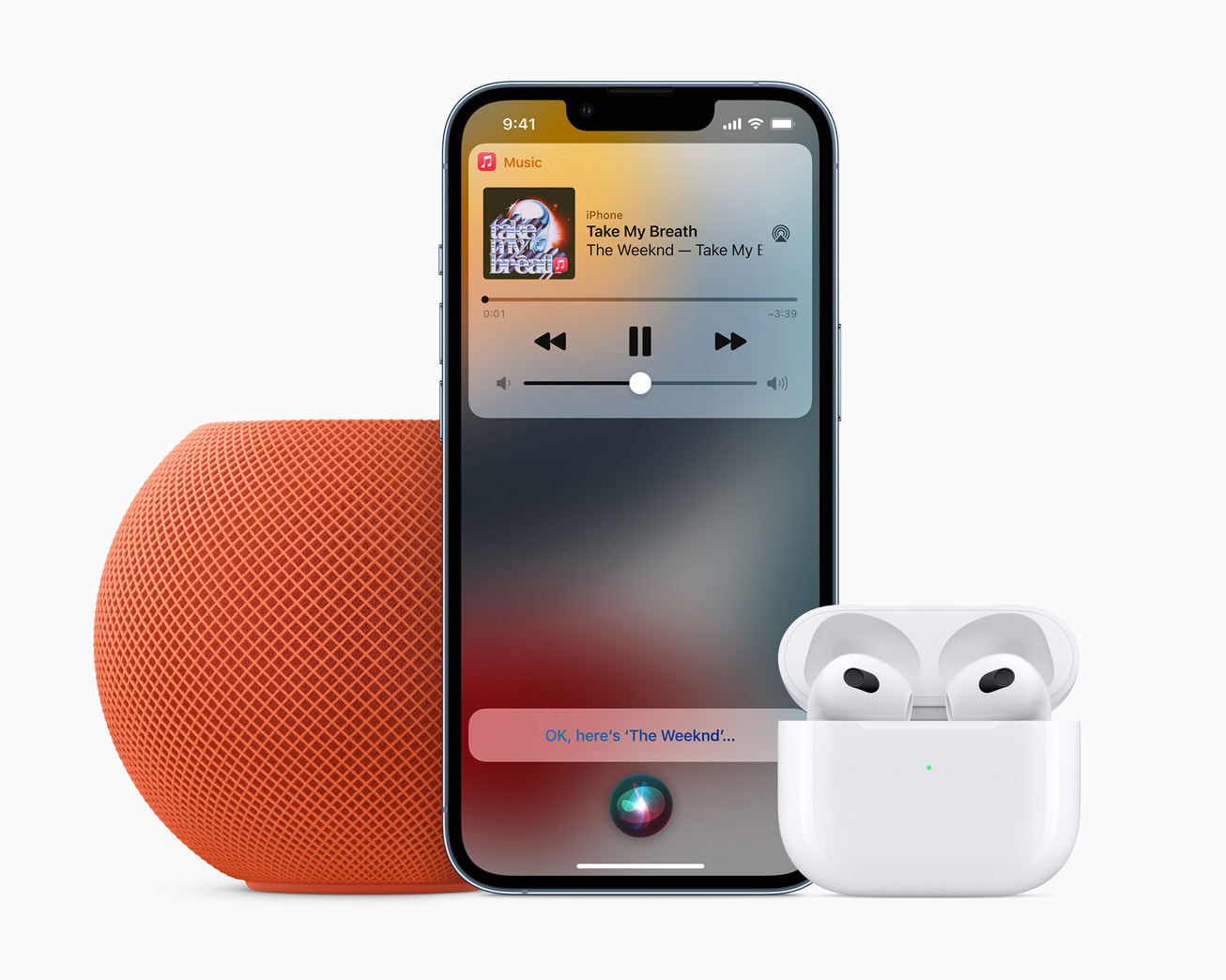 Apple Music now has three distinct plans: its standard, individual plan for $9.99 a month. Its Family Plan, which allows access for six family members, costs $14.99 a month. And a new Voice plan that you use via Siri costs only $4.99 a month.
At first pass, the Apple Music Voice plan can be a little confusing. It's not limited to select songs in the available catalog, and it doesn't incorporate ads. It just limits the visual use of the Apple Music app—and for that, it costs half the price of an industry-standard $10 a month music subscription.
This Siri-focused music subscription may seem novel, but Amazon Music has offered a $3.99 a month Single Device plan for a while. Amazon advertises listening to unlimited music of its 75 million song catalog through a single Echo (or Fire TV) device for $4 a month.
On the other hand, Apple is advertising 90 million songs available in its catalog, along with 30,000 curated playlists. It is also saying you can use this Voice plan on iPhone, iPad, Apple Watch, HomePod mini, Apple TV and Macs—you just have to ask Siri to play, pause or skip the music.
At half the price of a standard, individual plan Apple Music subscription, people who haven't subscribed before may be tempted to gain access to millions of songs. But, it's also possible that individuals who are paying for Apple Music now can switch to the Voice plan and pay half the amount they were before.
How Apple Music Voice Plan Works
Starting a subscription for the new Apple Music Voice plan can be done by saying, "Hey Siri, start Apple Music Voice" when it launches in the fall. There is a seven-day trial (with no auto-renew) available at launch to see if this Siri-powered option is a good fit. Subscribing to the voice plan can be done on any Apple device that supports Siri.
So, what about the Music app? Subscribers to the Apple Music Voice plan can still use the Music app, but it will be transformed. The Browse tab along the bottom will be gone. The Listen Now tab will be updated to show recently listened to music and suggestions for engaging Siri to play music. For example, people will see suggestions for listening to playlists, albums, artists and radio stations.
There will still be a Search tab in the app to have some kind of a window into the selection of songs. The app can be used for some service management but generally no tapping to activate music.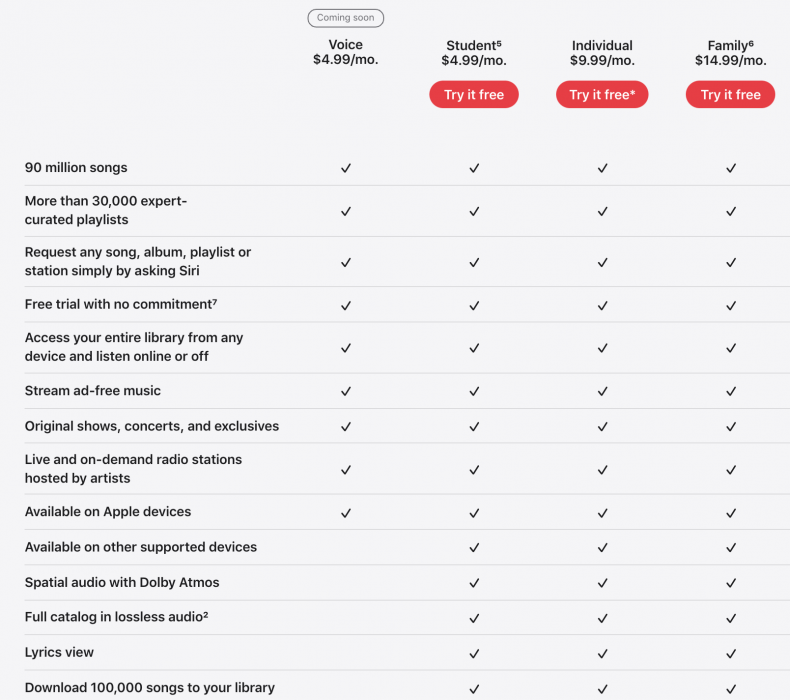 What the Voice Plan Might Be Good For
People who find themselves using Apple devices throughout their daily lives should at least consider this new plan tier. Also, the type of device you want to listen to music on could dictate the value of this less expensive tier.
HomePod mini is already a screen-less device that only works through voice. Apple Music subscribers who only, or primarily, use the music service through HomePods mini should consider switching.
People who listen to music heavily through Apple Watch while exercising should also consider this plan to save money. The Apple Music app on the watch shows some visuals, but searching for music is voice-driven.
I've never stopped on a run to change the music playing from my Apple Watch. I've only done it through Siri. I typically listen to podcasts or a single, curated playlist, but occasionally I will ask Siri to put something new on, and it has worked fine in the past.
AirPlay will still be available to send music to non-Apple devices. You will just have to start playing your music by asking Siri.
I think this new voice plan is an excellent option for casual music listeners—people who might not follow new music releases very closely but don't want to hear ads and want to be able to turn on music at a moment's notice. This $5 a month music plan accomplishes that.
Apple Music Voice Plan Considerations
This new Apple Music subscription tier has more good here than bad, but it's not perfect.
I know my gut reaction is to pick up my phone and thumb through music releases. But, with a voice-only plan, that won't be possible, and I can see how it could feel really limiting. Also, and maybe more importantly, sometimes I don't know who an artist is or how to pronounce a name without finding it visually.
During an interview with a musical artist, I once mispronounced the name of another musical artist, "Bon Iver," like someone who had never heard a french word in their life. This happened more than a decade ago and still comes to mind when I think about saying a band's name out loud that I never have before. It was really embarrassing at the time. I can only imagine a few embarrassing moments coming from speaking all music choices out loud.
Subscribers to the voice-only plan get a lot of the features that other tier subscribers get. One notable exception is Dolby Atmos or Lossless song quality. I'm a fan of Spatial Audio on Apple Music, but the cheaper plan doesn't include it.
Should You Buy Apple Music Voice Plan?
Having access to 90 million songs for $60 a year is the single greatest feature I can think of. This Apple Music Voice plan is perfect for casual listeners. It provides a simple way to constantly access all music without having to scour the internet or steal it.
As long as Siri can fulfill its side of the bargain and deliver people the music they ask for, this music tier will be a game-changer. If Siri falls down and can't understand people or doesn't play the right songs a lot of the time, then it's hard to see people sticking around, no matter what the cost per month is.
I'm optimistic that this Apple Music Voice plan is a positive for music listeners and potential ones, but it will be asking a lot of Siri to pull it off.
Sign up for Apple Music today.
Newsweek may earn a commission from links on this page, but we only recommend products we back. We participate in various affiliate marketing programs, which means we may get paid commissions on editorially chosen products purchased through our links to retailer sites.