When Steve Jobs first pitched the idea for Apple's new circular headquarters to the Cupertino City Council in 2011, he said: "We've seen these office parks with lots of buildings, and they get pretty boring pretty fast, so we'd like to do something better than that." He then unveiled the concept for the singular building, which can hold 12,000 people. "It's a little bit like a spaceship landed," Jobs added.
Related: iPhone 8 video gives best look yet at next Apple phone
Wired on Tuesday offered an inside look at Apple's campus, detailing the history of the building's conception, as well as company's hope that its innovative design "will inspire its workforce to match that effort in the products they create." Even those working in Apple's café will feed off the building's revolutionary beauty. In fact, they already have, in the form of a pizza box that café "maestro" Francesco Longoni designed (and that Apple patented) in 2010.
Like the new campus, the slim pizza box is circular. Featuring eight ventilation holes in its lid, the box was created so employees can shuttle pizza from the café to their desks without it getting soggy. The Verge on Tuesday dug up the actual patent, which includes sketches of the box.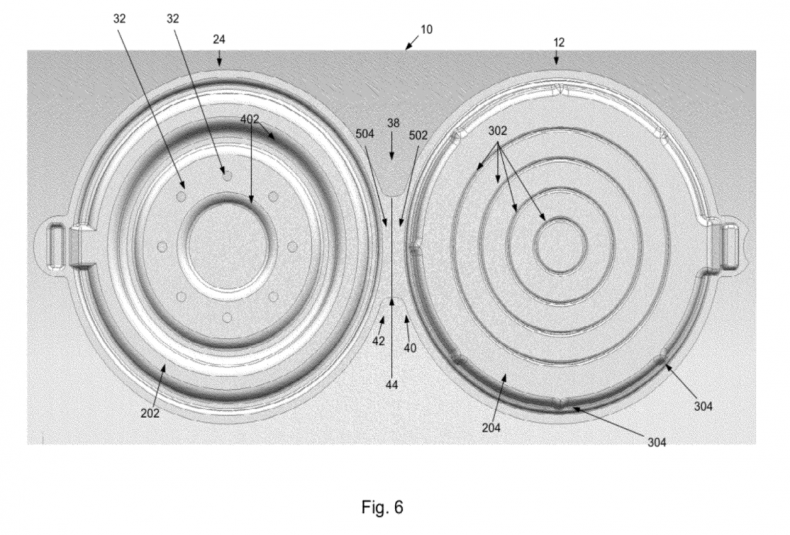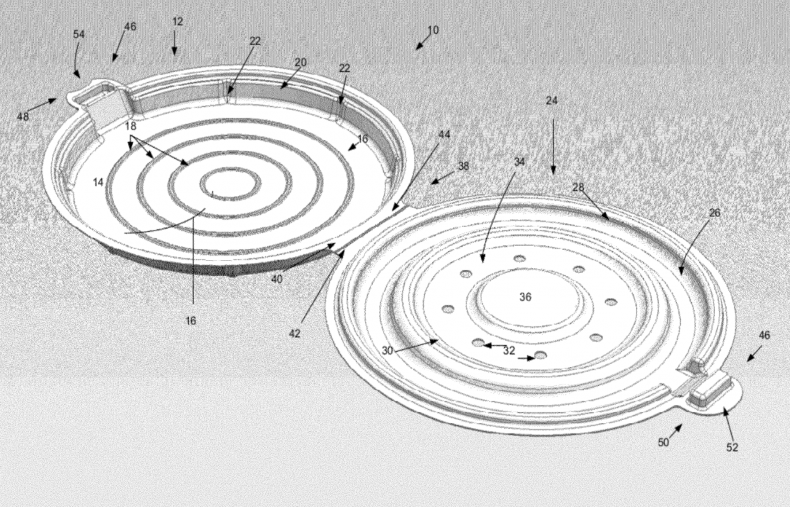 As outlined in the text of the patent, the box offers a "nested configuration" that "allows for multiple containers to be stored in a nested stack, thereby minimizing storage space." It also details the "concentric ridges" that provide structural support, the box's "locking mechanism" and how much more environmentally friendly the box is than traditional models. The eight holes are described as a "plurality of apertures that allow for the outflow of air from within the container."
Apple's pizza box does seem like it would save more space and be better for the environment than the classic collapsible square design, but would it offer enough room for little cups of red pepper or parmesan? What about those three-pronged plastic things? Until these and other questions are answered, we're going to have a hard time endorsing U.S. patent number 20120024859 A1 as the future of pizza conveyance.
Read the full patent here.