Apple Pay Was Released Today. What Is It and Will It Be a Success?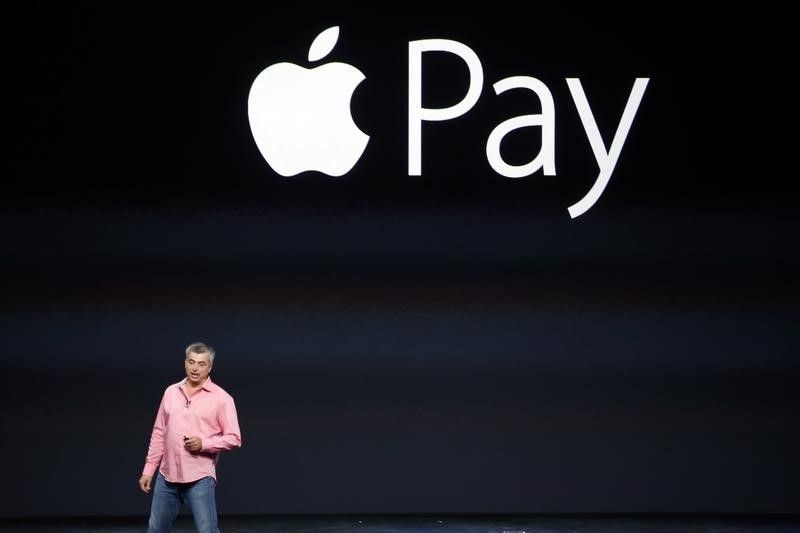 Apple is set to release Apple Pay today—its revolutionary payment app that aims to replace physical credit cards. After hooking up various methods of payment, all that's left to do is select a card within the app and tap your phone to a payment terminal at a participating venue to complete a purchase. While Apple Pay has been one of the more trumpeted announcements to come out of Apple this year—and there have been many—its potential for success is questionable.
Apple Pay advertises it will make fumbling around your wallet for a credit card a thing of the past, and consumers are biting. According to a study of 500 smartphone owners conducted by Lab42, a market research firm, 35 percent of respondents anticipate that they will start using mobile payments within the next six months. The recent interest in mobile payments, spurred by Apple's entry into the game, confounds Android users who have been using a similar service called Google Wallet for more than two years. Many say it has something to do with familiarity.
An in-depth comparison of the landing pages of Google Wallet and Apple Pay suggests Google does a poor job of explaining its service. In fact, the Lab42 study revealed that though 63 percent of respondents had heard of Google Wallet, just 32 percent had gone on to use it. Additionally, the study found that 45 percent of smartphone users who do not own an iOS device would be willing to switch in order to have access to Apple Pay.
"Mobile payments have been around for years, but many consumers are not yet familiar with them. With the launch of Apple Pay, we see that conversation opening up in a way we haven't seen before," said Lab42 Founder Jonathan Pirc.
Study respondents cited security as their top reason for considering to adopt Apple Pay. But just how secure they are in comparison to traditional forms of payment or their competitors is a bit hazy.
Devices that support the iOS app come equipped with Touch ID fingerprint sensing, a first line of defense against breaches of security. But physical credit cards are on the verge of adopting a similar technology. MasterCard paired up with Zwipe to create a credit card that uses biometric authentication to carry out payments. The card stores the owner's fingerprint, replacing a traditional PIN entry. It also allows users to wave it at compatible payment terminals instead of having to swipe.
In a previous interview with Newsweek, Jorn Lambert, group head of Emerging Payments at MasterCard, said that using mobile payments is just as safe as using a credit card. He said that with Apple Pay, customer data is still stored by the issuing credit card company. But an added feature is that Apple does not collect any transaction information. Instead, Apple devices have a 16-digit pin that points to the actual credit card information kept at the issuing company.
Google Wallet, however, does not carry this security feature. Instead Google pays the bill initially, then charges the customer's card on file, giving the tech giant access to your information. While Apple's approach is not entirely new, it does have a layer of added security its competition does not as data breaches are reported weekly.
While Apple's mobile payment system does include added security, adoption may be slow. Apple Pay will be available on iPhone 6, iPad Air 2, iPad Mini 3 and Apple Watch—only the first of which is currently on the market. But some estimates place as many as 20 million iPhone 6 phones in consumers hands. The limited number of devices currently being used that are able to support the app is accompanied by a limited number of participating vendors.
Dozens of stores and hundreds of banks have already committed to supporting the Apple Pay platform—but the current list of participants does not seem to reflect what customers most want to use Apple Pay for. According to the Lab42 survey, the top places customers would like to use mobile payments at grocery stores, retail stores and gas stations. Currently, only two grocery stores have opted in: Wegmans and Whole Foods. And while retail stores remain limited, only two gas stations are currently participating; Texaco and Chevron. While the list of vendors is expected to expand, it remains far from comprehensive.
The last barriers to consumer adoption of the new technology are their associated fears. Lab42 reports that 42 percent of respondents are worried about the inability to use mobile payments in the event their smartphone battery dies. Additionally, 55 percent are worried about their smartphone getting stolen and 60 percent are worried about their credit card information being accessed by hackers through mobile payments.
While the climate for mobile payment adoption remains somewhat murky, there is an undeniable appeal to leaving a chunky wallet at home.