Apple Reclosing Stores in States Where Coronavirus Is Spiking
After beginning to reopening stores in May, Apple Inc. will be temporarily closing down 11 retail stores in states where COVID-19 cases are spiking.
In a statement sent to Newsweek, an Apple spokesperson said, "Due to current COVID-19 conditions in some of the communities we serve, we are temporarily closing stores in these areas."
The closures will affect selected stores across Florida, Arizona, North Carolina and South Carolina. There will be one closure in South Carolina, two in Florida and North Carolina and six in Arizona.
"We take this step with an abundance of caution as we closely monitor the situation and we look forward to having our teams and customers back as soon as possible," the spokesperson added.
As of this week, 154 of the company's 271 stores in the U.S. have reopened since the beginning of the coronavirus pandemic.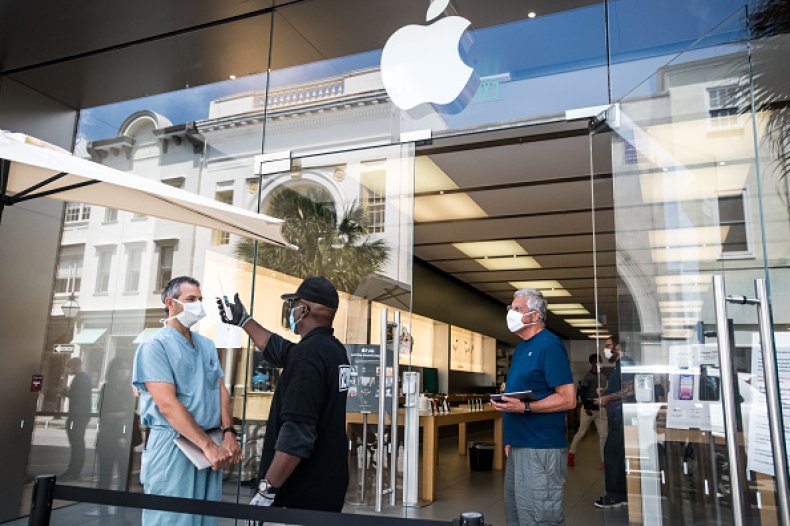 Florida, Arizona, North Carolina and South Carolina all shattered records this past week with new single-day highs as the states have begun to reopen.
Dr. David Rubin, director of PolicyLab at the Children's Hospital of Philadelphia, told CNN on Thursday that Florida has "all the markings of the next large epicenter of coronavirus transmission."
According to the Florida Department of Health, Florida has seen over 2,000 confirmed cases in each of the past three days. Last Friday, Florida began their second phase of reopening which resumed operations at bars, personal service businesses and entertainment sectors.
Meanwhile, Arizona saw the highest number of new COVID-19 cases on Friday, June 12, with 3,245 confirmed cases. On Thursday, June 18, the state's intensive care unit capacity reached 84 percent, according to the Arizona Department of Health Services. Restaurants, gyms, pools, hair and nail salons and nonessential retailers were allowed to reopen with restriction well before the statewide stay-at-home order expired on May 15.
North Carolina Department of Health and Human Services also reported another record high number of COVID-19 hospitalizations for the fourth consecutive day on Friday. Coronavirus cases in North Carolina have increased substantially since the state reopened on May 8.
The day before, South Carolina saw the highest number of daily new cases nearly 200 more than the previous record. Governor Henry McMaster was among the first governors to reopen his state when he lifted the stay-at-home order on April 20.
Apple has implemented safety measures at all reopened in-person locations including mandatory face coverings, limited store occupancy, temperature checks, regular sanitization and social distancing.
"All stores continue to practice additional steps for the health of employees and customers," Deirdre O'Brien, senior vice president of retail and people, said in a notice sent to employees. "We are committed to reopening our stores in a very thoughtful manner with the health and safety of our customers and teams as our top priority, and we look forward to seeing our customers again soon."