Apple To Replace Gun Emoji With Water Pistol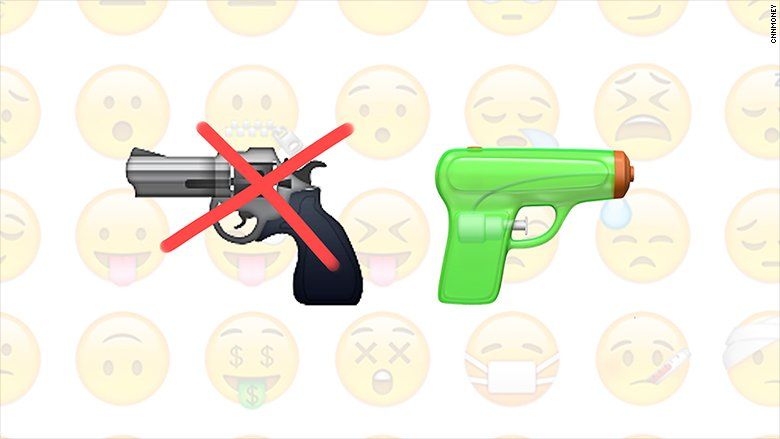 Apple will replace its handgun emoji with a water pistol when it releases its iOS 10 operating system later this year.
The black and silver revolver emoji will be superceded by a new green and orange emoji, with a white plastic trigger in September. The water pistol will be one of more than 100 new and updated emojis.
The announcement has been met with a mixed reaction.
The other new emojis, brought to all Apple users by the Unicode Consortium, the California-based organization responsible for standardizing emojis across all platforms, include a rainbow flag, female athletes, and even a female detective, as part of a push to reflect societal diversity.
"Apple is working closely with the Unicode Consortium to ensure that popular emoji characters reflect the diversity of people everywhere," Apple said in a statement.
Not everyone is convinced that the water gun emoji will do much to change the reality of gun violence in the U.S. An estimated 88 Americans are killed every day by gun violence.
Some advocate changing the law instead.
Others maintain that despite Apple's good intentions, keeping the bomb, knife and sword emojis while getting rid of the gun emoji seems "pointless."
However, anti-gun violence campaigners support Apple's decision to replace the gun emoji with a water pistol as a step in the right direction.
New Yorkers Against Gun Violence, who put pressure on Apple to remove the pistol symbol, told CNN: "Apple has stood up to the bullying tactics of the NRA and gun industry by showing that there are many more life-affirming ways to express oneself than with a gun."
Apple's decision to replace the revolver emoji comes after Microsoft changed its toy gun to resemble a real-life pistol on July 29.