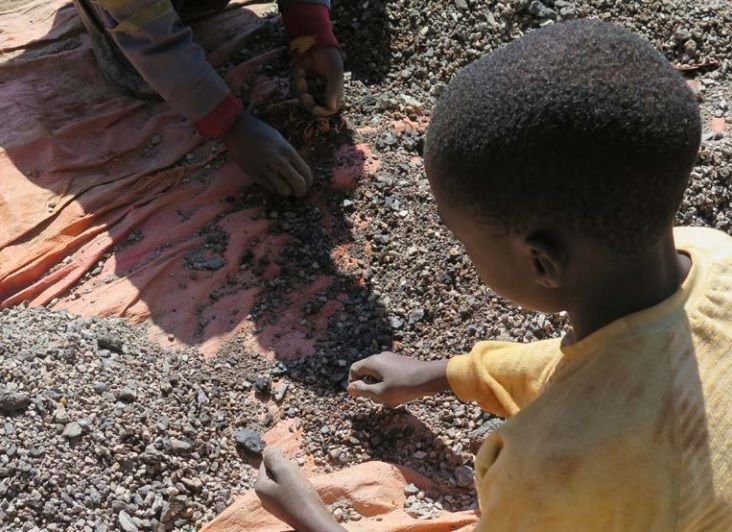 Major technology firms, including Apple, Samsung and Microsoft, are responsible for "the worst forms of child labor" and other human rights abuses in the production of electronics, according to a new report by Amnesty International.
The report, titled "This is What We Die For," details human rights abuses in cobalt mines in the Democratic Republic of Congo (DRC). Cobalt is a key mineral used in the production of smartphones and other electronics, with more than half the world's supply coming from the DRC.
Investigations into a mining area in southern DRC were conducted by Amnesty in April and May 2015, revealing that children as young as seven years old were working in the mines. Human rights abuses in the mines included exposure to toxic cobalt dust, which can cause a fatal lung condition known as "hard metal lung disease." Working 10-12 hours per day earned children between 1,000-2,000 Congolese Francs (between $1 and $2).
Fairphone, a social enterprise that aims to produce smartphones using ethically sourced minerals, says that in future materials like cobalt could come from recycled sources.
"Fairphone welcomes the publication by Amnesty International highlighting the relationship between cobalt mining and child labor in the DRC," Bibi Bleekemolen, responsible for impact innovation at Fairphone, tells Newsweek. "Such reports help to put these problems higher on the international agenda."
Apple said in response to the report: "Underage labor is never tolerated in our supply chain and we are proud to have led the industry in pioneering new safeguards."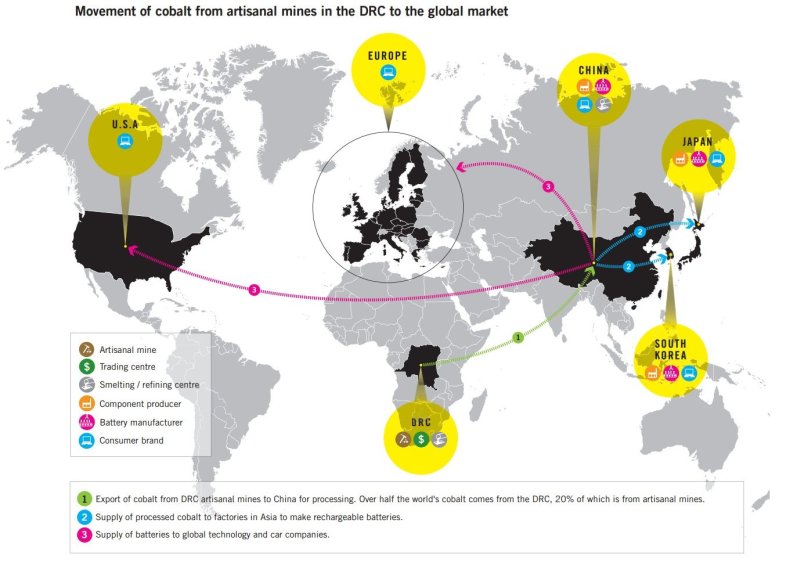 Other companies, including Sony and Samsung, also said they have a zero-tolerance policy towards child labor. However, Mark Dummett, a human rights researcher at Amnesty International, claimed they have the resources to carry out basic background checks.
"The glamorous shop displays and marketing of state-of-the-art technologies are a stark contrast to the children carrying bags of rocks, and miners in narrow man-made tunnels risking permanent lung damage," Dummett said. "Millions of people enjoy the benefits of new technologies but rarely ask how they are made. It is high time the big brands took some responsibility for the mining of the raw materials that make their lucrative products.
"The dangers to health and safety make mining one of the worst forms of child labor. Companies whose global profits total $125 billion cannot credibly claim that they are unable to check where key minerals in their productions come from."
The full list of companies implicated in the report includes Daimler, Dell, HP, Huawei, LG Chem, Microsoft, Vodafone and ZTE.
"Companies have a responsibility to respect human rights wherever they operate in the world," the report states. "The government of the DRC must extend and enforce labor and safety protections for all artisanal miners and create more authorized artisanal mining areas.
"The government, along with the companies involved, should ensure that children are removed from hazardous working conditions and address the children's educational and other needs. All governments should enact and enforce laws requiring corporate due diligence and public disclosure in relation to cobalt and other minerals."