Who Designed Apple's Flagship Store in Chicago? Apparently, It Can't Take the Cold
Chicago's new Apple store can't seem to handle the frigid temperatures which have been hitting many parts of the country.
Photos captured outside the flagship store—which opened its doors to the public on October 20—show large icicles hanging from the roof, surrounded by caution tape, with signs that read "CAUTION—Watch for Falling Snow and Ice."
Apparently, the building doesn't have any gutters, therefore there's nowhere for the snow to fall, Fortune reports. This has resulted in the closure of both a public walkway and courtyard.
"Maybe next time Apple will consider the actual community where their stores are built," Matt Maldre, a blogger in the Windy City who first pointed out the poor design, wrote in a blog post. "Y'know, basic things like in Chicago, the weather gets cold. It snows. The snow falls off the roof. Don't design a sloping roof where the snow can't be caught or guttered off somewhere."
Foster + Partners, a British architectural design and engineering firm, are responsible for the building's design, which was touted as being the "most ambitious Apple Store for Chicago." The building features "an impossibly thin carbon fiber roof, supported on slender stainless-steel columns," according to a statement from the deisgn firm.
The Mac-book shaped roof is only 4 feet thick at its widest point and in some parts, is only 4 inches, the Chicago Tribune reports.
"We wanted the building to be as light and transparent as possible," James McGrath, a partner at Foster + Partners, told the Chicago Tribune.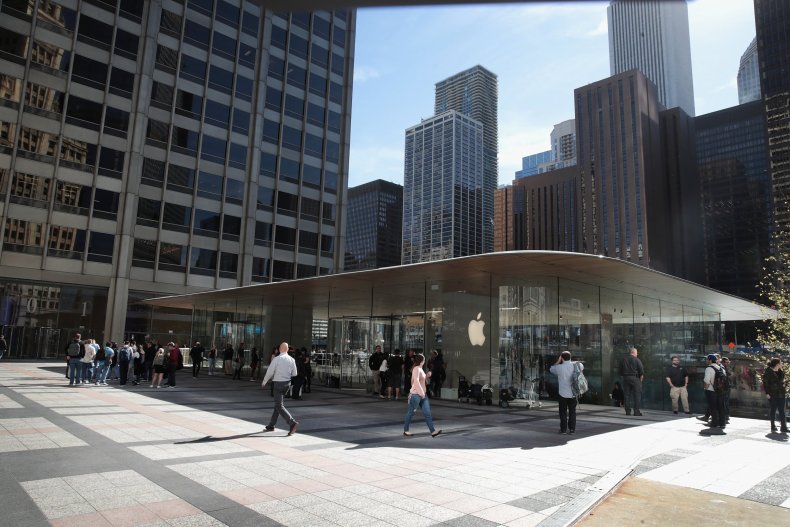 Chicago is currently experiencing extreme cold temperatures, along with many other parts of the U.S. The cold outbreak is expected to last until at least the first week of January, The Weather Channel reports.
The city's riverfront Apple Store isn't the only place being taken back by the frigid weather. Earlier in the week, the cold temperature caused a pipe to freeze and eventually burst inside Michigan State University's Breslin Center, its basketball arena. Water from the pipes gathered in the concourse, bathrooms, and concession areas, but was cleaned up before the men's basketball team played Cleveland State on Friday evening, WKAR reports.