Woman 'Nauseated' After Finding Apple Tracking Device Hidden Under Her License Plate
A woman has claimed she discovered a tracking device had been attached to her car without her knowledge, as she filmed herself furiously searching the vehicle for it.
The woman named only as Kayla posted a video to her TikTok account, @kaylamalecc, explaining that she was notified about the AirTag—an Apple device—because her iPhone sent her an alert.
In the clip, which has had more than 7 million views since October 20 and can be seen here, she said: "So, somebody put an AirTag on my car. I got the notification last night, that there was an Air Tag moving with me. So, yeah, somebody put an AirTag, a freaking tracking device, on my car. So I'm going to look around my car."
She shows her phone screen, with the notification reading: "AirTag found moving with you. The location of this AirTag can be seen by the owner."
Visibly alarmed, she begins searching the outside of her car, saying: "One place people told me to look is behind my license plate."
She diligently examines the vehicle, looking in her tyres, vents, windscreen wipers, door handles and even in the trunk latch.
Kayla added: "I know AirTags are white, and I feel like white would stick out on a black car."
Next she decides to give the car's interior a once-over. Having had no luck, she goes back to her starting point, the license plate, where she spots something amiss.
She finds the tracker, saying: "So, I think I want to cry more that I found it, my chest feels like it's, my heart feels like it's going to come out my throat."
She films the tiny cavity—behind her license plate holder—showing a hint of white.
Kayla said: "So, someone, while I was parked somewhere, came up to my car and stuck it in this little thing… they put it in my license plate thing.
"And I would have never seen it, but a little bit of white was poking through."
She confirmed that she stopped the AirTag sharing her location, but wasn't sure what to do with the device or if she should go to police.
"I feel like I'm going to throw up. Like I'm really nauseous right now, nauseated that somebody put a tracker on my car to track me."
Kayla, who lives an hour and a half from Chicago, later shared a follow-up video claiming that she had spoken to the police and Apple and neither had been able to find the owner of the AirTag.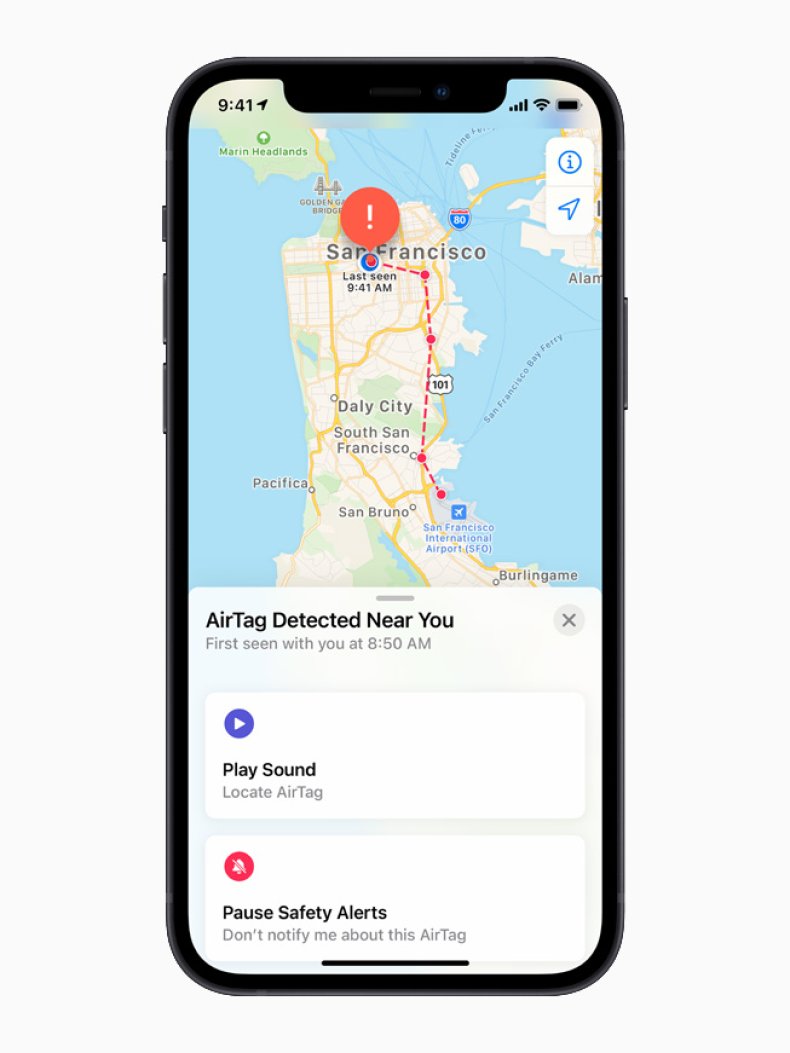 AirTags were unveiled by the tech giant in April, designed as a way to "easily locate the items that matter most."
An Apple press release issued at the time echoes Kayla's experience, stating: "Communication with the Find My network is end-to-end encrypted so that only the owner of a device has access to its location data, and no one, including Apple, knows the identity or location of any device that helped find it."
The press release explained how the AirTag technology would dissuade people from using it for unintended reasons—such as in Kayla's situation.
Apple said: "AirTag is also designed with a set of proactive features that discourage unwanted tracking, an industry first. Bluetooth signal identifiers transmitted by AirTag rotate frequently to prevent unwanted location tracking.
"iOS devices can also detect an AirTag that isn't with its owner, and notify the user if an unknown AirTag is seen to be traveling with them from place to place over time. And even if users don't have an iOS device, an AirTag separated from its owner for an extended period of time will play a sound when moved to draw attention to it.
"If a user detects an unknown AirTag, they can tap it with their iPhone or NFC-capable device and instructions will guide them to disable the unknown AirTag."
Despite these assurances, TikTok users commenting on Kayla's video were shaken by the device's anonymity.
MakeupMandy said: "Dear @Apple why don't you make these traceable. They need to make the people who put these onto someone's cars accountable."
Taphouse Stan wrote: "Apple made a big mistake making AirTags."
Taylah posted: "They really need to recall these things this happens way too much."
In September, another woman, TikToker @_ashleyscarlett, found herself in a nearly identical situation.
Ashley also found an Apple AirTag behind her license plate, after receiving a notification that one had been detected near her.
"I'm literally f***ing shaking," she said in the first of a series of clips, as she searched for the tracker.
She used her phone to make the tracker play a sound and followed the noise until she located the device.
Commenters on Kayla's video said she could have done the same thing, and anyone else looking for an unwanted tracker can use this method if they're unable to find the device.
Newsweek has reached out to Kayla and Apple for comment.