Apple TV Plus: How to Watch Apple TV+ For Free
Apple will enter the streaming wars from Friday, November 1, when the company will launch Apple TV+ with shows and films starring Reese Witherspoon, Jennifer Aniston and Jason Momoa. While the subscription fee for this service will be $4.99 a month, there are a number of ways in which TV fans can watch the streaming service's series for free.
The tech company, for example, is offering a year's free Apple TV+ (worth around $60) to a number of its customers. In order to qualify, users have to buy any new iPhone, iPad, Apple TV, iPod Touch or Mac.
In a press release, Apple said: "This limited time offer applies to both new and refurbished models, including devices from the iPhone Upgrade Program, is not restricted to any specific sales channel (e.g., Apple Store, resellers) and will be available in all countries where Apple TV+ will launch."
According to CNET, the cheapest way to get this free year of Apple TV+ is to buy a refurbished 32GB Apple TV, which are currently retailing on the Apple Store online at $129.
However, if you are not in the market for a new device, Apple still offers the opportunity to preview the TV+ service for free. They are offering a seven-day free trial to viewers, which will allow you to experience the first few episodes of their launch series.
According to Android Authority, while some shows will release all at once similar to how Netflix and Amazon release most of their streaming series, most will release their first three episodes at once, with the remaining episodes airing weekly.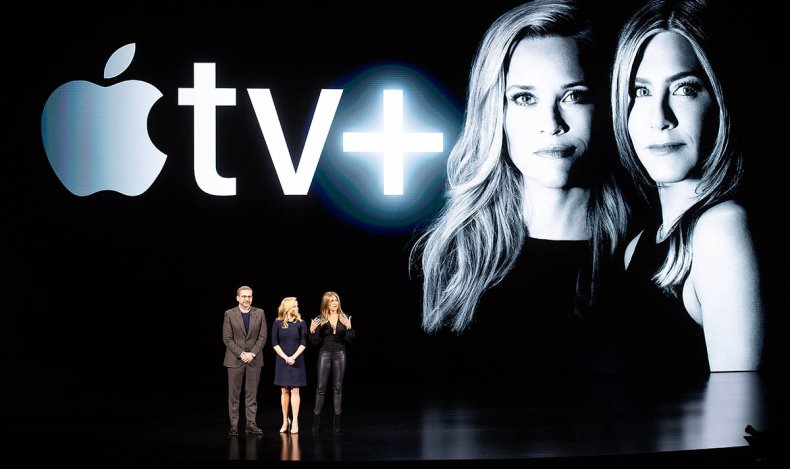 Users who get their free year of Apple TV+ or sign up for a seven-day free trial of the service when it launches on November 1 will be able to watch the following shows and film:
The Morning Show: A drama starring Jennifer Aniston and Reese Witherspoon as rival journalists on a daytime news show
See: A post-apocalyptic thriller starring Jason Momoa as a man who fathers two children who can see in a world where everyone is blind
Dickinson: A comedy starring Hailee Steinfeld as Emily Dickinson
For All Mankind: A historical speculative fiction series exploring what would have happened if the Soviets won the Space Race
Oprah's Book Club: A series in which Oprah interviews the author's behind her new favourite books
Children's TV series Helpsters (a Sesame Street spin-off), Ghostwriter and Snoopy in Space
The Elephant Queen: A documentary film about the endangered mammal
Upcoming series include M. Night Shyamalan's Servant, the Steven Spielberg-backed Amazing Stories and an adaptation of Isaac Asimov's Foundation.
Apple TV+ launches on November 1.