'The Morning Show,' 'See' and More Original Titles Debuting on Apple TV+
As if anyone ever needed a reason to stay at home and watch TV during the cold, brittle months of winter, Apple TV+ is giving viewers more than a dozen of them with the original titles that will soon be rolling out on the streaming platform.
After months of teasing its new video subscription service with trailers and clips of various shows coming to the network, Apple finally and officially announced its Apple TV+ service — and it's coming just in time for the holidays. Subscribers will finally be able to stream a number of Apple TV's newly developed shows on November 1 for $4.99. Meanwhile, customers who buy a new Apple product will be able to get access to the subscription streaming platform for free.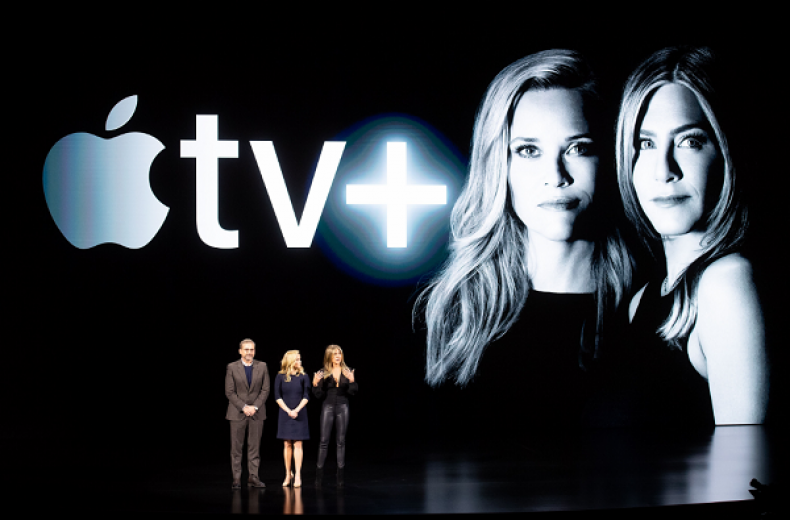 The company unveiled the Apple TV+ launch date along with the trailer of a new original series starring Jason Momoa, titled See, during Apple's Special Event on Tuesday. Apple has released trailers to pique viewers' interest in the streaming platform for the last five months. Tim Cook, Apple's CEO, noted of the five show trailers released so far, they've gained more than 100 million views combined.
So what exactly can fans expect to watch on Apple TV+? The list of projects and talent involved is pretty impressive. See the list of shows slated to premiere on Apple TV+ below.
See
Starring Jason Momoa and Alfre Woodard among several others, the science-fiction drama is set in a distant future years after a deadly virus killed most of humankind. The only people to survive the catastrophic event became blind, but centuries later Baby Voss (Momoa) fathers a set of twins with the power of sight. What follows is he and his tribe's crusade to keep them alive and safe from a powerful villainous queen.
Central Park
The animated musical series stars the voices of Josh Gad, Kristen Bell, Daveed Diggs and Leslie Odom Jr. Already greenlit for two seasons and 26 episodes, the comedy will unravel the story of a family of caretakers living and working in Central Park who, somehow, end up saving the park and essentially the entire world.
My Glory Was I Had Such Friends
Jennifer Garner stars in the drama series — produced by J.J. Abrams — based on Amy Silverstein's 2017 memoir.
The Morning Show
See the chaos and contrition of the newsroom in this morning broadcast-based series starring Jennifer Aniston, Reese Witherspoon and Steve Carell.
Pachinko
Showrunner and creator Soo Hugh's adaptation of Min Jin Lee's bestselling novel of the same name follows the triumphs and struggles of a Korean immigrant family.
Servant
Produced by M. Night Shyamalan, the 10-episode psychological thriller follows a young couple who hire a particularly problematic nanny to help them after the birth of their first child.
Helpsters
The children's program is a part of Apple's overall deal and partnership with Sesame Workshop. The show's lead Muppet, Cody, aims to spark young viewers' interest in coding and technology.
Dickinson
Hailee Steinfeld stars as a young Emily Dickinson as she comes of age in a family and society that are not as welcoming or amused by her free-spirited antics or development as a budding writer.
Home Before Dark
The 10-episode mystery drama is based on the real-life of 11-year-old Hilde Lysiak, played by Brooklynn Prince, whose early passion for news and investigation led her to uncover a local murder in her small lake town.
Defending Jacob
Chris Evans, Michelle Dockery and Jaeden Martell star in the limited drama series based on William Landay's novel of the same name.
Truth be Told
Starring Octavia Spencer, Aaron Paul, Lizzy Caplan, Elizabeth Perkins and Mekhi Phifer, the thriller drama series highlights America's fascination with true-crime podcasts. The show follows reporter Poppy Parnell (Spencer) as she uses her new podcast to expose the truth behind a long-forgotten murder case.
Mythic Quest
The comedy series follows Rob McElhenney of It's Always Sunny in Philadelphia fame as a creative director at a lively video game development studio.
For All Mankind
The 10-episode sci-fi series offers an alternate ending to the space race between the Americans and Soviets.
Home
Viewers will get a glimpse into some of the world's most extraordinary homes and the architects behind them on the 10-episode docuseries.
Little America
Kumail Nanjiani and Emily V. Gordon help tell the stories of immigrants living and loving in the U.S. in this 30 minute anthology series.
Little Voice
The romantic dramedy is described as "a fresh take, intensely romantic tale of the search to find your true voice" through stories that showcase the love and diversity surrounding New York's music bubbling scene. The series also features original music from Sara Bareilles.
Snoopy in Space
The Peanuts gang gets an update and a new adventure when Snoopy and Woodstock take an exploration into deep space.
Shantaram
The drama series is based on Gregory David Roberts' novel of the same name.
Swagger
The drama series dives into the world of Amateur Athletic Union basketball and follows the lives of the coaches and players from some the U.S.' most notable youth teams.
Amazing Stories
The Steven Spielberg production is a reboot of his anthology series which aired on NBC in the 1980s.
Oprah Winfrey Projects
While details have yet to be revealed, through Winfrey's multi-year deal with Apple, she's slated to produce and create a number of docuseries — one titled Toxic Labor and a yet-untitled show based on mental health — in addition to launching a new interview-style show.