Apple TV's 'The Morning Show' Accused of Stealing Arrangement of Radiohead's 'Creep'
Postmodern Jukebox, a well-known band which transforms modern pop, grunge and rock songs into big band or swing music, have accused the producers of the Apple TV show The Morning Show of ripping off their arrangement of the song.
"Here's a clip of @TheMorningShow ripping off our Creep arrangement - which is being sold on their soundtrack - with no mention of us whatsoever. The producers of the $300 million @AppleTVPlus show never contacted us about this, and are still refusing to comment about this," tweeted the official Postmodern Jukebox Twitter on Friday evening.
The clip retweeted showed the singer Rozzi's performance of Radiohead's "Creep" on the show and was provided by Rozzi on her Twitter. The performance was notably arranged in a way that came remarkably close to the Postmodern Jukebox take on it.
"On the bright side, this type of thing went from happening to us multiple times a year to barely at all, thanks to more ppl knowing about @PMJofficial. but i would like to see the producers of @TheMorningShow donate their cut from sales of this track to a charity of my choice." said Scott Bradlee, who arranged the Postmodern Jukebox version of the song.
Rozzi said in the original Tweet, "Even more evidence that I'm a singer/ACTRESS. Thank you to @themorningshow for asking me to sing this song and including me on your incredible show ❤️"
Fans began to dissect the clip, pointing out that if one slows the footage and then layers the PMJ version over the footage, the similarity is striking.
"Took the liberty of taking the @PMJofficial. version, taking it down a semitone and stretching it out 105% and...I believe somebody owes some royalties..." Said DJ Shai Guy.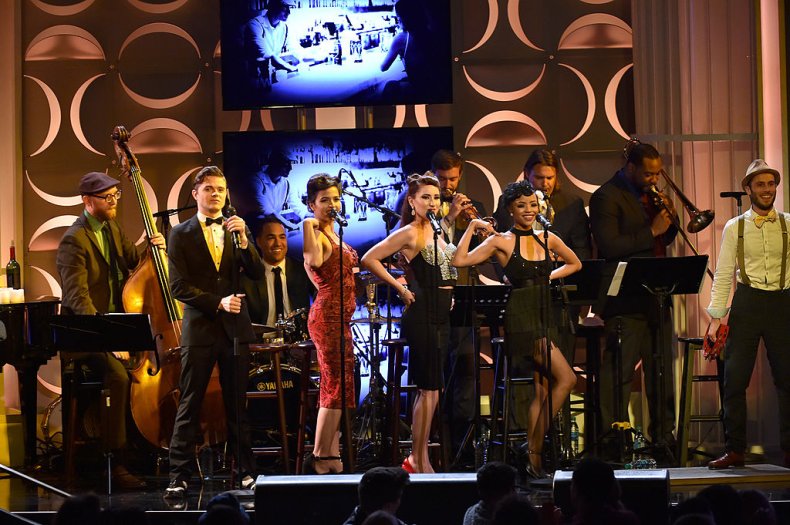 In response to the tweets made by the Postmodern Jukebox Twitter and fans filling her comments crying foul, Rozzi responded:
"Hey guys. I've tried to stay out of this but since a lot of your posts have been directed at me (and your followers are coming for me specifically) I feel the need to clarify that I was hired to sing this song. I didn't choose it or arrange it - in fact I have no idea who has arranging credit. If anyone stole something of yours I would understand your frustration but please don't send your fans at me - my only involvement was to sing what I was hired to sing. Thank you!"
The official Postmodern Jukebox Twitter agreed. "PMJ fans - please do not go after
@thisisrozzi on this one, this is between us and the producers of @TheMorningShow. Rozzi did a beautiful job, and it wasn't her decision to sing this."
In a statement to Newsweek, Bradlee pointed to the limitations of current copyright law.
"I think this is important because copyright law hasn't caught up with technology. I can't copyright an arrangement of an existing song—no matter how unique or specific that arrangement is. At the same time, most people agree that there is something ethically gross about a major TV studio copying someone else's hard work and then selling it for profit, without any credit given to the person that did all the work. I saw a screenshot of the credits and they credited two other dudes with the arrangement instead—even though our version from years ago had 69 million views online. That's pretty lame," Bradlee said.
Apple TV did not respond to Newsweek's requests for comment by presstime.
Update (11/9, 5:00 p.m.): This article has been updated to include comment from Scott Bradlee.