Apple Watch Series 7 Review: Is Bigger Really Better?
There are new aluminum colors for the Apple Watch Series 7. The casing has been altered ever so slightly. The top crystal is stronger than ever. All of these improvements, and others, are nice but pale in comparison to the one true new feature of the Apple Watch Series 7: a larger display screen.
While the most recent Apple Watches haven't felt squeezed for space on the screen, the 396 x 484 pixels of the new model really demonstrates how luxurious it feels to have the most screen real estate possible. It's a practical addition to the watch, too. Software buttons are more tappable. More text fits on the screen and can be increased to a greater size. A whole QWERTY keyboard has even been added to Series 7 watches.
The improvement in screen size is so noticeable over the Series 3, and earlier Apple Watches, that it's easy to be convinced to upgrade to the new watch. As I slipped on the new Series 7, I was curious as to how different it would feel from the previous, Series 6, model. Is this a compelling upgrade in general for people with newer Apple Watches?
TL;DR
Pros:
Larger display; better readability
Increased crystal durability
New watch faces and QWERTY keyboard
Cons:
Overall minor upgrade from Series 6
No new health sensors
Buy at Apple.
Apple Watch Series 7 Size and Bands
I immediately noticed the larger screen when setting up the new watch. Creating a pass code shows off the bigger buttons that are possible. Even though the items on the screen got bigger, I didn't notice any change in the physical size of the watch case. It's there, it is ever so slightly bigger, but not enough to make a difference.
The Series 7 watch comes in 41 mm and 45 mm. These feel the same as the previous sizes. The biggest concern for sizing is around bands. In short, nothing has changed for the existing watch bands.
Despite an increase in the Series 7's physical size, all previous Apple Watch bands will work with the new watch. For example, the smaller, 38 mm and 40 mm bands of the past models will both work with the new 41 mm watch, and the larger 42 mm and 44 mm bands of the past will work with the new 45 mm size.
Series 7 Colors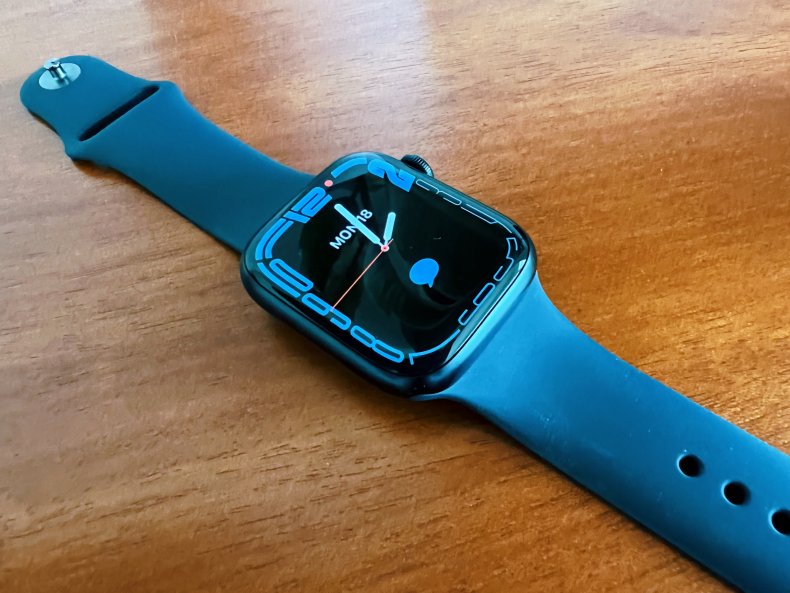 There are no silver or black colors in the aluminum watches. This is disappointing at first glance. The standard silver, black or gold colors are only available across the stainless steel and titanium models. The most generic color choices for the entry level Apple Watch are now Starlight and Midnight. Starlight is a silvery gold, while Midnight is a blackish blue.
I have rocked back and forth between silver and black (or whatever the dark color choice has been called) over the years. I was initially planning on ordering the Series 7 watch in Starlight, but I have been really enjoying the Midnight color. Anyone who wants a black watch should pick Midnight. Yes, there is a faint hint of dark blue to it, but only at very rare instances in bright light. I would estimate that more than 99 percent of the time, I simply saw it as black.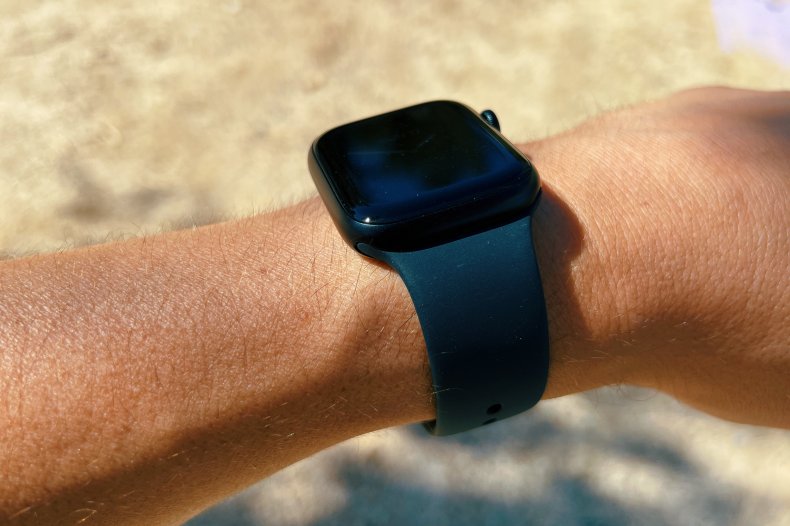 There are new colors choices in blue, green and (PRODUCT)RED. I haven't seen these in person, and I can't comment on those colors. I have a Starlight iPad mini, and I like that color, too, but it is slightly more opinionated in hue than Midnight.
Things That Are New on Series 7
The Apple Watch Series 7 charges faster now. (The charger is included in the box.) The watch will only take about 45 minutes to go from zero to 80 percent charged. It's a feature that can come in handy but might not be useful every day. For example, despite usually doing 30 to 60 minutes of tracked exercise daily, I never need to charge my watch throughout the day. The faster-charging cable did not impact my overnight charging habits.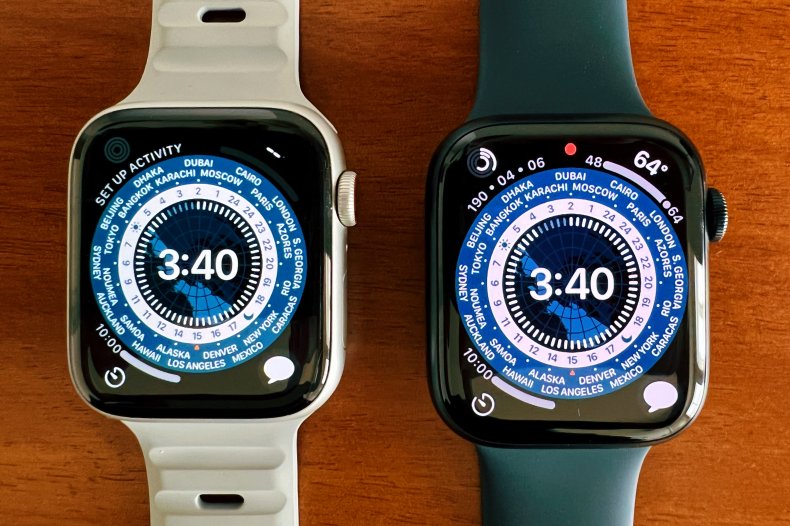 This will come in handy are while traveling or for people who use the Apple Watch to do sleep tracking.
There are two new watch faces available on Series 7: Contour and Modular Duo. Both of these take advantage of the larger screen size. I initially assumed Contour was a visual gimmick, with the numbers squished against the outer edge, and it may well be one. But I have found it to be a pleasing watch face in practice and like it a lot.
The Modular Duo face stacks two of the largest complications on top of each other. I like the idea of this face, but I don't have two large complications I want to use in this manner. Instead, six smaller complications might have been more useful. For what it's worth, the Modular Duo does feel more cramped than any other watch face.
Another highlight of the new watch is its better brightness while not active. The time on the watch should be visible at a glance while it's resting in place. It is brighter, it's not a lie, but I didn't find this to be as noticeable as I was expecting. Side by side, a comparison of Series 6 and Series 7 did not yield a shocking difference in stationary brightness, at least to my eyes.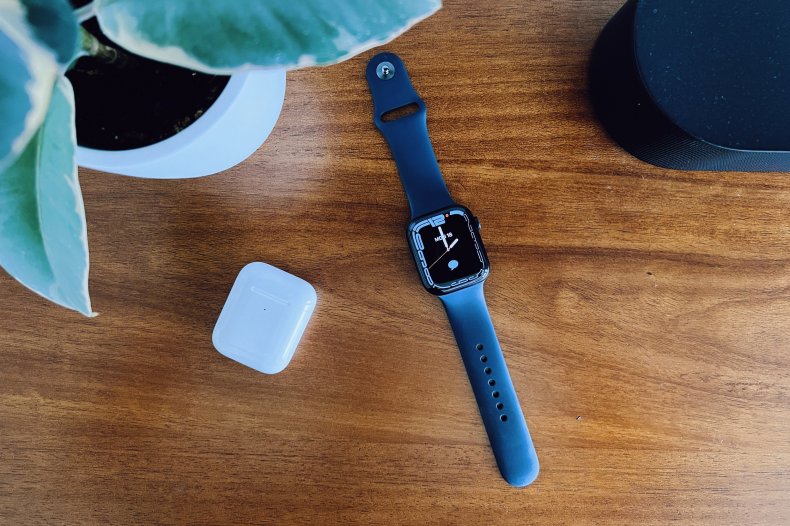 Should You Buy an Apple Watch Series 7?
A bigger screen is certainly better. (To that end, a brighter screen and faster charging are better, too.) The Apple Watch Series 7 is absolutely the best Apple Watch to date. It's probably the best smartwatch ever. There's no question that people coming to the device for the first time should pick one of the Series 7 models.
The question of upgrading is a stickier, tougher question to be definitive about. Anyone with a Series 3 watch, or earlier, wanting a new watch should upgrade to a Series 7. But, if you have an SE, Series 5 or Series 6 and can hold out another year, I would probably wait. The new screen size is great, and when you are ready to upgrade, it will be there waiting. I just didn't notice the Series 7's larger screen over my Series 6's as much as I was expecting to. And since there are no new health sensors I can go an extra year without too much FOMO.
Buy at Best Buy, Amazon and Apple from $399.
Newsweek may earn a commission from links on this page, but we only recommend products we back. We participate in various affiliate marketing programs, which means we may get paid commissions on editorially chosen products purchased through our links to retailer sites.