Apple Invests $1 Billion in Uber Rival in a Fight for the Future of Cars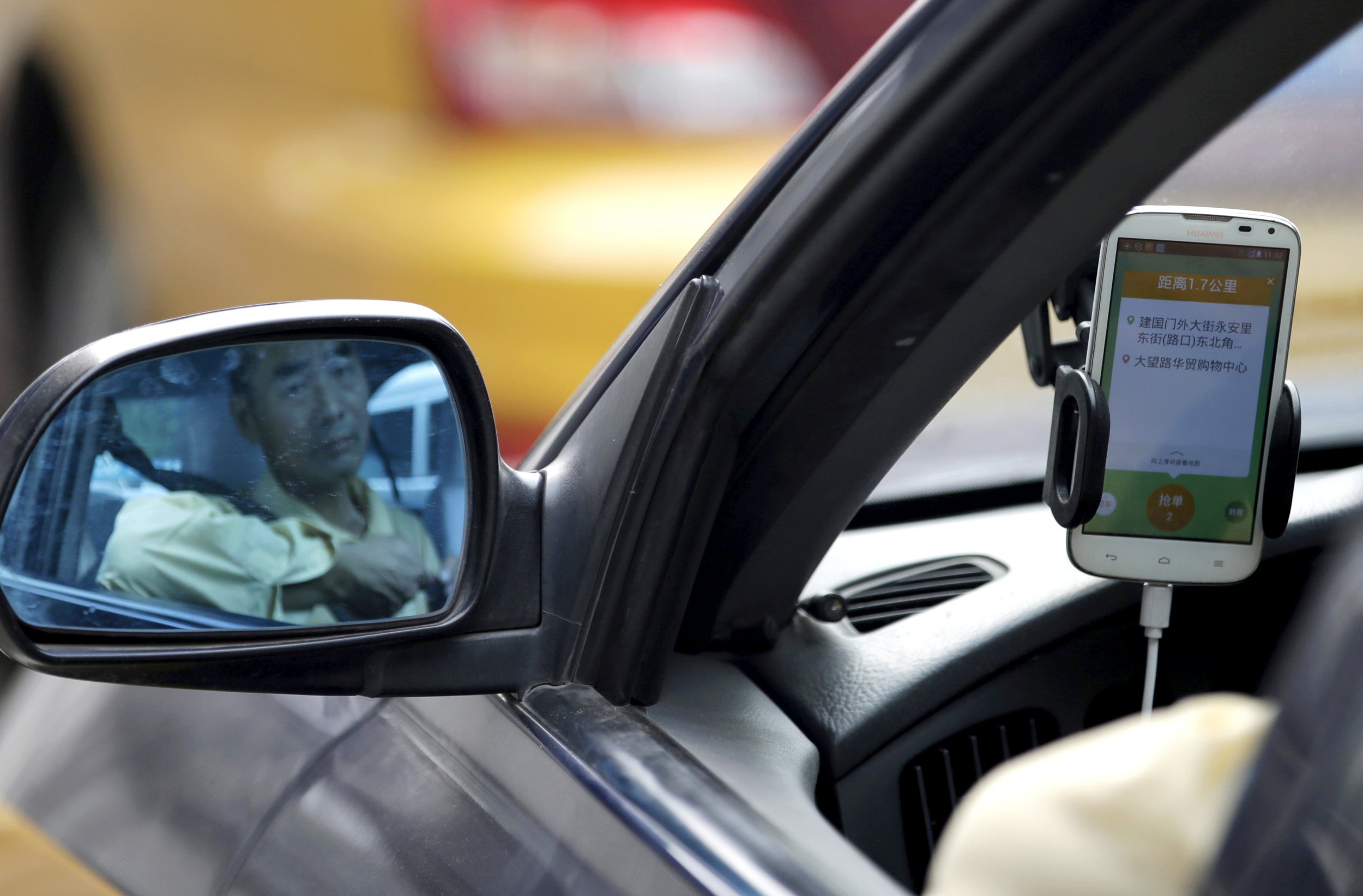 There's a revolution coming in autos. Maybe it's self-driving vehicles, maybe it's a car you share with your neighbors, maybe it's electric. Silicon Valley giants like Uber, Tesla and Google are fighting to define it. Apple's $1 billion investment in Didi Chuxing, a ride-hailing company known as (sigh) the Uber of China, marks yet another giant that wants a piece of the roads of tomorrow—and that views Uber as its biggest competition in getting there.
Uber can't wait for self-driving cars. CEO Travis Kalanick told a San Francisco conference last year the cars would save 30,000 lives a year. But he also failed to mention another big upside for his company—not having to deal with human drivers, of which Uber has 162,037 in the United States. No labor disputes, no allegations of sexual assault, no fingerprints. The company reportedly reached out to car companies for early details on self-driving cars earlier this year.
If Uber can put self-driving cars on the road first and combine them with its massive network, it could be a wholesale disruption that Detroit, and the rest of the valley, can't catch. But they're not the only ones in the game.
Reports of an Apple car started early in 2015. A year is a flash in time for auto companies, which can take a decade to design a new model. But Tesla, which went from nothing in 2003 to a goal of 500,000 production cars by 2018, has already shown that Detroit's plodding production model, once the envy of the world, is looking rusty. And while Detroit is racing to add self-driving features in upcoming models, Tesla gave away a few of these features through a simple software download to Tesla owners. In just a few months, Apple has piled on talent, filching some of from Tesla. The Apple Car may still officially be under wraps, but as Tesla CEO Elon Musk said, "it's pretty hard to hide something if you hire over a thousand engineers to do it."
There are plenty of reasons to not go into cars. The margins are small (tiny if you compare them to what Apple makes on computers and content). It's an industry that, unlike the virtual disruptions of the last tech boom, requires massive infrastructure, giant factories and unionized workers. But it's also an industry where change seems inevitable and tech giants don't want to let the market slip to their competition.
Apple has gone all kinds of places it didn't belong. It was the computer company that disrupted the music and cellphone industries when both seemed tired and mature. But if it's going to make a serious play at the roads of the future, it needs to catch up fast. Didi Chuxing is the biggest ride-share company in China, far outstripping Uber China. Didi gives Apple a partner to experiment with, and a built-in market when and if the Apple car finally rolls off the assembly line. It also shows that Apple's not afraid of taking on Uber head-on. It doesn't hurt that it is in China too, a country where Apple has been struggling.
But if Uber is sweating, it's not showing it. Kalanick responded to the news Thursday night by joking on Twitter: "Girlfriend owns @apple shares which makes her a didi investor… #Smh#ridesharewars#domesticissues#thanksALotTim."
Of course, this isn't an Uber vs. Apple fight. Google's self-driving cars are a staple of traffic in Mountain View, California, gliding down the road like Knight Rider's KITT (if you could see KITT getting into a 2 mph accident with a bus). Tesla owns the first pure electric car on the road and the first car you can buy that—sort of—drives itself. And traditional carmakers aren't taking any of this lying down. But Apple and Uber, two companies that on the surface couldn't seem more different, increasingly look as if they're jockeying for the same lane.