Appointment of Colombian Ex-President Sparks Controversy at Georgetown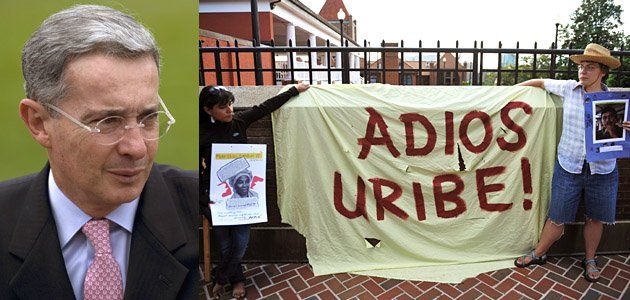 Last month, Álvaro Uribe, newly minted as a visiting scholar at Georgetown, gave a guest lecture in a political-science class that ended with an embarrassing confrontation. From the stage of a small auditorium, the former Colombian president discussed free markets and security, two hallmarks of the strategy that by the time his eight-year tenure ended in August had transformed Colombia from borderline failed state to international success story and the U.S. government's staunchest South American ally. Then he fielded questions from students. Nicholas Udu-gama rose from his seat in back, began to clap and, as he made his way down an aisle and onto the stage, accused Uribe of a wide range of human- and civil-rights crimes.
Udu-gama, 29, was pulled through a back exit and arrested, but this was no simple case of isolated campus activism. Uribe's post at Georgetown has sparked a controversy at one of the country's most esteemed international universities and across academia. On Sept. 29, more than 150 scholars, including 10 Georgetown professors and leading experts on Latin America and Colombia, signed a letter calling for Uribe to be fired. The letter, authored by a Jesuit priest, Father Javier Giraldo Moreno, one of Colombia's foremost human-rights proponents, argued that Uribe's appointment "is not only deeply offensive to those Colombians who still maintain moral principles, but also places at high risk the ethical development of the young people who attend our university."
In a phone interview with NEWSWEEK, Udu-gama, part of a student-led coalition opposing Uribe's appointment, spoke directly to the point: "This was Uribe trying to clean his image, basically, in front of our future leaders. He needs to be put in front of a criminal court."
Such sentiments fly in the face of the usual narrative about Uribe as a man who beat back a guerilla insurgency, significantly reduced coca production, and jump-started his country's economy—and as someone who certainly would appear fit for an honorary university post. Georgetown had no comment, but in a statement said the university "is not endorsing the political views or government policies enacted by an individual," and that "having such a prominent world leader at Georgetown will further the important work of students and faculty."
It's not uncommon or particularly controversial for a former high-ranking government official to settle into a teaching job—Madeleine Albright, ex-president of Spain José María Aznar, and former Bush defense official Douglas Feith, among others, have held professorships at Georgetown. But the commotion over Uribe's appointment is part of a long-simmering struggle over his legacy that may be boiling over now that he's out of power.
Human-rights accusations have dogged Uribe since he was governor of Antioquia in the 1990s, when allegations first surfaced about connections to the paramilitary groups that have been responsible for some of Colombia's bloodiest violence. Uribe has not been formally charged with wrongdoing, but more than 100 of his political allies, including relatives, are under investigation for paramilitary ties. With the so-called false-positives scandal, meanwhile, Uribe's administration received a considerable black eye after it was discovered that members of the Army had been killing civilians and dressing them as guerillas to inflate body counts. Last week, an investigation into the illegal wiretapping of human-rights workers, court justices, and Uribe's political opponents implicated his chief of staff.
All this has made members of the faculty such as Marc Chernick, a professor at Georgetown's Center for Latin American Studies who has worked in Colombia since 1980, unhappy to have Uribe as a colleague. "We're quite dismayed that a man that has this level of allegations against him has been invited to teach and be affiliated with Georgetown," Chernick says. "We don't think we should lend the legitimacy of the university to him." Adds Vanderbilt anthropology chair Lesley Gill, a Latin America specialist: "Uribe does not stand for any of the values that the United States claims to stand for."
Yet the U.S. has done more to bolster Uribe's international standing than a teaching position possibly could. On his watch, Colombia was the top recipient of U.S. aid outside the Middle East, and America trained Colombia's military and began operating from bases inside the country. George W. Bush awarded Uribe the Presidential Medal of Freedom. At an appearance in Bogotá in June, Secretary of State Hillary Clinton addressed him with the following remarks:
"I speak for President Obama and myself when I say that you, personally, have been an essential partner to the United States. And because of your commitment to building strong democratic institutions here in Colombia and to nurturing the bonds of friendship between our two countries, you leave a legacy of great progress that will be viewed in historic terms."
To observers such as Peter DeShazo, the director of the Americas program at the Center for Strategic and International Studies, Uribe took charge of a perilous situation and brought improvements that have created a net gain in terms of human rights. "He could have done things better on the human-rights side. There's no doubt about that," DeShazo says. "But that said, the policies that his government carried out in exerting more state control over larger amounts of territory certainly, in the end, helped lessen the number of human-rights abuses."
For all Uribe's success, however, a more nuanced view of his presidency may be taking shape abroad—one that recognizes the security gains as well as the human-rights concerns that have bubbled up in their wake. Protests flared up over Uribe's appointment as vice chairman of the U.N. commission investigating Israel's Gaza flotilla raid this summer, and last week a number of human-rights groups joined the call for Uribe's ouster at Georgetown.
A free-trade agreement with Colombia has been held up by the U.S. Congress since 2008 due to human-rights concerns—in particular, Colombia's continued status as the world's deadliest country for labor leaders. At the first meeting between the two leaders last year, Barack Obama advised Uribe not to seek a third term in office, which would have required altering Colombia's Constitution.
Aldo Civico, a conflict-resolution expert at Rutgers University who has done extensive field work in Colombia, declined to put his name to the Georgetown letter. There's a danger, he says, in taking a black-and-white view of Colombia's problems, which have long been cast in shades of gray. "He achieved extraordinary results in terms of security. Results that no president before him was able to achieve," Civico says. "But there was a dark side to those results. And we see them out there now."
Uribe will deliver a fresh round of lectures at Georgetown early next month. His opponents have promised to keep pressing their case. And the university, willingly or not, will continue playing host to a worthwhile debate.