Approval of Biden's Pandemic Handling Drops to 52 Percent: Poll
As the U.S. has seen a surge COVID-19 cases in recent months due to the highly contagious Delta variant, Americans' approval of President Joe Biden's response to the pandemic has dropped sharply, a new study has found.
The ABC News/Washington Post poll released on Sunday shows approval for Biden's handling of the pandemic is now at 52 percent—down from 62 percent in June. While 41 percent said they disapprove of Biden's COVID-19 response, the remaining respondents surveyed were undecided.
The poll surveyed "a random national sample" of 1,006 people, and has a margin of error of 3.5 percentage points.
Americans are also now more concerned about contracting COVID-19 than they were earlier this year, the new study also found.
Forty-seven percent of Americans believe they have a high or moderate risk of getting sick from COVID-19, "up sharply from 29 percent in June as the Delta variant has surged," a summary of the poll stated.
The majority of Americans—7 in 10— believe that COVID-19 vaccines are safe.
"Yet there are compunctions," the poll said.
"Many fewer – 43 percent – call them very safe or very effective. And 27 percent don't think they're safe or effective. Vaccine hesitancy soars among people who hold these doubts; in a statistical analysis called regression, they're crucial predictors of not getting a shot," it added.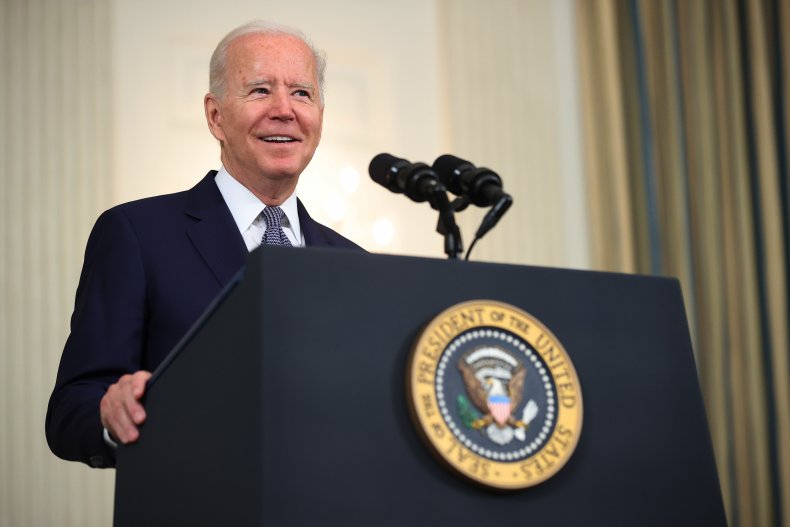 Of those surveyed, 50 percent said getting vaccinated is a "personal choice," while 48 percent said they believe it is a responsibility.
"Among unvaccinated people, the share calling it a personal choice soars to 91 percent, and eight in 10 of them feel strongly about this. Among the vaccinated, by contrast, 62 percent say it's a responsibility to others," according to the poll.
But overall, the study found vaccine hesitancy has "subsided." In January, 32 percent of respondents said they didn't plan on getting the vaccine, while the poll released Sunday reported only 17 percent of respondents said the same.
In addition to asking respondents about Biden's pandemic response, the poll also found that even fewer Americans approve of the president's handling of the economy: 45 percent approve, while 49 percent disapprove.
Biden's overall approval rating currently stands at 45.9 percent, according to poll tracker FiveThirtyEight, which assesses Biden's popularity based on analysis of a wide range of polls and its own system of pollster ratings.
Biden's popularity has dropped as his administration faced heavy criticism over the U.S. military's withdrawal from Afghanistan.
A poll released by NPR/PBS NewsHour/Marist College on Thursday found the president's overall approval rating had sunk to 43 percent—a six-point drop from July.
Newsweek has reached out to the White House for comment.