Approval of Congress Hits 12-Year High But Still Just 36% Overall, 9% Among Republicans
Americans' approval of Congress hit a 12-year high this month, according to a new Gallup poll released Tuesday.
Satisfaction with the way Congress is handling its job comes as the $1.9 trillion American Rescue Plan was passed earlier this month, paving the way for Americans to receive federal stimulus checks and COVID-19 relief for schools and businesses. The poll of 1,010 adults was conducted from March 1 to March 15 and found that 36 percent of Americans approve of Congress' job.
While Americans' satisfaction rate is nearly the same as last month, March's rating is up from this time last year, when the bipartisan $2.2 trillion CARES Act passed. At that time, Congress' approval was 31 percent, Gallup reported.
The poll found that happiness with Congress fell along party lines, with 59 percent of Democrats supporting the work of lawmakers, while 34 percent of independents and 9 percent of Republicans approved of Congress' performance.
Democrat-led issues such as increasing the federal minimum wage, confirmations of President Joe Biden's cabinet nominees, COVID-19 relief and Biden's policy at the southwest border have pitted congressional Republicans against Democrats, paving the way for increased partisanship in both chambers.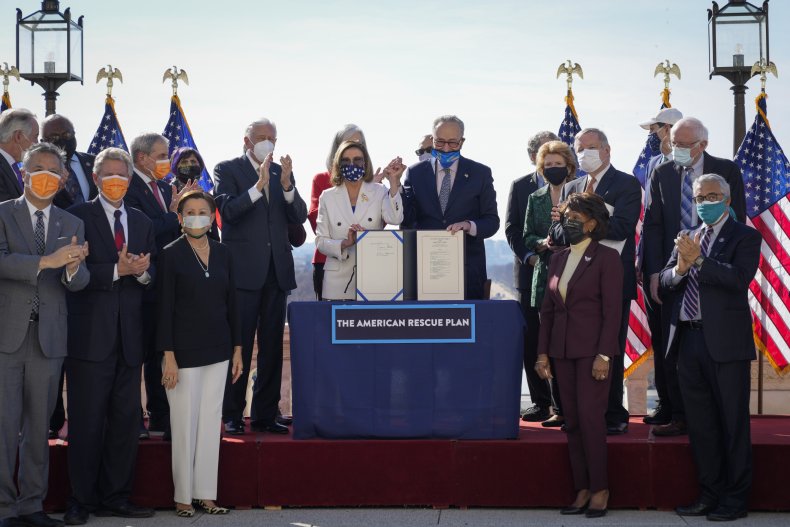 While Biden's robust relief package included provisions such as $1,400 stimulus checks for most Americans, Gallup found that overall economic confidence in the country is at a -7. While this is an improved number from February, the overall confidence measure is far below the 22 economic confidence rating from this month last year. Last April, however, the rating was -33.
Overall, Gallup reported that 32 percent of Americans said they were satisfied with the direction of the U.S., the second month in a row the measure of satisfaction has grown. This is the largest satisfaction rate recorded since May 2020, although only 7 percent of Republicans are satisfied versus 52 percent of Democrats.
Biden's aggregated approval rating from January through March is also partisan, with 96 percent of Democrats and 10 percent of Republicans reporting they were satisfied with the new president's job in a separate Gallup poll.