April the Giraffe Pregnancy: Live Stream, Giraffe Cam, How to Labor Get Text Alerts
It's been almost two years since the world became obsessed with animal sensation April the Giraffe. The giraffe from Animal Adventure Park in Harpursville, New York, was pregnant when she became a celebrity and now she's pregnant again at 17 years old.
April is expected to give birth within the next few weeks. Her caregivers are fairly sure that it will happen before the month is over. The newest calf will be her fifth in all but her second with Oliver, the giraffe she lives with at the Animal Adventure Park.
The last time April was pregnant, it took her quite some time for her to actually have the baby and people were eagerly waiting for it to happen. This time around though the caregivers at the park have been monitoring signs of delivery closely and are fairly confident April will have her baby in March.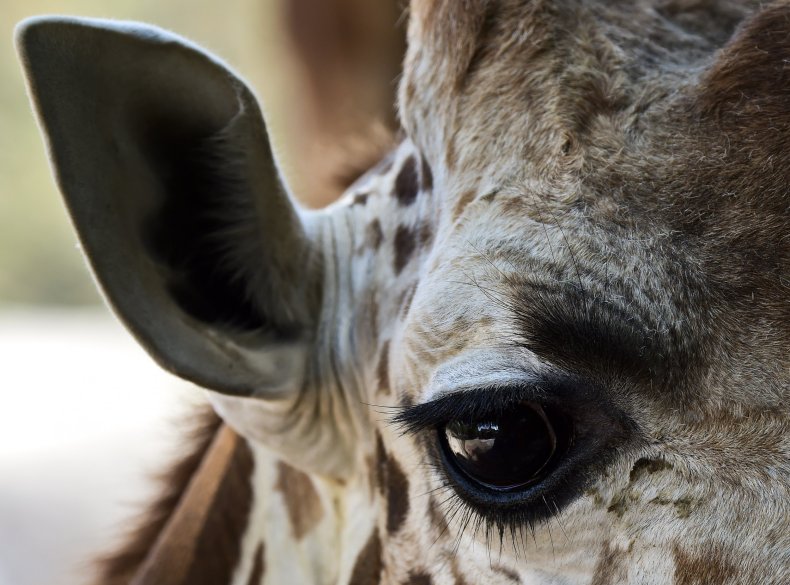 Just like last time, there's a camera on April in her pen at the park. Tuesday there were more than 14,000 people watching April live on her YouTube page. People were commenting in the chat sidebar saying hello to one another from all over the world.
"Without question, she has made her mark in stardom and she does have her fan base," Jordan Patch, owner of Animal Adventure Park, told Newsweek.
For those who can't stay glued to the computer waiting for April to go into labor, they can sign up for an alert that will tell them when April is confirmed to be in labor. The text alert does cost a small fee though for those who want to sign up.
The service costs $5, and there are no refunds or exchanges. The phone user will get a text message when April is confirmed to be in labor. The site said there would also be "exclusive post birth content!" Users can sign up for the text notification online and they can use PayPal to pay the $5 fee.
There's also a live stream of April's son, Tajiri, who is nearing 2 years old. He was recently moved to his own brand-new barn at the park with his new girlfriend Johari, meaning "jewel." Taj and Johari can both be spotted on his live giraffe cam online as well but the couple has far fewer fans watching than April does these days.