April the Giraffe Live: Pregnancy Update, Watch Her Final Days With Son Tajiri
America's most famous giraffe, April, who captivated the country during her last pregnancy in 2017 is pregnant again.
April lives at the Animal Adventure Park in New York with her son Tajiri and the father to her children Oliver. Park owner Jordan Patch took to Facebook Tuesday to share an update about the giraffe.
While April hasn't yet gained any significant weight, she is starting to eat more, Patch said in the video.
"We're not seeing a lot of physical change, we're seeing a lot of behavioral change," Patch said.
April is showing less interest in Oliver and has been consuming more food, though she's only gaining a bit of weight.
"What we can expect as the months go on is some more physical change. And we're gonna really see that in about January, February," he said.
The baby is due sometime in March of 2019. Last time April was pregnant, however, the pregnancy held on for quite a while and kept viewers on their toes. Patch said those at the park think they have this pregnancy pinpointed to March.
"We have a really neat thing that's coming out here, probably in the next two weeks, that's going to allow you to follow this pregnancy play by play, update by update, video by video, photo by photo and it's all going to be April-based," Patch said.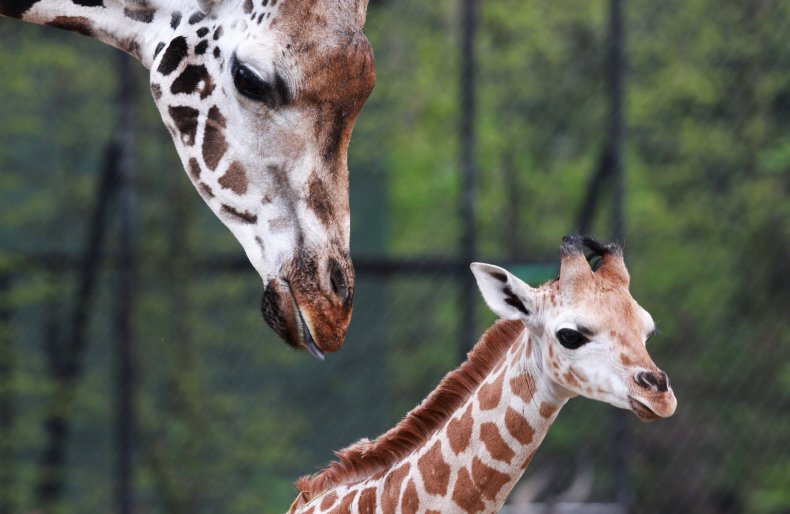 He also explained that April's other baby, Tajiri, will be moved out of the Animal Adventure Park to a conservation park in North Carolina called the Carolina Wildlife Conservation Park before the new baby arrives. That move is set for the end of October after Animal Adventure Park closes to visitors for the season.
Tajiri is very large for his age, Patch explained, and as he matures, he needs to be on his own, away from his mom and with other young female giraffes his age. Patch said Tajiri might even get a girlfriend and start having babies of his own at his new home. The move should help keep the giraffe population genetically sound and sustainable, Patch said.
For the time being, until Tajiri leaves for his new home, viewers can watch him on the live giraffe cam provided by the Animal Adventure Park.
​