April the Giraffe Baby Watch 2019: Watch Birth of New Calf Live at Animal Adventure Park, How Will it Be Named?
Those on "Giraffe Watch 2019" waiting for April the Giraffe to have her next calf might not have much waiting left to do. Animal Adventure Park, located in Harpursville, New York, posted on Facebook Wednesday to let her fans know she was getting ready to have her baby.
"She's doing great as to be expected and to be hoped for," Jordan Patch, Animal Adventure Park owner told Newsweek on Tuesday. April has been at Animal Adventure Park since August 2015 and became an online sensation when she was pregnant with her last baby, Tajiri, in 2017.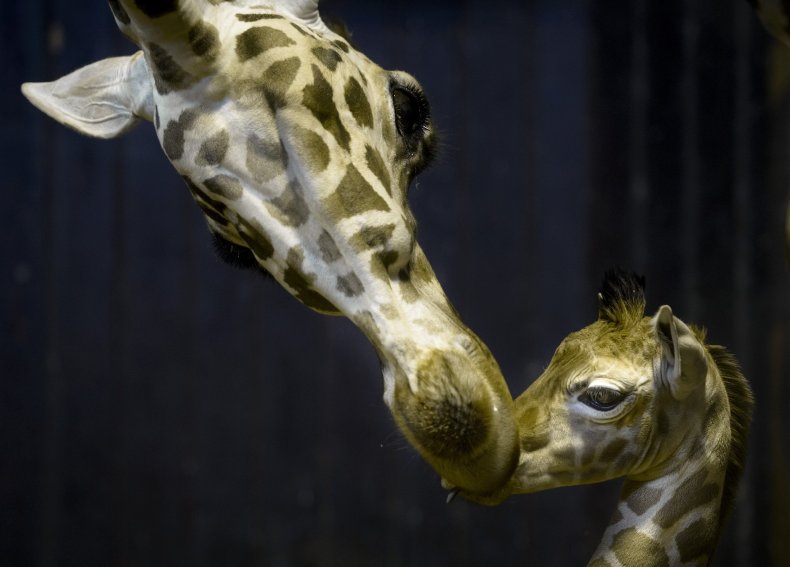 "It's kind of a textbook process again," Patch said. He and the other staff at the park along with April's veterinarian team look for both physical and behavioral changes in her to determine how close she is to delivering. The Wednesday update from the park noted a number of these changes like tail raising and the calf repositioning inside of its mom were observed.
How is April's due date determined?
"On the physical side, we're looking for obviously an increase in her belly, essentially the size of the calf inside there, which we're seeing that. We're also watching the baby kick and move around and most recently as of yesterday starting to appear to be getting into position," Patch told Newsweek. Giraffes are typically pregnant for 15 months before they give birth.
"Behaviorally, things we're watching [for] are interest in food, how she's acting towards the keepers and the veterinarian going in and checking on her, if there's any sort of gazing or stargazing as we call it or pacing behavior that would suggest contractions or labor. So it's really just gauging her actions based on the norm and what's changing," he said.
When is April the giraffe due?
But Patch is very confident that April will be delivering this new baby giraffe in March. Last time she was pregnant, with son Tajiri, the world was on edge watching and waiting as weeks passed without a birth.
Patch noted that no two pregnancies are the same and comparing one to another doesn't help April's caregivers anticipate how this pregnancy will go. "The difference here is that we are much more accurate in our prediction window this time, we are without question anticipating a March delivery, whereas before our observations were obviously off," Patch said.
There are a few surprises down the line with this pregnancy though. The sex of the baby isn't known yet, there's no way to know whether the calf is male or female while it's in utero. "We find out just maybe a mere few minutes prior to the world," Patch said.
How will April's new baby be named?
Once the sex of the calf is known, the world will be able to start voting on names. Just like when Tajiri was born, Animal Adventure Park is allowing the fans to choose the name of the new calf.
There will be two rounds of voting, Patch said. During the first round, fans can submit any name they want. From there the names are narrowed down to the top 10 and then fans can vote for their favorite from that group of names. Last time the park got name suggestions and votes from all over the world, every continent with the exception of Antarctica, Patch said.
How to watch April live:
There is a live stream of April on YouTube where fans can tune in and watch her. On Thursday morning there were about 25,000 people from all over the world watching. Updates on April's condition are added to the Animal Adventure Park Facebook page daily for those looking for more specific information.
​