April Powers, Ex-SCBWI Diversity Chief, Sent Death Threats After Condemning Antisemitism
A former diversity chief at the world's leading children's book writers group has hit out at those who sent a flurry of death threats to her and her former colleagues for treating online harassment like "a blood sport."
April Powers, who was previously Chief Equity and Inclusion Officer at the Society of Children's Book Writers and Illustrators (SCBWI), spoke to Newsweek about the torrent of death threats and antisemitic messages she had been subjected to for weeks.
Powers left the SCBWI after she shared a Twitter post last month that condemned the rise in antisemitic attacks that had occurred earlier this year, which triggered an avalanche of abuse online.
The inclusion officer, who is Black and Jewish, soon came under sustained attacks after a Palestinian writer called on her to produce a statement on Islamophobia as well.
Shortly afterward a series of anti-Palestinian and anti-Israel posts were shared in the comments of the SCBWI account and Powers deleted them, and Powers blocked the account that had targeted her original post against antisemitism.
The SCBWI issued an apology and unblocked the person who tweeted the initial comment that asked for a statement that condemned Islamophobia.
Powers told Newsweek she voluntarily resigned from her position after she felt she had made mistakes in her approach to handling the SCBWI's social media account.
But, the torrent of online abuse continued from June 10 and escalated to the point where she was sent death threats.
Powers later deleted her social media accounts, but her personal information was still shared online, resulting in sustained attacks, some of which threatened her life.
She said: "This person is calling me a white supremacist and that I deserve to die and so does my family."
Powers later told Newsweek: "It doesn't matter if it's credible or not, the feeling that you have when someone threatens your life and that of your family online and publicly is a terrorist act."
"I am so sad and disheartened that this is the world that we live in right now because none of them deserve any of this and their lives, safety and careers are on the line because of it."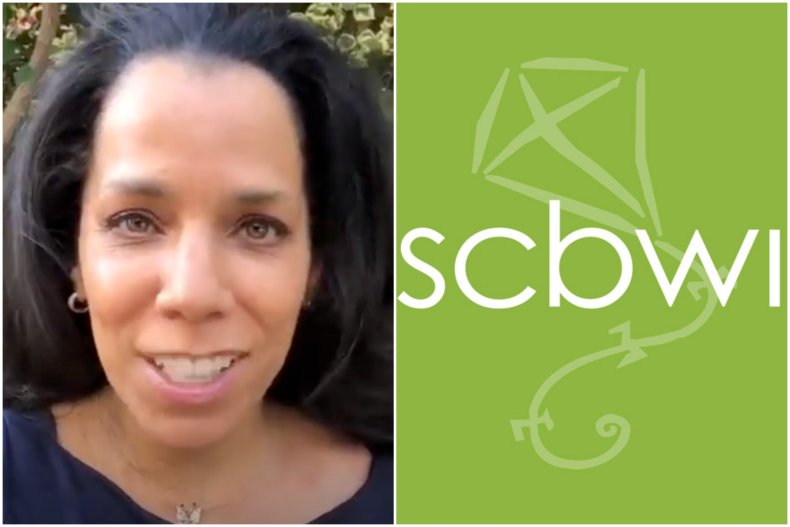 She later continued: "The world that we're in right now leaves very little room for error. Canceling someone is a sport and in this case, is a blood sport."
Despite having left the SCBWI, Powers called on those sending abusive messages to its staff to "put down their guns" and wanted to deescalate the situation.
Powers told Newsweek: "The entire staff at the SCBWI are amazing hardworking people who genuinely want there to be a space for inclusion in the world of children's literature.
"They did nothing wrong to me and they are being demonized for a decision I made, being demonized for a mistake I made."
She concluded: "Who benefits from Muslims and Jewish people attacking each other in our organization? Because it certainly is not us."
PEN America, an organization that works to defend free expression in the U.S., said it was concerned about the situation that led to Powers' resignation.
The organization said in a statement on its website: "Issuance of a factual public statement within the scope of a professional's job should not be grounds for discipline or resignation under pressure.
"Biases and bigotries taken on many variations and targets: anti-Black racism, Islamophobia antisemitism, homophobia, sexism and other forms each have their own distinct characteristics and are worthy of forceful denunciation in their own right. The fight for human rights and dignity must oppose such hatreds in all their forms."
It added: "Absent any such indication, the condemnation of one form of hatefulness should not be read to imply indifference toward others. Complex and divisive issues are best addressed through reasoned dialogue, which can include heated debate.
"Ad hominem attacks, harassment, vitriol, and threats stifle debate, creating regrettable cycles of spiraling censoriousness that can silence important perspectives. We call on SCBWI to clarify the circumstances of Powell's departure from the organization and to make clear its unequivocal, unapologetic denunciation of antisemitism and of other forms of bigotry."
The SCBWI also issued a statement on its website following Powers' resignation and after many people criticized the group, some of whom claimed its leadership showed they "don't stand with Jews."
Its statement added: "As an apolitical literary organization, it is not our mission to promote any specific political viewpoint or policy. Instead, we provide our members the opportunity, space, tools, exposure, and empowerment they require to make the high-quality, diverse children's books that all children need.
"Recently, our Equity and Inclusion officer resigned by her own choice, not at any request or demand of our organization, as she felt she had made mistakes in her professional decisions in managing social media. Today, we want to be sure that our community understands our core mission as an organization of children's book writers, illustrators, and translators.
"The SCBWI is here to support the shared journey of writers, illustrators, and translators whose goal is to create and deliver quality children's books all over the world. All children need to see themselves reflected in books. Our leadership has re-dedicated ourselves to the SCBWI's core mission—to build proactive programs that help diverse creators provide literature for all children."
Newsweek has contacted the SCBWI for comment.
Correction 7/8/21, 11:30 a.m. ET. The headline of this article was updated to clarify that April Powers posted to condemn antisemitism.