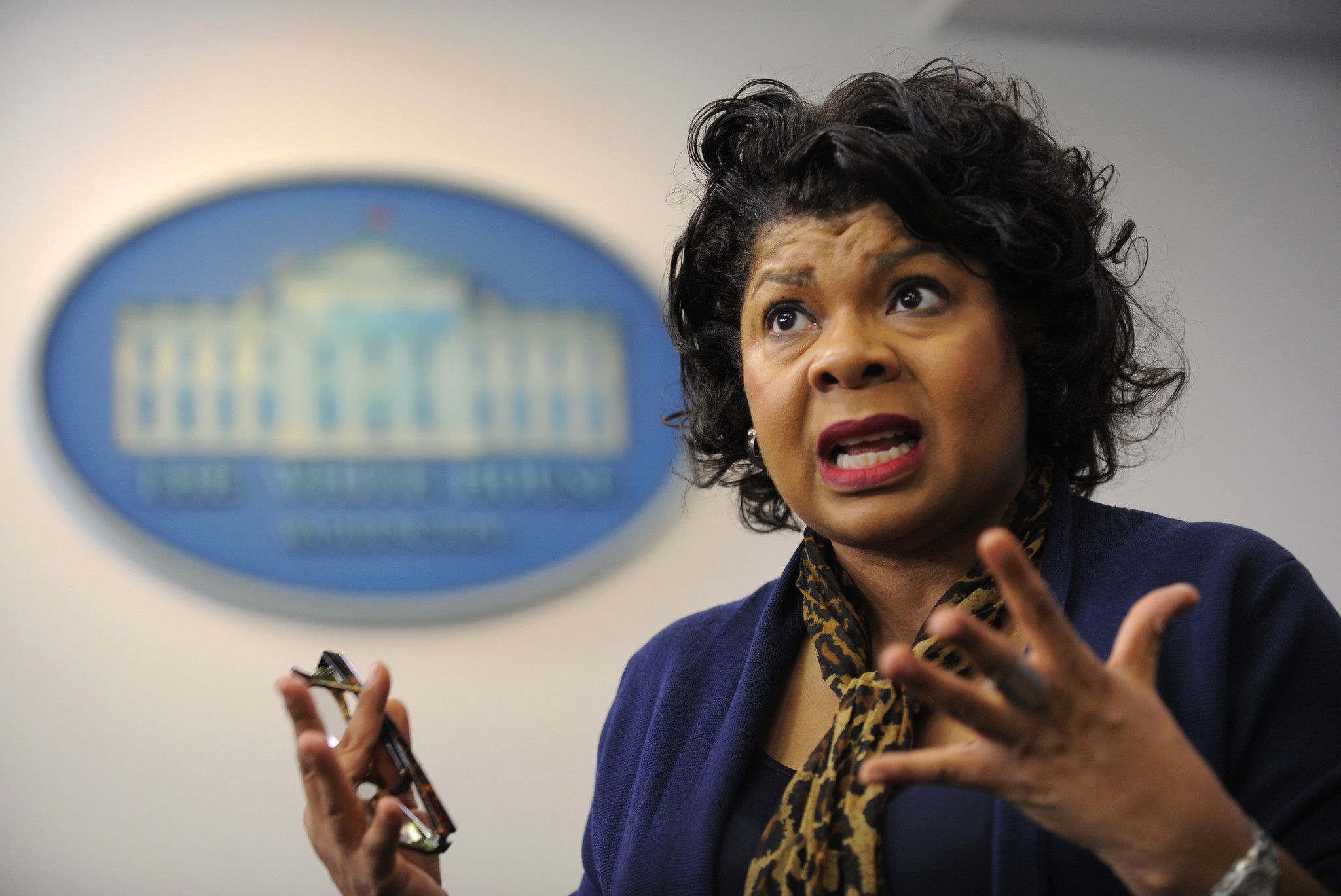 March 28 was another challenging day for April Ryan in Donald Trump's America.
The Washington bureau chief for American Urban Radio Networks was seated inside the White House press briefing room with a group of roughly 50 other reporters, tasked with conveying—and dissecting—the administration's agenda for the rest of the country.
Ryan, a White House press correspondent since 1997, was used to holding powerful people accountable for her millions of listeners, primarily black Americans and other folks living in urban and minority communities. The mother of two had faced off with several presidents and their press teams, from Bill Clinton to Barack Obama, and was known for posing tough questions to elected officials.
But what she said that day seemed to strike a nerve with then-press secretary Sean Spicer, who for weeks had been trying to fight back explosive reports on a possible Russian scandal linked to the Oval Office. Ryan wanted to know how Donald Trump's administration was planning to resolve its image crisis amid federal investigations and allegations of collusion with Moscow during the presidential campaign.
"I appreciate your agenda here," Spicer said, interrupting Ryan. "April, hold on. It seems like you're hell-bent on trying to make sure whatever image you want to tell about this White House stays.
"Please stop shaking your head again," he said.
Ryan seemed taken aback for a moment by Spicer's response. "It was a long drive home," Ryan recalled during an interview this week on political analyst Angela Rye's podcast.
While Spicer had a history of dressing down reporters—his antics quickly becoming fodder for a Saturday Night Live caricature—the confrontation with Ryan seemed particularly personal, given her skin color and the minority communities she represents. Ryan serves as one of just seven or so black White House press correspondents among approximately 53 reporters at a time when the White House has increasingly declared war on minority communities, with frequent arrests of immigrants, a travel ban against Muslim-majority nations, vows to increase police presence in largely black communities and other aggressions.
"How do you stand when you see it?" Ryan said to Rye on Wednesday, discussing the administration's attempts to undermine her work. "You can call it for what it is and move on.
"They thought they could pick me because I'm 'a little black woman from a little specialty media, a little black network,'" Ryan added. "But they didn't realize that black woman is strong, she is almost half a century old, and she's been here, done that, got a T-shirt, folded it and washed it. And folks got my back."
Ryan is one of the nation's few prominent African-American journalists, in part because news media organizations so often have a terrible reputation for diversity hiring and retention. Many newsrooms across the country do not reflect the diverse communities they cater to, according to decades of data. Minority journalists make up just 17 percent of the workforce in newsrooms, according to the American Society of News Editors' 2016 survey.
Those reporters carry another burden most white journalists don't, experts say: When performing their duties as members of the press, they also represent often overlooked or maligned communities. This can result in an unparalleled level of scrutiny and expectations from the power brokers they want to hold accountable.
"There is a sensitivity among April Ryan supporters and other journalists of color, who see her as seemingly the only black woman in the room at times," Zuri Berry, deputy managing editor at the Boston Herald and a former vice president of the Boston Association of Black Journalists, tells Newsweek. "It relates to those of us—including myself—who operate in spaces feeling like they're the only one, feeling the need to force themselves."
Berry adds, "As a black journalist, that's something you become accustomed to over the course of time. You learn to power through, and you just keep moving."
Weeks before her exchange with Spicer, Ryan tussled with Trump himself, creating national news when he asked if she'd arrange a meeting between him and the Congressional Black Caucus (CBC).
"Oh, this is going to be a bad question," Trump said at a press conference on February 16 as Ryan stood up to speak during a White House press briefing. She went on to ask the president how he'd incorporate black organizations into his agenda on urban communities.
He began to discuss his election victory, pointing at Ryan when describing how he won over "a much higher percentage of the African-American vote than a lot of people thought I was going to get."
"Are you going to include the CBC, Mr. President, in your conversations on your urban agenda?" Ryan repeated.
"Am I gonna include who?" Trump replied.
"The Congressional Black Caucus," Ryan said.
"Well, I would. I tell you what, you want to set up the meeting?" Trump asked.
"No, no, no, I'm just a reporter." Ryan replied.
"Do you want to set up the meeting?" Trump said, talking over her. "Are they friends of yours? Go ahead, set up the meeting."
The Trump administration was at it again on Tuesday, as press secretary Sarah Huckabee Sanders critiqued the way Ryan called on her to ask a question. The two shared an uncomfortable moment when Sanders suggested Ryan wasn't being polite enough. A clip of the moment quickly went viral on social media, with some critics pointing to the nation's long history of forcing black people in America to speak to white people in restrained dialogue under the threat of violence or other consequences. Black Lives Matter activist DeRay Mckesson wrote, "This whole "since you said my name so politely" thing doesn't feel right."
Asked for further comment, Ryan declined to elaborate. "I am letting this podcast stand," she said in an email to Newsweek.
The Trump administration has not been an entirely welcoming place for minorities—it has named only a handful of blacks, Latinos and Asians to top positions, as well as women—but generally seems to treat all members of the so-called fake news media with disdain, regardless of race or gender. That was apparent once again on Wednesday, when White House aide Stephen Miller attacked CNN's Jim Acosta for having a "cosmopolitan bias" and attempted to belittle him with a lecture on historic immigration legislation.
It's unclear if the Trump administration is in fact singling Ryan out because of her skin color. The White House did not immediately respond to a request for comment on its treatment of Ryan and other reporters in the press briefing room.
What is clear, though, is that the next time Ryan asks a question at the White House, she'll expect an answer—the same way she has for 20 years.