New 'Aquaman' Photos Debut Black Manta, Ocean Master, Mera & Atlanna
Aquaman is the next DC Comics film to arrive on the big-screen and Warner Bros. is finally doing some promotion. Most of the lead characters—Black Manta, King Orm, Vulko, Mera Black Manta, and Queen Atlanna—are pictured in Entertainment Weekly's first look below:
The first is Aquaman (Jason Momoa) soaking wet and splashing in a wave. The second features Aquaman and Mera (Amber Heard) exploring the surface world. That's Yahya Abdul-Mateen II from The Get Down in the third photo. He's playing Aquaman's ethically questionable contemporary, and working on his super suit, which boasts plasma squirting eyes. The fourth has Aquaman square off with his brother, King Orm (a.k.a. Ocean Master played by Patrick Wilson). The fifth is a behind-the-scenes photo picturing director James Wan with Aquaman's mentor, Vulko (Willem Dafoe). The final is a flashback scene featuring Aquaman as a baby being held by his mother, Queen Atlanna (Nicole Kidman).
Black Manta doesn't appear to be Aquaman's main antagonist. That duty goes to King Orm, who wants to declare war on Earth's surface. "He's [Black Manta] part mercenary but full-time pirate who in his suit will look like some crazy alien from outer space," Wan teases to EW. Not pictured is Dolph Lundgren, who stars as King Nereus. Also not pictured, the sea dragons Wan promises come Dec. 21.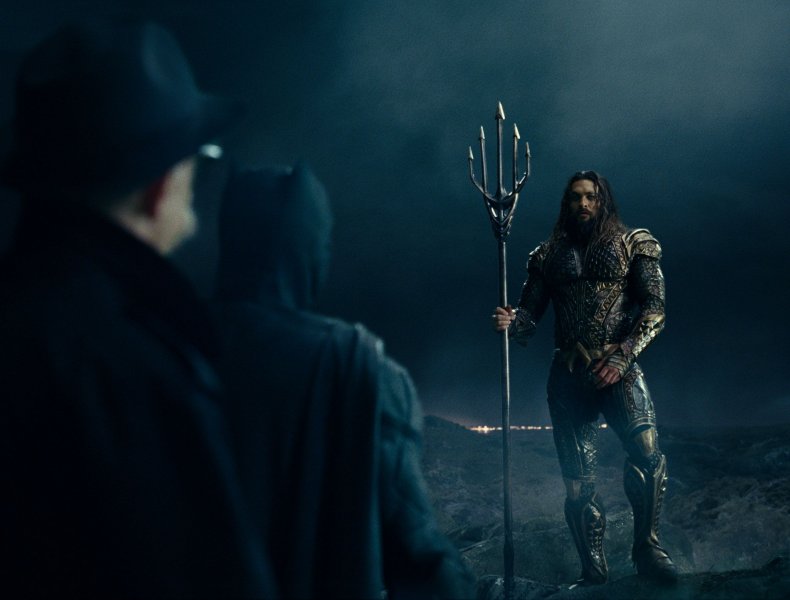 "The water world my movie takes place in is so separate and so far apart from previous DC movies it's like I'm making my own sci-fi fantasy film," Wan says in the EW cover story. "This is a whole new underwater world nobody has seen before in live action."
View more of EW' s photos and let us know what you think about the first look at Aquaman in the comments.
New 'Aquaman' Photos Debut Black Manta, Ocean Master, Mera & Atlanna | Gaming