Aquarium Demands 'Justice' After Pig-Nosed Turtle Mercilessly Trolled Online
A pig-nosed turtle named Funzo turned 28 on Tuesday, and to celebrate his special day the National Aquarium's Animal Care and Rescue Center tweeted a picture of the reptile.
Funzo, who lives at the aquarium in Baltimore, Maryland, was posted on the social media site in a snap, which can be viewed here, that showed him being inspected by a member of staff and it received more than 2,400 likes.
The caption read: "It's #TurtleTuesday and we're wishing a very happy 28th birthday to Funzo the pig-nosed turtle! [Pig nose emoji] [Birthday cake emoji]."
The turtles were given their name because they have noses that look much like a pig's snout. They are very rare and typically live in fresh water in northern Australia and southern New Guinea.
However, the animal's rather unique appearance resulted in a barrage of comments and retweets, not all of them very flattering.
In fact, it could be fair to say that the cute-looking animal fell victim to some online trolling.
One Twitter user, @Reviewerspell, wrote: "DISGUSTING! Get rid of it."
The host of the podcast "Podfather," whose name is Chaps, added: "Imagine being hatched and you find out your species is called "pig-nosed turtle." You'd look in the mirror and be devastated."
Former Ravens football player Torrey Smith also left a comment, writing: "This is one of the top 5 ugliest animals I have ever seen."
Another person, Nickgrodo, added: "That's an anteater"
MichaelLKatz commented: "With all due respect its nose is a power cable for my XBox."
Following on from the mean comments, on January 5 the aquarium then tweeted a screengrab of a compilation of them with the heading "What's with all the hate?! Funzo doesn't deserve this. #JusticeForFunzo."
This post, which can be viewed here, has attracted a further 15,600 likes and many comments of support.
One Twitter user, Apselrael typed: "Frankly I am prepared to die for this turtle."
Planetary Society editor Rae Paoletta stated: "Funzo you are a perfect angel and I love you."
French actor Adrien Menielle shared: "I love Funzo and its name fits its appearance (which is lovely) perfectly. Please tell Funzo I said that."
Christina Cooper admitted: "The internet is such a mean place. Happy birthday Funzo! :)"
The Association of Zoos and Aquariums' official Twitter account added: "We're #TeamFunzo, that's for sure!"
Baltimore local Victoria Leigh commented: "I love Funzo! He is so unique and beautiful - can't wait till I finally get back to the aquarium to see him!"
Speaking to Newsweek, Ashleigh Clews, curator at the National Aquarium's Animal Care and Rescue Center, described Funzo as a "long-term and lovable resident" who "has always enjoyed a lot of attention but was not quite ready for his unexpected moments in the spotlight this week!"
"The incredibly caring staff at our Animal Care and Rescue Center feel fortunate to work with Funzo and all of the other individuals animals that call the National Aquarium home, she added.
"Pig-nosed turtles are considered endangered and like other species have pressures like illegal capture for the pet trade greatly affecting their population.
"Funzo and the staff at the Aquarium welcome every opportunity to engage with interested fans—and even those who maybe aren't fans at first!
"We couldn't be more pleased with the outpouring of support for our beloved pig-nosed turtle friend, Funzo!"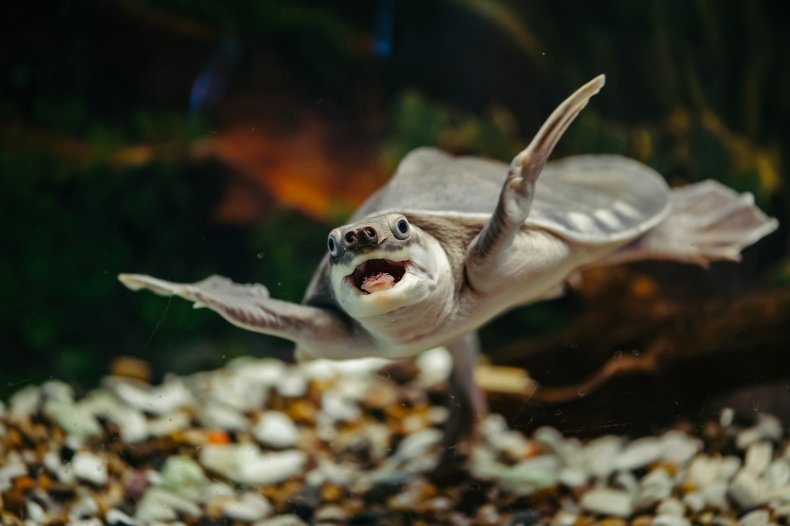 UPDATE 01/07/22 5:29 a.m. ET: This article was updated to include comment from the curator at the National Aquarium's Animal Care and Rescue Center