NYC Gun Bust Nets Close to 70 Guns, Including AR-15s, an Uzi and Over 50,000 Rounds of Ammunition
A New York Police Department operation turned into one of the largest gun busts in the city's history. A single search warrant led to the discovery of nearly 70 guns and more than 50,000 rounds of ammunition in a house in the city's borough of Queens.
Ronald Drabman, 60, was arraigned in Queens Criminal Court Monday and faces over 100 weapons charges. The gun cache included an Uzi and high-powered rifles like an AK-47 and two AR-15s, according to the New York Daily News. The collection also included a variety of handguns. Police said they recovered 45 shotguns, rifles and assault rifles; 23 handguns; two pellet guns; and the ammunition. Police also discovered a "zip gun," which is typically a homemade or makeshift gun.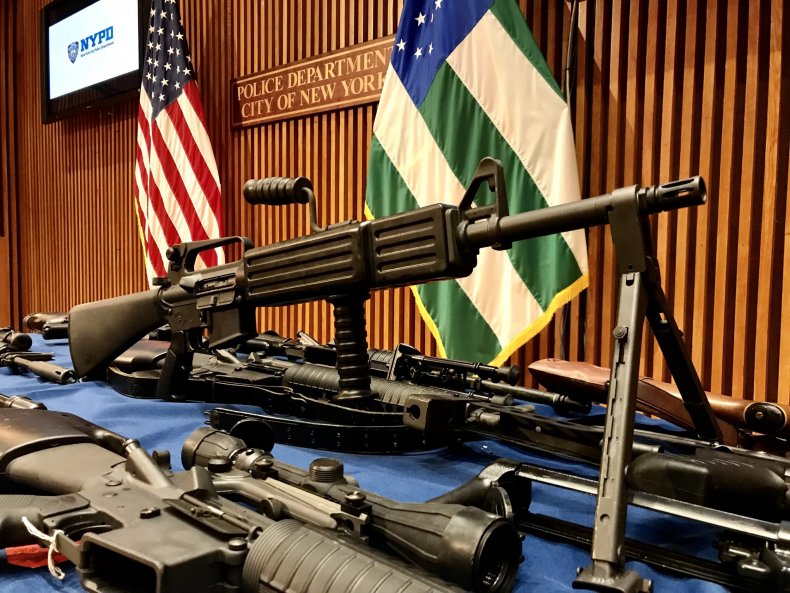 Police said that the investigation was a cooperative effort among several New York police units: the Intelligence Bureau, the Patrol Services Bureau, the Detective Bureau and Emergency Service Unit. The NYPD told Newsweek that the investigation was ongoing, but it would not comment beyond a press release.
Drabman was arrested in his Queens home Sunday after police obtained a warrant to search the house. Drabman had changed legal representation Tuesday, and the lawyer he was slated to retain told Newsweek he had no comment.
"This is one person that possessed all of these weapons, and, like I said, an unprecedented amount of ammunition," said NYPD Chief of Intelligence Thomas Galati in a press conference Monday. "If you look at some of these weapons, there are high-power assault rifles, large magazines for them, plus a lot of handguns as well."
The NYPD said that last year it seized over 1,285 guns in the city.