Virginia High School Defends AR-15 Student Raffle Fundraiser as Long-Standing Tradition
The Lee County Schools system in Virginia announced plans to change a longstanding tradition and high school fundraiser: raffling off an AR-15 firearm. School administrators still allowed Monday's raffle winner to receive a gift certificate to a local gun store that partnered with the district.
Several Jonesville, Virginia, community residents and at least one school board member expressed concern about the Lee High School Student Government Association fundraiser, which has taken place for more than a decade, WJHL-TV reported. The fundraiser was set to auction an AR-15, which faces national scrutiny for its role in several mass shootings, including the February 14 shooting at Marjory Stoneman Douglas High School, which left 17 people dead.
"I was, for lack of a better word, I was appalled," said Ty Harber, a Lee County School Board member representing District 3. "I think we're sending a bad message here. We stress safety on one hand, and then raffle off weapons."
"The very moment that I found out about these raffles for weapons, I immediately informed the proper authorities to my dismay that we are talking safety on one hand and raffling off guns on the other," Harber added in a Monday email to the Richmond Times-Dispatch.
School officials side-stepped calls to end the event completely, arguing that neither the school district or any subsidiary schools actually purchased the AR-15. Instead, administrators said they partnered with gun dealer Liberty Sport and Pawn, where the raffle winner must meet the state's background check requirements to redeem their gun gift certificate.
"I don't think the problem is an AR-15. I think it's the one whose handling the AR-15. We definitely have to have a better background check," Lee High parent Tim Long told WJHL-TV.
On Monday, Liberty Sport and Pawn hosted the raffle drawing with a Lee High student performing the ceremonial honors.
Superintendent Brian Austin defended the gun raffle in an email to the Richmond Times-Dispatch on Monday.
"This type of fundraiser and fundraisers with this specific prize or similar items have been conducted in LCPS for more than 10 years at various schools in the division. The proceeds of all fundraisers are used for the educational benefit of students and their schools," he wrote.
The Lee County School Board said they are aware of concerns and are reviewing the fundraiser process.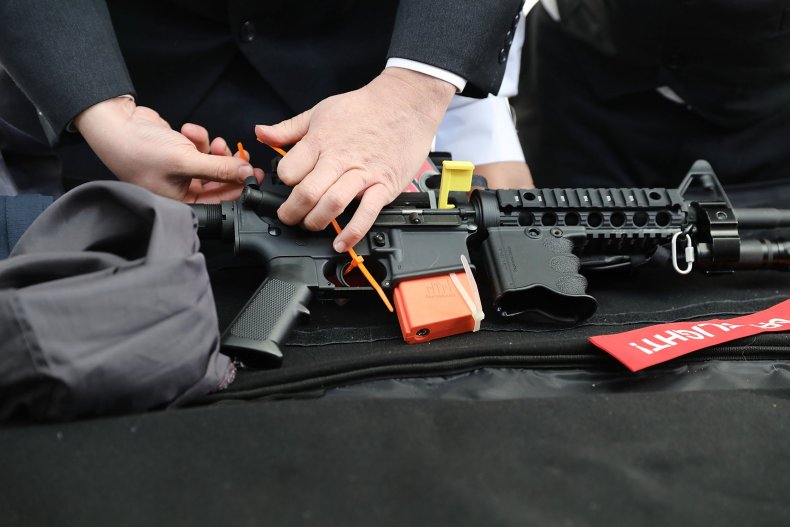 Another resident of Virginia's westernmost county, Dr. Art Van Zee, publicly expressed his distaste for the assault rifle raffle to benefit students. In a letter to the weekly Powell Valley News, Zee criticized the move as "insensitive" amid the country's gun control and school safety debates.
"At the very least, the raffle would be insensitive," wrote Van Zee, a physician in Dryden, Virginia. "At the most, it seems a disregard or indifference to a tragic issue in our society, and a sadly missed opportunity to stand in solidarity with the students of Stoneman Douglas High School who were able to work through their fear, grief and suffering—to organize, articulate and speak truth to power—'Never Again.'"