School Suspends Teacher Over Alleged 'Terrorists' Joke Directed at Arab-American Student
An Arab-American high school student was left "in shock" after a teacher responded to a question with an alleged insensitive remark about "terrorists."
Mohammed Zubi, a senior student at Ridgefield Memorial High School in Bergen County, New Jersey, said that he was asking a math teacher if he could finish an assignment as homework on Tuesday when the remark occurred.
The teacher, whose name has not been released, made the alleged comment loud enough for most students in the class to hear, according to WABC.
"He responded saying, 'We don't negotiate with terrorists,'" Zubi said. "So I look around in shock, there's people laughing, and there's other people in shock, and I turn around and ask my friend, 'Did he really just say that?' and she said yes."
Vuk Tomasese, another senior, said that they heard the comment as well and said that the teacher knew Zubi was of Arabic descent and Muslim.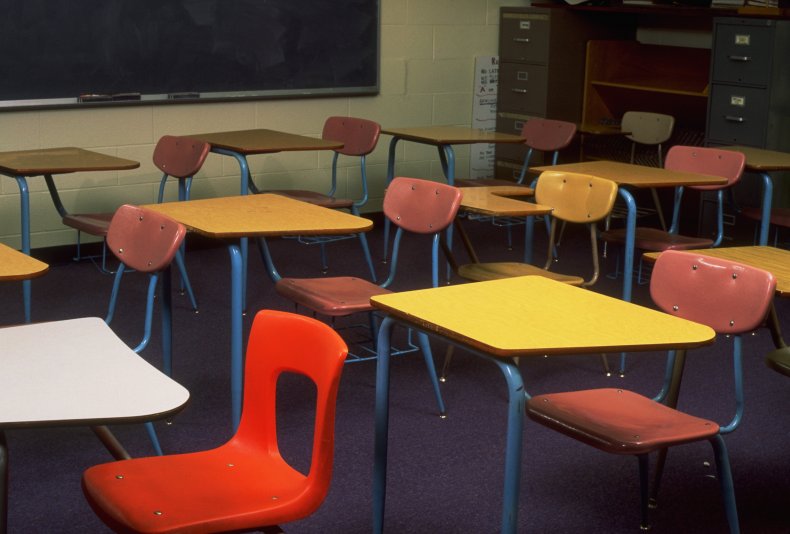 Zubi has not returned to school, where he is the captain of the soccer team, following the alleged comment. The unnamed teacher reportedly told the student that he "didn't mean it like that" shortly after making the remark.
Zubi's family reportedly has a history at Ridgefield Memorial High as his mother previously worked there and his older brothers graduated from the school.
"I don't feel like going back, I'm really uncomfortable," Zubi said, "I don't want to see anyone, and I've been in my room all day—don't want to see my friends, especially after what that teacher said to me."
"The Ridgefield School District has absolutely no tolerance for any sort of discrimination against any student or staff member," Letizia Pantoliano, interim Superintendent of Ridgefield Public Schools, wrote in statement sent to Newsweek. "The District strives to create an inclusive environment where students' and staff members' race, religion, national origin, and sexual orientation are embraced. While the District cannot legally comment on personnel or student matters, the public should be aware that the District immediately suspended the staff member while it is conducting a full investigation. Additionally, the District has notified law enforcement for its assistance. The District fully intends to pursue any and all legal remedies against the staff member as any discriminatory conduct has absolutely no place in our District."
"It's almost unbelievable, we're left speechless, like why would a teacher say this to a student?" Salaedin Masksut, a representative with the New Jersey branch of the Council on American-Islamic Relations, said in a statement to WABC.
A similar incident of alleged Islamophobia occurred in New Jersey earlier this month. Per WABC, a teacher at Seth Boyden Elementary in Maplewood was accused of "forcibly" removing a second-grade student's hijab despite the young girl's protests. Once it was removed, the teacher reportedly said that her hair was beautiful and that she did not have to wear a covering in school anymore.
"The District takes matters of discrimination extremely seriously," the South Orange-Maplewood School District said in a statement. "We remain committed to diversity, equity, and inclusion throughout our schools, including providing anti-bias and anti-racism training for all educators in the district on a regular basis."
This article has been updated with a response from the district superintendent.